Arum, De La Hoya talking Pacquiao-Alvarez bout - report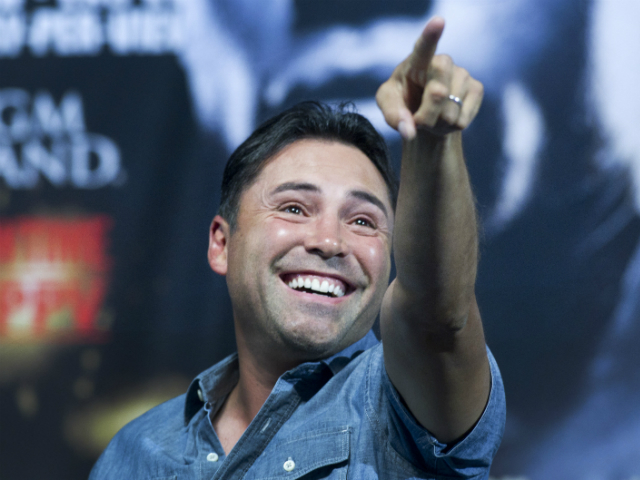 Oscar De La Hoya.
Steve Marcus / Reuters
Could Golden Boy Promotions and Top Rank Promotions be on the verge of a team-up?
The LA Times' Lance Pugmire
says Oscar De La Hoya, president of Golden Boy, and Bob Arum, Top Rank CEO are talking of a "super-bout" between the former's Saul "Canelo" Alvarez and the latter's Manny Pacquiao.
De La Hoya, in an interview with Pugmire, said "Anything's possible," and added, "That's one of the reasons I was extending the olive branch [to Arum]. The fans want to see these kinds of fights."
Arum, for his part, said, "All this baloney about a cold war has never really applied to Oscar and myself. We can talk bout any subject in boxing rationally. …We might disagree on a particular point, but we can talk. I hope we'll get together and have some significant meetings in the near future."
The two outfits have not worked together for five years, according to the report.
Pacquiao is coming off a unanimous decision win against Timothy Bradley Jr. earlier this month, claiming the WBO welterweight title in the process. Alvarez on the other hand is coming off a March TKO win against Alfredo Angulo, and will take on Erislandy Lara in July for the WBA Light Middleweight title.
When asked though if De La Hoya would help make the long-awaited Pacquiao-Mayweather Jr. bout a reality though, the former US Olympic champ said, "I don't speak for Mayweather."
- AMD, GMA News
TAGGED IN
oscardelahoya saulalvarez mannypacquiao bobarum

#gomanny Tweets