PBA
:

Carney, Castro combine for 49 as Texters triumph over Beermen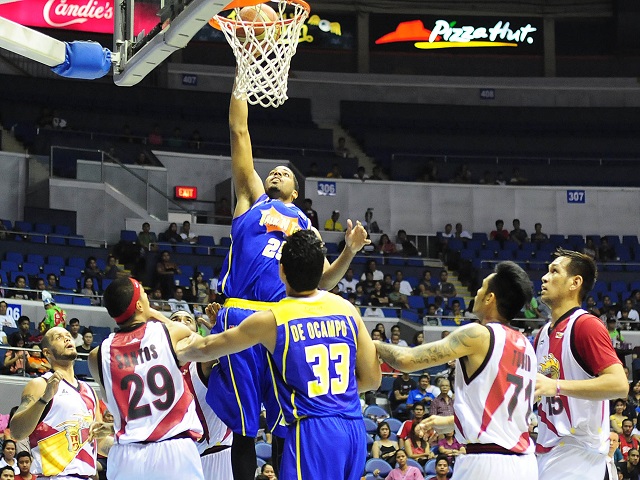 Rodney Carney goes for an easy two as the SMB defense looks on.
KC Cruz
Rodney Carney scored 28 points while Jayson Castro added 21 as the Talk 'N Text Tropang Texters defeated the San Miguel Beermen, 103-97, Saturday at the SMART Araneta Coliseum.
"We got what we wanted from our import," said TNT head coach Norman Black. "The locals really stepped up and supported him. Alapag hit some big shots. We just have to continue to play good defense."
Talk 'N Text improved to 3-1, for a three-way tie for second place with the San Mig Coffee Mixers and the Air21 Express. San Miguel Beer fell a step lower, to 3-2.
The Texters started off with a 12-9 lead early in the first, after Nonoy Baclao and Arwind Santos traded baskets. An 8-0 run by the Beermen gave San Miguel a 19-12 advantage, before a five-point swing from Jayson Castro ended the quarter with the two teams tied, 19-all.
Kelly Williams and Nonoy Baclao provided ample help to Carney in the second, before Jimmy Alapag connected on a triple for an eight-point lead halfway through the quarter. The Beermen closed the gap by connecting from the perimeter, before Larry Fonacier created some separation from deep, 40-36. June Mar Fajardo responded with a banker, before TNT strung together four more to end the half, 44-38.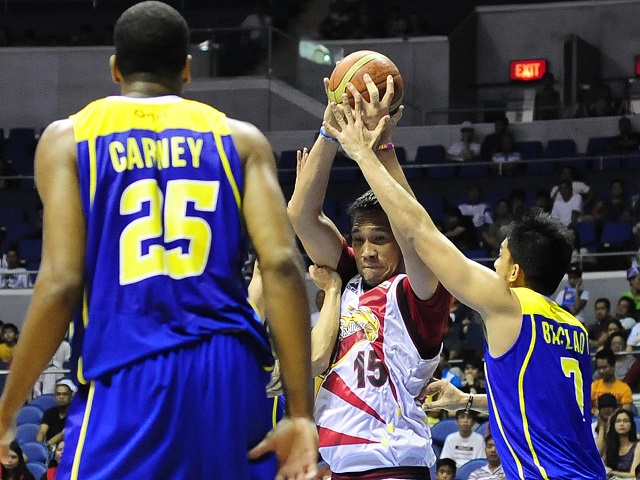 June Mar Fajardo goes up against Nonoy Baclao as Rodney Carney looks on.
KC Cruz
Reggie Williams looked to take over for SMB to start the third, but Carney and Fonacier converted on key baskets to keep the Texters ahead. Fajardo soon followed with a string of baskets, but Jayson Castro calmly matched him with an array of makes. TNT still held on to a 76-73 lead after three.
A 6-0 blast from SMB greeted the Texters to start the payoff period to take the lead, but Alapag responded with twin triples to take the advantage back, 91-85. Arwind Santos also chimed in to keep things close, but Alapag came up with key treys anew, 99-92.
Reggie WIlliams tried to make it a game in the final minute, but Ranidel De Ocampo and Jayson Castro took care of free throws down the stretch to secure the win.
Jimmy Alapag's steady swiping from deep accounted for 18 points while Larry Fonacier and Nonoy Baclao chipped in eight each. Kelly Williams added seven. Reggie Williams paced the Beermen with 33 points while June Mar Fajardo scored 20. Arwind Santos added 18, while Doug Kramer had eight.
- AMD, GMA News
The scores:
TALK N' TEXT 103
- Carney 28, Castro 21, Alapag 18, Fonacier 8, Baclao 8, Williams 7, De Ocampo 6, Canaleta 5, Reyes Ryan 2, Reyes Rob 0, Carey 0
SAN MIGUEL BEER 97
- Williams 33, Fajardo 20, Santos 18, Kramer 8, Mercado 7, Tubid 5, Lutz 4, Lanete 2, Maierhofer 0, Duncil 0, Chua 0
Quarter scoring:
19-19, 44-38, 76-73, 103-97