Student arrested for interrupting PNoy's Independence Day speech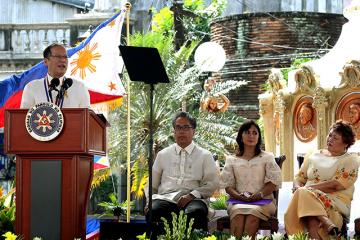 PNoy in Naga for 116th Independence Day rites. President Benigno Aquino III delivers his speech during the 116th Independence Day rites at Plaza Quince Martires in Naga City, Camarines Sur on Thursday, June 12. Also in photo are DILG Sec. Mar Roxas II, Camarines Sur Rep. Ma. Leonor Robredo, and National Historical Commission chairperson Maria Serena Diokno. Gil Nartea
A group of campus journalists is protesting the reported arrest and detention of a student activist who shouted a slogan criticizing President Benigno Aquino III while the president was speaking at the Independence Day celebration in Naga City on Thursday.
The College Editors Guild of the Philippines condemned the arrest of Em Mijares, a 19-year-old student activist from Ateneo de Naga University, who reportedly shouted "Patalsikin ang Pork Barrel King! Walang pagbabago sa Pilipinas!" during Aquino's speech.
According to a report on provincial news website Bicol Standard, Mijares, a member of Youth ACT Now! and Kabataan party-list, was around 40 meters away from Aquino when he shouted.
Mijares was brought to the Naga City police office and will be charged with violating Article 153 of the Revised Penal Code, the report said.
Article 153 penalizes "serious disturbance in a public place, office, or establishment, or shall interrupt or disturb public performances, functions or gatherings, or peaceful meetings" with a fine of P1,000 and from two to six months in prison.
"If a mere exercise of rightful expression is a basis for incarceration, then the BS Aquino regime is no different [from] the fascist orientation of the Marcos Martial Law," CEGP said.
— JDS, GMA News