1 killed, 3 others hurt in alleged hazing in Manila
|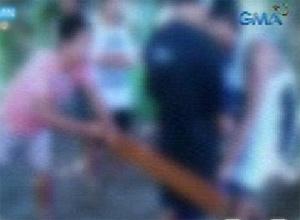 (Updated 4:01 p.m.)
At least one person died while three others were injured in an alleged hazing incident at a condominium in Manila, a radio report said Sunday.
Manila police homicide investigators initially withheld the names of the victims, according to a report by radio dzBB's Mao dela Cruz.
The report cited initial information indicating the incident occurred at a condominium on Taft Avenue.
Flash! Isa patay, tatlo sugatan sa diumanoy hazing na naganap sa isang condominium sa Taft Avenue sa Maynila. | Ulat ni Mao dela Cruz.

— DZBB Super Radyo (@dzbb) June 28, 2014







A later report on GMA News TV's "Balitanghali" said the fatality was an 18-year-old student based on the information sheet furnished by the funeral parlor where his body was brought.
He was a second-year BS Hotel, Restaurant, and Institution Management student at De La Salle-College of Saint Benilde (DLS-CSB).
The three injured victims were rushed to the Philippine General Hospital. One of them is reportedly a minor.
No details were immediately available on what group conducted the alleged hazing, although some reports said the four were applicants of the Alpha Kappa Rho fraternity, the report said.
Based on an initial investigation conducted by the Manila Police District, the four were fetched Saturday by unidentified people at a fast food restaurant along Taft Avenue. They were then brought to an unknown location.
At around 10 p.m., the young men were brought to a condominium building, also on Taft.
The building's security guards told GMA News they thought the four men were drunk because they were wobbly.
According to the report, the guards were alerted to an emergency after Red Cross personnel arrived at the building at past 11 p.m.
The fatality's body was already stiff and lifeless when medical personnel found it on the floor of one of the condominium units, the report added.
DLS-CSB said in a statement released Sunday that it will
cooperate with authorities investigating the incident
.
"The College reiterates its prohibition of fraternities and fraternity-related violence," it also said.
Benilde mourns the demise of one of our students and prays for the victims of a recent fraternity hazing incident. pic.twitter.com/sM3ezCeCTw

— Benilde (@BenildeNews) June 29, 2014


In a post on his Twitter account, Sen. Juan Edgardo Angara expressed his sadness about the incident.
Sad 2hear of another hazing death. Never believed violence made perpetrator or victim more of a man. True brotherhood means more

— Sonny Angara (@sonnyangara) June 29, 2014



Angara is a member of the University of the Philippines College of Law's Sigma Rho fraternity.
The group was tagged in the death of freshman
UP Law student Cris Mendez
in 2007. Mendez allegedly died while undergoing the fraternity's initiation rites.
Condemnation
In a statement, youth organization Anakbayan condemned the incident and called on authorities to "swiftly and decisively act" to bring the perpetrators to justice.
"We in Anakbayan uphold the 'right to organize' as a very important right of every Filipino. However, it should not be used to let those directly responsible for hazing-related deaths as well as the involved fraternity, escape from the hands of justice. The 'right to organize' does not include the right to injure, maim, and kill," it said.
Anakbayan urged alumni from fraternities to help put an end to the "barbaric tradition of Greek-lettered societies."
The group also called on all student organizations and associations, especially fraternities, to discard the practice of brutal and violent hazing that could result in death.
It said student organizations should devote their time and efforts to providing community service instead.
— with reports from Joel Locsin and Xianne Arcangel /LBG/JDS/BM, GMA News