Two Boeing aircraft parked at NAIA sustain damage from Typhoon Glenda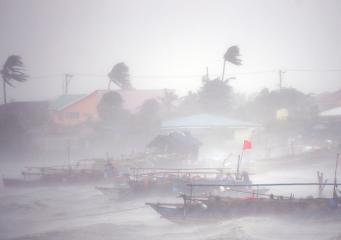 Glenda lashes at coastal villages in Cavite . Strong winds and rain brought by Typhoon Glenda (Rammasun) batter fishing boats anchored at a coastal village in Imus, Cavite on Wednesday, July 16. The typhoon, the strongest to hit the country this year, has already torn through southern Luzon, toppling trees and power lines and causing blackouts. Reuters/Erik De Castro
Two foreign airliners parked at the Ninoy Aquino International Airport were damaged by Typhoon Glenda as the powerful storm barreled across Metro Manila and nearby provinces Wednesday.
In an e-mailed statement, the Civil Aviation Authority of the Philippines revealed that strong winds damaged a Singapore Airlines Boeing B777-200 and Malaysian Airlines Boeing B737-800.
The Singapore Airlines plane damaged its left wing after hitting an air bridge in Terminal 1, while the Malaysian Airlines plane impaired its fuselage after turning 45 degrees and hitting a service stairs, the statement read.
CAAP assigned investigators Judy Armenio and Marivic Apao to determine exactly what happened.
The agency also noted that Typhoon Glenda caused "limited structural damage at the airport facilities." It did not elaborate.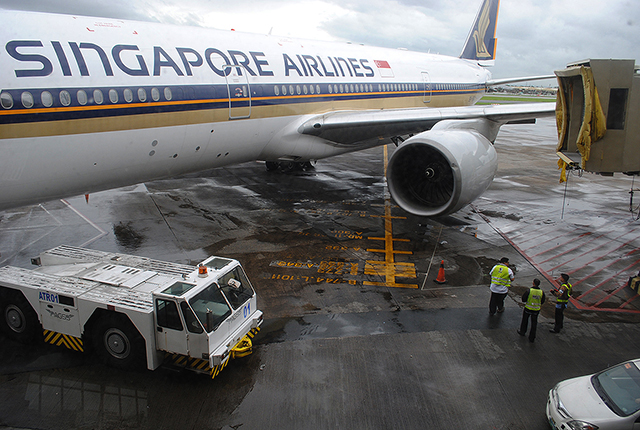 A Singapore Airlines jetliner was unlatched from its jet bridge (seen at right) at Bay 6 of the NAIA Terminal 1 on Wednesday as Typhoon Glenda barreled through Metro Manila. No one was hurt in the incident.
Ariel Fernandez
The first flight to land at NAIA after the runway operations resumed was an Eva Air at 11:13 am, CAAP noted.
Glenda, the strongest typhoon to hit the country so far this year, barrelled through the Bicol Region, the Southern Tagalog Region, Metro Manila, and Central Luzon.
As of this posting, the typhoon has weakened, packing maximum sustained winds of 140 kilometers per hour and gustiness of up to 170 kph. It was spotted 87 km west of Olongapo City. –
Rouchelle Dinglasan/VS, GMA News