NDRRMC: Glenda death toll rises to 38; number of missing at 8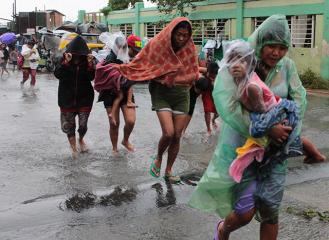 38 dead, 10 hurt, 5 missing in Glenda aftermath. Baseco residents leave their homes to seek shelter at an evacuation center in Tondo, Manila at the height of Typhoon Glenda (Rammasun) on Wednesday, July 16. Thirty-eight persons died, 10 people were injured, and eight remain missing when Glenda cut across some Luzon provinces and Metro Manila, the National Disaster Risk Reduction Management Council said Wednesday evening. Roy Lozano
(Updated 10:14 a.m.) The death toll from Typhoon Glenda (Rammasun) rose to 38 as of Thursday morning, the National Disaster Risk Reduction and Management Council said.
In its update, the NDRRMC also said at least eight people remained missing while 10 were injured in Ilocos, Central Luzon, Southern Luzon, Bicol, Eastern Visayas and Metro Manila.
At least 192,131 families or 1,006,360 people had been affected, with 100,500 families or 530,689 people staying in evacuation centers.
Of these, 130,814 families or 708,958 people are from Bicol, with 77,654 families or 423,538 people from the region staying in evacuation centers.
#GlendaPH Update as of 17 Jul 2014, 6AM — Casualties: 38 dead, 10 injured, 8 missing; 15 roads, 4 bridges impassable pic.twitter.com/pH1O5SwTrl

— NDRRMC OpCen (@NDRRMC_OpCen) July 17, 2014
State of calamity
Albay, Camarines Sur and Naga City are under a state of calamity.
Roads, bridges impassable
At least 15 roads and four bridges in Central Luzon, Southern Luzon, Bicol and Eastern Visayas were impassable due to damage and flooding.

Power situation, houses

Some 13 provinces and one city experienced power interruptions since July 15, with Bicol transmission lines still out.
Meanwhile, 7,002 houses were destroyed while 19,257 were damaged.
Agricultural damage
Some P668,233,477.94 in agriculture in Bicol alone was destroyed. This included rice, corn, high-value cash crops and livestock..
—Joel Locsin/KG, GMA News