Philippine revolutionary heroes get their own trading cards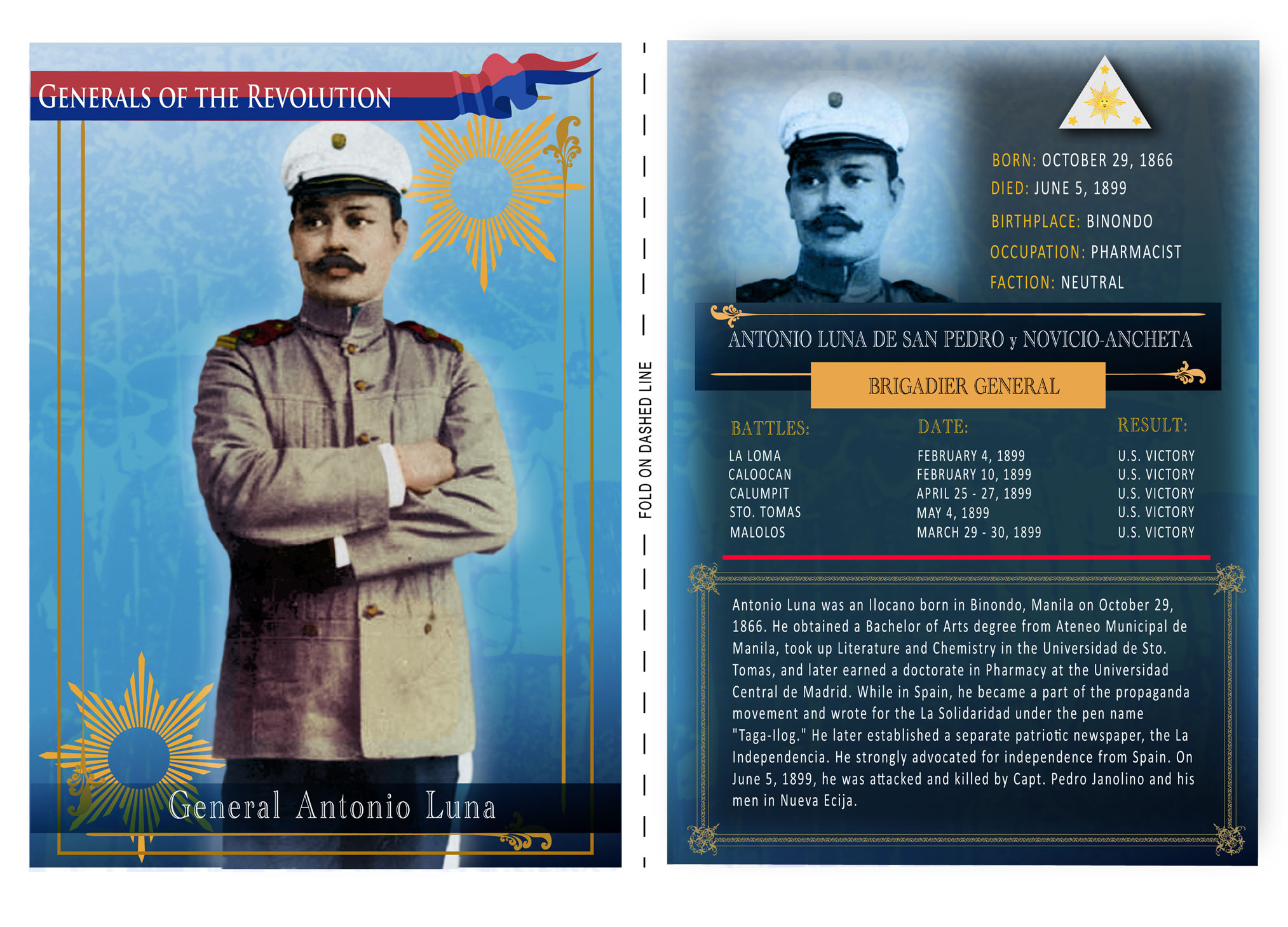 Instead of collecting trading cards of sports figures, why not collect those depicting Philippine heroes?
Malacañang has come up with a novel series of trading cards featuring commanders of the Philippine Revolution, in time for last Monday's National Heroes Day.
What's more, the Palace said these trading cards may also be used as educational guides.
Featured in this series are:

Gen. Antonio Luna
Gen. Macario Sakay
Gen. Artemio Ricarte
Maj. Manuel Quezon
Gen. Baldomero Aguinaldo
Gen. Manuel Tinio
Gen. Edilberto Evangelista
Gen. Mariano Trias
Gen. Emiliano Riego de Dios
Gen. Miguel Malvar
Gen. Emilio Aguinaldo
Gen. Pantaleon Garcia
Gen. Gregorio del Pilar
Gen. Pio del Pilar
Gen. Jose Ignacio Pama
Gen. Santiago Alvarez
Gen. Isidro Torres
Gen. Tomas Mascardo
Gen. Juan Cailles
Gen. Venancio Concepcion
Gen. Leandro Fullon
Gen. Vicente Lukban
Gen. Licerio Geronimo
Gen. Vito Belarmino
Each card features an image of the general at the front, and data such as battles fought and a brief descriptions at the back.
The celebration of National Heroes Day was first signed into law through Act No. 3827 on October 28, 1931. The Act declared the last Sunday of August an official national holiday.
President Corazon Aquino's Administrative Code of 1987 set National Heroes Day as a regular holiday on the last Sunday of August.
In July 2007, President Gloria Arroyo signed into law Republic Act No. 9492, which set National Heroes Day on the last Monday of August.
— Joel Locsin/TJD, GMA News