181 RP towns consistent election hotspots
On April 1, Freddie Boy Quidato, mayoral candidate in Placer, Masbate, and two of his supporters were walking on Sitio Bugtong at Cauayan village when a group of some 20 armed men sprayed them with bullets. Quidato survived the attack unhurt. His supporters, Tod Nonoy Duan and Toto Juanico, were not as lucky.
A few days later, national police records show that Alfredo Yuson, a supporter of another Masbate mayoral bet, allegedly killed in an ambush two supporters of a rival candidate.
Violence is not new in the province of Masbate. Its political history has left a trail of blood in recent years: Three Espinosas, all elected public officials, have been killed in over a decade. The Espinosas have been rulers of Masbate for almost half a century.
Police statistics show that election-related incidents have claimed at least 25 lives in Masbate since the 2001 polls. A recent GMA News Research study finds that all but three towns and cities in Masbate have been consistent hotspots in the last three elections.
Masbate, however, is not an isolated case. GMA News Research finds 181 cities and towns in the country are consistent hotspots since 2001.
(see complete table)
Hotspots are areas considered election areas of concern (EAC) and election areas of immediate concern (EIAC). The police define EAIC as cities or municipalities where election-related violence are highly expected to occur. EAC are towns where election-related violence are likely to occur or where election-related offenses were committed during the previous elections.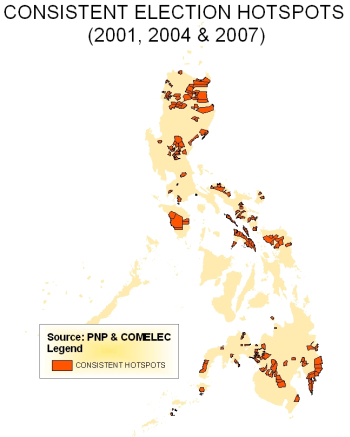 Eighteen of these towns are in Masbate: Arroyo, Baleno, Balud, Batuan, Cataingan, Cawayan, City Of Masbate, Claveria, Dimasalang, Mobo, Monreal, Palanas, Pio V. Corpuz (Limbuhan), Placer, San Fernando, San Jacinto, San Pascual, and Uson.
Meanwhile, Abra, province of killed Rep. Luis Bersamin, is another regular hotspot. Ten of its 27 towns are consistent hotspots. It was declared under the control of the Commission on Elections this year. In the 2004 elections, four towns in this province were also declared under Comelec control: Bangued, Danglas, La Paz and Tineg.
In Nueva Ecija, 17 out of 32 towns are hotspots. Jaen town, where violence also erupted and claimed lives this year, is among the 17.
Half of the towns in Lanao del Sur are also consistent hotspots in the national elections from 2001 to 2007. This year, elections failed to push through in 17 towns due to threats of violence.
In Cagayan, 16 out of 29 towns in are consistent hotspots.


Table 1. Consistent election hotspots
Municipality

Province

Region

1

Bangued

Abra

CAR

2

Boliney

Abra

CAR

3

Danglas

Abra

CAR

4

Dolores

Abra

CAR

5

Lacub

Abra

CAR

6

Lagayan

Abra

CAR

7

Langiden

Abra

CAR

8

Malibcong

Abra

CAR

9

Tayum

Abra

CAR

10

Tubo

Abra

CAR

11

Trento

Agusan Del Sur

XIII

12

City Of Ligao

Albay

V

13

Jovellar

Albay

V

14

Libon

Albay

V

15

Pio Duran

Albay

V

16

Casiguran

Aurora

III

17

Dipaculao

Aurora

III

18

Sumisip

Basilan

ARMM

19

Batangas City

Batangas

IV-A

20

Tuy

Batangas

IV-A

21

Amulung

Cagayan

II

22

Buguey

Cagayan

II

23

Claveria

Cagayan

II

24

Enrile

Cagayan

II

25

Gattaran

Cagayan

II

26

Gonzaga

Cagayan

II

27

Iguig

Cagayan

II

28

Lal-Lo

Cagayan

II

29

Lasam

Cagayan

II

30

Peñablanca

Cagayan

II

31

Piat

Cagayan

II

32

Rizal

Cagayan

II

33

Santa Teresita

Cagayan

II

34

Santo Niño (Faire)

Cagayan

II

35

Tuao

Cagayan

II

36

Tuguegarao City

Cagayan

II

37

Jose Panganiban

Camarines Norte

V

38

Labo

Camarines Norte

V

39

San Lorenzo Ruiz (Imelda)

Camarines Norte

V

40

Santa Elena

Camarines Norte

V

41

Buhi

Camarines Sur

V

42

Sagnay

Camarines Sur

V

43

Mambajao

Camiguin

X

44

Bagamanoc

Catanduanes

V

45

Gigmoto

Catanduanes

V

46

Carmona

Cavite

IV-A

47

Maco

Compostela Valley

XI

48

Mawab

Compostela Valley

XI

49

New Corella

Davao Del Norte

XI

50

Talaingod

Davao Del Norte

XI

51

Don Marcelino

Davao Del Sur

XI

52

Baganga

Davao Oriental

XI

53

Caraga

Davao Oriental

XI

54

Governor Generoso

Davao Oriental

XI

55

Lupon

Davao Oriental

XI

56

Manay

Davao Oriental

XI

57

Mati

Davao Oriental

XI

58

San Isidro

Davao Oriental

XI

59

Tarragona

Davao Oriental

XI

60

Can-Avid

Eastern Samar

VIII

61

Dingras

Ilocos Norte

I

62

Laoag City

Ilocos Norte

I

63

Cabugao

Ilocos Sur

I

64

Alicia

Isabela

II

65

Angadanan

Isabela

II

66

Delfin Albano (Magsaysay)

Isabela

II

67

Ilagan

Isabela

II

68

Mallig

Isabela

II

69

San Pablo

Isabela

II

70

Lubuagan

Kalinga

CAR

71

Pasil

Kalinga

CAR

72

Pinukpuk

Kalinga

CAR

73

Tanudan

Kalinga

CAR

74

Tinglayan

Kalinga

CAR

75

Kauswagan

Lanao Del Norte

X

76

Munai

Lanao Del Norte

X

77

Bacolod-Kalawi (Bacolod Grande)

Lanao Del Sur

ARMM

78

Balabagan

Lanao Del Sur

ARMM

79

Bayang

Lanao Del Sur

ARMM

80

Binidayan

Lanao Del Sur

ARMM

81

Butig

Lanao Del Sur

ARMM

82

Calanogas

Lanao Del Sur

ARMM

83

Ganassi

Lanao Del Sur

ARMM

84

Kapai

Lanao Del Sur

ARMM

85

Lumba-Bayabao (Maguing)

Lanao Del Sur

ARMM

86

Madamba

Lanao Del Sur

ARMM

87

Malabang

Lanao Del Sur

ARMM

88

Masiu

Lanao Del Sur

ARMM

89

Mulondo

Lanao Del Sur

ARMM

90

Pagayawan

Lanao Del Sur

ARMM

91

Piagapo

Lanao Del Sur

ARMM

92

Poona Bayabao (Gata)

Lanao Del Sur

ARMM

93

Pualas

Lanao Del Sur

ARMM

94

Saguiaran

Lanao Del Sur

ARMM

95

Sultan Gumander

Lanao Del Sur

ARMM

96

Tugaya

Lanao Del Sur

ARMM

97

Sultan Kudarat (Nuling)

Maguindanao

ARMM

98

Aroroy

Masbate

V

99

Baleno

Masbate

V

100

Balud

Masbate

V

101

Batuan

Masbate

V

102

Cataingan

Masbate

V

103

Cawayan

Masbate

V

104

City Of Masbate

Masbate

V

105

Claveria

Masbate

V

106

Dimasalang

Masbate

V

107

Mobo

Masbate

V

108

Monreal

Masbate

V

109

Palanas

Masbate

V

110

Pio V. Corpuz (Limbuhan)

Masbate

V

111

Placer

Masbate

V

112

San Fernando

Masbate

V

113

San Jacinto

Masbate

V

114

San Pascual

Masbate

V

115

Uson

Masbate

V

116

Baliangao

Misamis Occidental

X

117

Clarin

Misamis Occidental

X

118

Sapang Dalaga

Misamis Occidental

X

119

Lagonglong

Misamis Oriental

X

120

Arakan

North Cotabato

XII

121

Banisilan

North Cotabato

XII

122

Carmen

North Cotabato

XII

123

Kabacan

North Cotabato

XII

124

Midsayap

North Cotabato

XII

125

M'lang

North Cotabato

XII

126

Pigkawayan

North Cotabato

XII

127

Pikit

North Cotabato

XII

128

Tulunan

North Cotabato

XII

129

Lope De Vega

Northern Samar

VIII

130

Silvino Lobos

Northern Samar

VIII

131

Cabanatuan City

Nueva Ecija

III

132

Carranglan

Nueva Ecija

III

133

Gabaldon (Bitulok & Sabani)

Nueva Ecija

III

134

Gapan

Nueva Ecija

III

135

General Mamerto Natividad

Nueva Ecija

III

136

Guimba

Nueva Ecija

III

137

Jaen

Nueva Ecija

III

138

Lupao

Nueva Ecija

III

139

Nampicuan

Nueva Ecija

III

140

Palayan City

Nueva Ecija

III

141

Pantabangan

Nueva Ecija

III

142

Quezon

Nueva Ecija

III

143

Rizal

Nueva Ecija

III

144

San Isidro

Nueva Ecija

III

145

San Jose City

Nueva Ecija

III

146

Santa Rosa

Nueva Ecija

III

147

Santo Domingo

Nueva Ecija

III

148

Calintaan

Occidental Mindoro

IV-B

149

Sablayan

Occidental Mindoro

IV-B

150

Sablayan

Occidental Mindoro

IV-B

151

Sablayan

Occidental Mindoro

IV-B

152

Santa Cruz

Occidental Mindoro

IV-B

153

Bansud

Oriental Mindoro

IV-B

154

Gloria

Oriental Mindoro

IV-B

155

San Carlos City

Pangasinan

I

156

Pagbilao

Quezon

IV-A

157

City Of Antipolo

Rizal

IV-A

158

Calbayog City

Samar (Western Samar)

VIII

159

Matuguinao

Samar (Western Samar)

VIII

160

San Jorge

Samar (Western Samar)

VIII

161

San Jose De Buan

Samar (Western Samar)

VIII

162

Santa Margarita

Samar (Western Samar)

VIII

163

Tarangnan

Samar (Western Samar)

VIII

164

Bacon

Sorsogon

V

165

Castilla

Sorsogon

V

166

City Of Sorsogon

Sorsogon

V

167

Matnog

Sorsogon

V

168

Santa Magdalena

Sorsogon

V

169

Columbio

Sultan Kudarat

XII

170

Siasi

Sulu

ARMM

171

Siasi

Sulu

ARMM

172

Lingig

Surigao Del Sur

XIII

173

La Paz

Tarlac

III

174

Kalawit

Zamboanga Del Norte

IX

175

La Libertad

Zamboanga Del Norte

IX

176

Sibuco

Zamboanga Del Norte

IX

177

Sirawai

Zamboanga Del Norte

IX

178

Dimataling

Zamboanga Del Sur

IX

179

Josefina

Zamboanga Del Sur

IX

180

Kumalarang

Zamboanga Del Sur

IX

181

Tabina

Zamboanga Del Sur

IX

Source: Philippine National Police, Commission on Elections