Pulse: Most Mindanaoans say Arroyo cheated in 2004 polls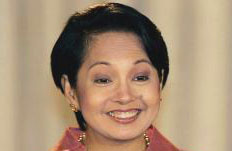 HOW ARROYO BLUNTS POLL FRAUD CHARGES1
President Gloria Macapagal Arroyo, through her spokesman Ignacio Bunye, had said the "Hello, Garci" controversy should be considered a closed book after the release of the five House committees investigation report in 2006.

2 Bunye said the House probe has not proven any of the opposition's allegations that Mrs Arroyo was involved in poll fraud in the 2004 elections.

(The accusation was based on wiretapped conversations of former election commissioner Virgilio Garcillano.)

3 She said the House committees focused more on the alleged opposition conspiracy to unseat her rather than the accountability of Garcillano. -GMANews.TV

-------------------------------
The 'Hello, Garci' timeline
-------------------------------
RELATED STORIES
Fifty-eight percent of Filipinos in Mindanao believed that President Gloria Macapagal-Arroyo cheated in the 2004 presidential elections, a survey conducted by Pulse Asia in Mindanao in December last year showed.
The same survey released to media Friday showed that 70 percent of those polled believed that because of recurring allegations of election fraud, the credibility of the balloting process in Mindanao was at a record low.
The Pulse survey - which was commissioned by Genuine Opposition (GO) through former Senator Sergio Osmeña III as part of GO's continuing program to gauge public opinion and was conducted on 600 adults in northern and southern Mindanao - also showed that 70 percent of those polled believed that there was cheating during the 2004 presidential elections.
"The same survey indicated that 58 percent of the respondents believe that President Gloria Macapagal-Arroyo cheated in Mindanao areas during the 2004 elections that saw here winning the presidential count undertaken by the Commission on Elections (Comelec) over then opposition candidate, the late movie actor Fernando Poe Jr," a statement of the GO read.
The GO said that the same Pulse Asia survey showed that 26 percent of those surveyed showed none of the 2004 presidential candidates committed poll fraud in Mindanao, while nine percent said all of the candidates cheated.
One percent of the respondents declined to give an answer.
"An identical two percent of the respondents said they believed that then presidential candidates Panfilo 'Ping' Lacson and Eddie Villanueva also cheated while one percent said Poe and the late Senator Raul Roco were also involved in poll fraud," the GO statement quoted Pulse Asia.
The GO said that 81 percent of the respondents belonging to the Classes ABC said there were cheating in the 2004 presidential polls, while 68 percent from Class D and 72 percent came from Class E.
"It will be recalled that allegations of fraud during the 2004 presidential elections triggered by the 'Hello, Garci' wiretapping scandal have raised legitimacy questions against the Arroyo administration and have resulted in at least three impeachment attempts against the President before the House of Representatives" the GO said.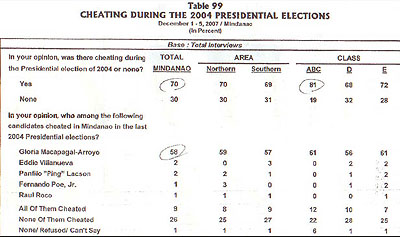 The GO said that in the 2007 mid-term elections, poll fraud charges were again raised in Central Mindanao, particularly in the provinces of Maguindanao and Lanao del Sur where administration senatorial bets won under questionable circumstances.
Covered by the survey, which was conducted from December 1 to 5 and has a margin of error of plus or minus four percent, include Butuan City, Cagayan de Oro, Iligan City, Maramag in Bukidnon, Prosperidad in Agusan del Sur, Tubod in Lanao del Norte, Cotabato City, Davao City, General Santos City, Isulan in Sultan Kudarat, Mati in Davao Oriental and Nabuntaran in Compostela Valley.
The GO said 300 of the respondents came from the urban areas while the other half came from the rural areas.
- GMANews.TV