Rodolfo Noel I. Lozada, Jr.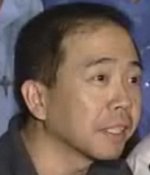 Rodolfo Noel I. Lozada, Jr., CEO of the Philippine Forest Corporation, surfaced at the La Salle Greenhills campus early morning today and implicated former Commission on Elections chair Benjamin Abalos Sr and First Gentleman Jose Miguel Arroyo in the anomalous ZTE deal.
Lozada is an electronics and communications engineer and former chief executive officer of the Philippine Forest Corporation who served as a technical consultant to former Socioeconomic Planning Secretary Romulo Neri on the national broadband project.
News reports last month referred to him as a 'secret witness' in the Senate inquiry on the ZTE deal exposed by Jose de Venecia III last year.
Lozada left the country hours before a January 30 Senate hearing he was supposed to attend. This prompted the senators to issue a warrant of arrest against him. As soon as he returned to the country, the Senate was not able to get him as he was taken away by suspected presidential guards. In a petition seeking his release filed before the Supreme Court, his wife Violeta said he was taken into police custody against his will.
A graduate of the University of Santo Tomas, he has a 20-year experience in executive and management positions in the private sector.
Lozada assumed the post of president and CEO of PhilForest, a corporate arm of the Department of Environment and Natural Resources, in 2004. He directed the government's program for the propagation and commercial cultivation of tuba-tuba or jatropha plant, a source of biodiesel.
Lozada hails from Ligao City in Albay. He is a fan of the national hero, Jose Rizal. He loves to read books, and his favorite is "The End of History and the Last Man" by Francis Fukuyama.
He is also a golfer, and plays in Wack-Wack at least once a week.
Source: GMA News Research