Barangay LS 97.1 TugStugan Na! wins Best FM Radio Station at the 2012 Yahoo! OMG! Awards
July 10 2012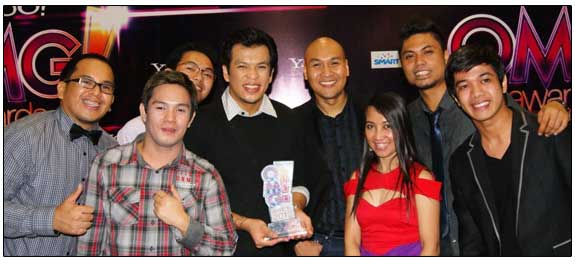 Barangay LS 97.1 TugStugan Na!
,
the flagship FM station of leading broadcast company GMA Network, won as Best FM Radio Station at the 2012 Yahoo! OMG! Awards.
Barangay LS made history for being the first recipient of the award in the FM band made up of 26 stations in the listener-rich area of Mega Manila, and over a hundred radio stations nationwide.
The station garnered the most number of votes in the online and text poll conducted by Yahoo! Philippines and bested four other finalists in the category. It also received the fourth highest number of votes among nominees in 26 categories, and won 38% of the total online votes cast in the Best FM Radio Station category after a month-long voting period.
"We are very thankful to everyone who voted for Barangay LS and to Yahoo! Philippines for giving us this award. It has always been our primary goal to keep our listeners happy and entertained through the variety of programs that we offer," said Barangay LS Program Director Glenn Allona.
Barangay LS 97.1
TugStugan Na!
is a consistent favorite among listeners from all ages and social demographics. The station offers a unique combination of programs that bring to listeners an all-hits music format, fun segments and interesting features. It also engages the audience through live interaction via phone calls, text and social media.
The daily programs are hosted by Papa Jepoy, Papa Bodjie, Mama Cy, Papa Dudut, Ate Liza, Chikotita, Papa Tolits, Mama Belle, Papa Baldo, Papa Kiko, Papa Obet and Papa Dan. Among the highest rating programs of the station are Barangay Love Stories, Talk To Papa and Wanted Sweetheart.
The Yahoo! OMG! Awards is the first of its kind purple carpet event that recognizes the most searched entertainment personalities and celebrities online. The selection of nominees was based on how often they trend in the Yahoo! Philippines search engine. This year's edition of Yahoo! OMG! Awards garnered a total of over four million votes.
The star-studded gala held at the SM Mall of Asia Arena last July 6 was hosted by Kapuso stars Raymond Gutierrez, Solenn Heussaff, and Isabelle Daza.
Filipinos abroad can listen to Barangay LS 97.1 via GMA Pinoy TV's carriers in their respective areas.