Filtered By: Cbb
Community Bulletin Board
Life can be better: Living with, through and beyond cancer
Over the years, because of the concerted efforts of various medical experts and advocates, more and more people are 'surviving' cancer. The breakthroughs in the field of medical science combined with advancements in social media and communications have brought us increased awareness and early detection, new treatment protocols, and a groundbreaking multidisciplinary approach in the management of the disease.
Many of those who have survived cancer find themselves wondering "What do I do now?", as they realize that their needs have already evolved from the time they were undergoing treatment.
The continuing quest to improve the lives of the cancer survivors provided the impetus for Cancer Survivorship Care to be born.
The ultimate goal in Cancer Survivorship Care is to improve the quality of life of not only the patients, but also the lives of their families and people who care for them. It seeks to answer questions like:
What else can we offer?
How do we guide cancer patients along their journey ahead?
How can we provide solutions for late and long-term effects of cancer?
What can help cancer patients survive better?
The recently held 47th State of the Art Conference organized by Unilab Medical Education and Development (UMED) and Unilab's BioOnco division, in partnership with the Philippine Society of Medical Oncology (PMSO), provided a venue for experts to discuss these questions.

UMED is a continuing medical education program developed by United Laboratories Inc. (Unilab), where local and foreign experts from different and disciplines provide lectures to health practitioners all over the Philippines. BioOnco is a division of Unilab that provides best value oncology products for cancer survivors.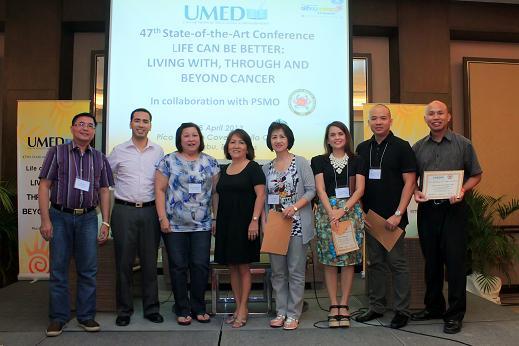 Quality and Integrative Care to Manage Cancer. Oncology experts converged at the 47th conference of the Philippine Society of Medical Oncology to highlight the importance of survivorship care for cancer patients. Leading the panel of speakers are (L-R) Dr. Dennis Tudtud, Dr. Omid Etemadi,Dr Gay Martinez-Lapus, Dr. Elizabeth Martinez, Dr. Noemi Alsay-Uy, Dr. Ellie May Villegas, Dr. Bill Ramos, Dr. Francisco Conde.
UMED brought together three notable speakers from different fields of modern cancer survivorship programs to share their expertise on how to cope with survivorship care today.
The first speaker, Dr. Francisco A. Conde, is an APRN-Clinical Nurse Specialist in Queens' Cancer Center of the University of Hawaii at Manoa. He discussed the Elements of Cancer Survivorship Program, and talked about the four Cancer Survivorship Burdens that need to be resolved.
These are, first, Physical Burden—the patient's immediate and long-term treatment sequel, recurrence and secondary malignancies, as well as fertility and reproduction. Second, Psychological and Emotional Burden—the uncertainty, fear and anxiety of recurrence, psychosocial distress and relationship problems. Third, Social Impact—on family members and problems at school or work; and last, the Economic Factor—insurance and employment.
Dr. Conde explained that there are essential components of survivorship care. These are, prevention of recurrent and new cancers and their late effects; surveillance for cancer spread; recurrence or "second cancers"; assessment of medical and psychosocial late effects; intervention for consequences of cancer and its treatment; and coordination between specialists and primary care providers.
Dr. Conde discussed a nurse-led model where nurses take responsibility for cancer-related follow-up care with oversight from physicians and specialized survivorship clinics in which multidisciplinary care is offered at one site.
The second speaker was Dr. Omid U. Etemadi, who is a specialist in Translational and Integrative Oncology, Cancer Survivorship Care of Cebu. He pointed out that among cancer survivors, 16 percent to 25 percent will have major depression, 33 percent will have anxiety, dysthymia, and adjustment disorder; 20 percent to 40 percent will have cachexia, 60 percent to 80 percent will have clinical malnutrition and 65 percent to 85 percent will have pain as a result of the advance stage disease.

He explained that cancer survivors are most likely lost, confused, unsure, unclear, perplexed, disoriented or bewildered. And in order for patients to recover, they must have good nutrition, which when combined with exercise reduces cancer recurrence.
Dr. Maria Christina S. Reyes, the third speaker, is a nutrition support physician who talked about Nutrition Therapy: During and Beyond. She tackled the prevalence of malnutrition in cancer patients, and how important it is to understand malnutrition and the efficacy of nutrition therapy in cancer patients.
Dr. Reyes focused on Cancer Cachexia, which by definition is the loss of body mass that cannot be reversed nutritionally. She concluded her discussion by saying that malnutrition is often an expected cancer scenario associated with adverse events, and nutrition therapy has been shown to provide clinical benefits. But she stressed that there is no single treatment strategy, hence, a reversible symptom should always be treated. Lastly, she said that cancer patients should always meet their calorie and protein requirements. When oral feeding is not possible, or insufficient, artificial feeding or specialized nutrition can be used.
An individual is considered a cancer survivor from the time of diagnosis, throughout the remainder of his or her life. Included in this definition are those who deal with and are impacted by the survivorship experience like family members, friends, and caregivers. Cancer Survivorship Research includes the physical, psychosocial, and economic consequences of cancer diagnosis and its treatment.
Within its domain are issues related to health care delivery, access, and follow-up care as they relate to survivors, with focus on the health and life of a person with a history of cancer beyond the acute diagnosis and treatment phase. It seeks to control and prevent adverse cancer diagnosis and treatment-related outcomes, to provide a working knowledge base regarding optimal follow-up care and surveillance of cancers, and to optimize health after cancer treatment.
Surviving cancer has now been made more attainable, thanks to modern medicine and innovative medical practices. But surviving cancer is by all means not the end of it. Cancer survivors need to survive the rest of their lives. In this regard, we are all called to care for them, to improve their quality of life and to help make their lives better. It is a commitment that we all must do, because cancer survivorship is all about integrative caring the best way possible.

Press release and photo from United Laboratories, Inc.