Filtered By: Cbb
Community Bulletin Board
S.W.E.E.P. the Nation: Empowering women through sports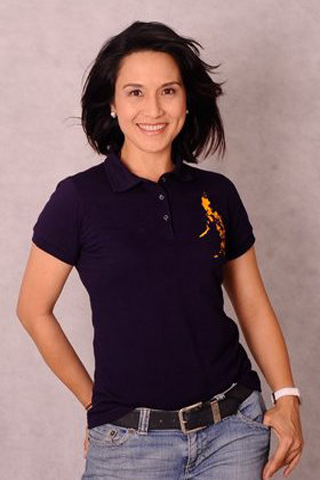 Geraldine Go-Bernardo.
Much has been said about sports being a "no woman's land," however, take a glance at the national setting and find the glaring absence of female recognition, whether it be in the various levels and disciplines, professional and amateur leagues, and local and international governing units. Even as of late, the supposedly lack of prestige in upholding women's sports has continued to dampen expectations for financial backing and overall public awareness. At a time when the Manny Pacquiaos and the Michael Christian Martinezes could instantly raise the Filipino spirit in their own exceptional way, a female counterpart would remain missing – still stricken by social and cultural gender biases, even to this day. Hopefully, with Geraldine Go-Bernardo challenging the stereotypes, it may no longer be the case soon.
This seemingly lack of support for Filipino women in the industry essentially came from the lack of opportunity being given to them. This ultimately pushed Bernardo to launch the Go for S.W.E.E.P.! or the Sport for Women's Empowerment and Employment in the Philippines. She points out how it has always been up to the community to change the mindset and push for more women advancement and promotion. It is the fact that as a society, Filipinos do not see the real value of getting girls into sports – the sense of achievement and real sense of self that it brings.
The former national athlete as well perceives that there are enough promising female athletes and willing advocates, but without a more concrete and committed plan from the sports governing bodies and the academe to champion such a cause – starting off with the nomination of more competent women in their boards – the opportunity is ultimately wasted.
"Not only Is there under-representation in women's sports participation or women assuming technical positions, the National Sports Associations (NSAs) in the Philippine Olympic Committee (POC) roster reveal that women hold between just 12-15% of the top positions," Bernardo said. "Once again, a chance to better foster gender equality in the local level is discounted."
Bernardo's balanced experience in the industry has equipped her to become pro-athlete's welfare. Because of her participation in the Philippine National Dragon Boat Racing Team from 2003-2007, she was exposed to the stresses that a Filipino athlete could encounter– physical, emotional, financial and political –all much worse when the athlete happened to be a woman.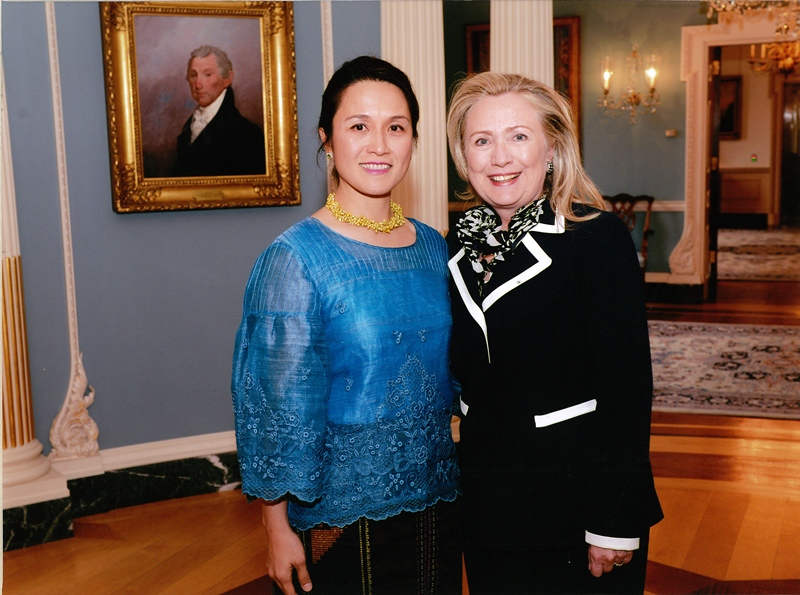 Bernardo with US Secretary of State Hilary Clinton.
Now with an aim to initiate larger steps in empowering female athletes, coaches, and sports directors all over the nation, a symposium spearheaded by the first female Executive Director of the Philippine Sports Commission (PSC) is going to be held on Saturday, March 8, 2014 at the Philippine Women's University (PWU). The conference has a series of talks with hopes of educating the audience on the current status and importance of getting Filipino women into sports, whether for passion or profession.
With invited guests from the Women's National Collegiate Athletic Association (WNCAA), Women's Colleges Sports Association (WCSA), and PE teachers and other related occupations, issues revolving around women's sports in the Philippines can be brought to the fore.
Much-anticipated lecturers Dr. Sarah Hillyer and Dr. Ashleigh Huffman from the University of Tennessee Center for Sport, Peace, and Society, whom Bernardo met during her stint as the first Filipina in the inaugural ESPN-W Global Sports Mentoring Program (GSMP), will also share their research and experiences in the seminar. The 2012"Empowering Women and Girls through Sports" U.S. Department of State's initiative has served as one of former Secretary Hillary Clinton's "signature efforts to empower women and girls" around the globe, already penetrating as many as 42 countries. Finally, discussions on gender empowerment and service learning engagement in sports have come to Philippine shores via Bernardo's invitation.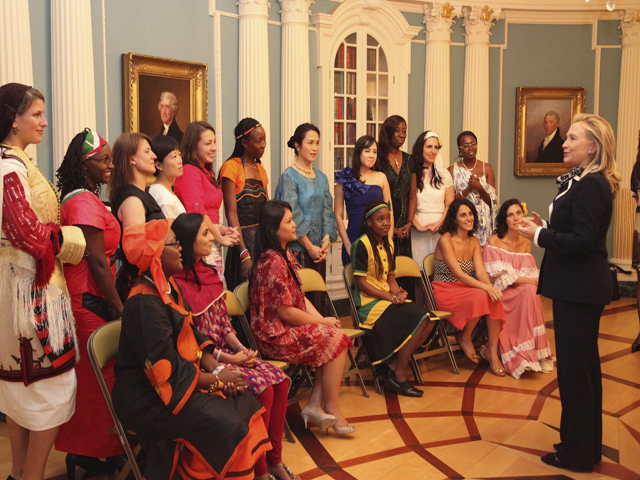 Geraldine Go-Bernardo (2nd row, 5th from right) with other delegates during the inagural of ESPN-W Global Sports Mentoring Program (GSMP) with Sec. Hilary Clinton.
"I really benefitted from the exposure and the atmosphere that I experienced over there, where other women sports leaders and mentors in the program were very supportive of each other," Bernardo shared of her encounter with the US proponents of GSMP. "Fortunately, that has been my experience here as well, as I was spreading the 'gospel' of promoting girls and women in sports", notably, in some of the underserved communities.
Another esteemed speaker, Commissioner Akiko Thomson-Guevarra, will discuss government initiatives in promoting women in sports. Dr. Leonora Panlasigui will discuss the nutrition and health considerations of women athletes while PWU Athletic Director Marielle Benitez, who stands as co-organizer of the symposium, will provide the athlete's perspective and commitment to pursue S.W.E.E.P.. Other guests include Ms. Cynthia Carreon of the women's commission in the POC, and women athletes and coaches from the NSAs.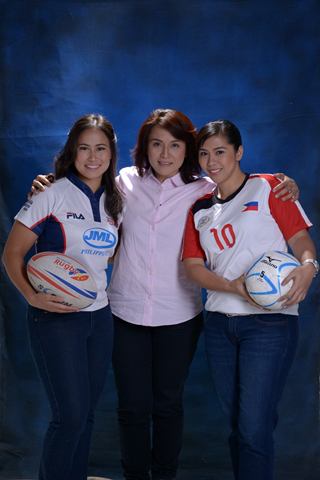 Bernardo with football team captains Ada Milby of Lady Volcanoes and Marielle Benitez of Malditas.
A second leg for Go for S.W.E.E.P.! is set to take place in Tacloban from March 9 to 11,wrapping up the former SEAG gold medalist's initiative to commemorate Women's Month by using sports for community recreation and healing. The program "RePLAY, ReLIVE, ReNEW" is also scheduled to unveil during this Visayas visit.
To Bernardo, though, it is only the tip of the iceberg as procedures to really change the realm of women's sports in the Philippines should be resourceful, long-term, and collective.
"Hopefully, after this we will be able to draw up the action plan from the major stakeholders and conduct workshops for capacity building," Bernardo added. "So that even the struggle to monitor and act on all sorts of gender discrimination and mistreatment may be overcome."
At the end of the day, empowering Filipino women through sports goes deeper. Nonetheless, having dedicated supporters in the form of the sports-governing bodies and school sports will greatly help. The efforts made by these groups, who are more than qualified to recognize talent and value even before winning, would then be capable of elevating the game, shaping identities, and building a more exciting future for young girls and women-centric communities all over the country. And in this reality, Geraldine Go-Bernardo would, indeed, have managed to raise the Filipino spirit in her own exceptional way.
To register for the event,
log on to the website
or email: info@sportphil.com or call 0927 553 1700.
Press release and photos from
TasteBuds