Filtered By: Hashtag
Hashtag
Facebook data says break-ups highest in December
While it's not common to hear of couples calling it quits on Christmas Day itself, most break-ups happen only a few weeks before Christmas.
The holiday season may be filled with love and cheer, but it's also a highly stressful time that can take its toll on romantic relationships. Perhaps it's the combined pressures of gift-giving coupled with meeting the family of your partner? Or maybe it's the simple need for a fresh start in the New Year?
Based on Facebook data collected in 2010 by journalist David McCandless, December is the most popular month for couples breaking up.
McCandless
sought the phrases
"break up" and "broke up" in 10,000 Facebook statuses. He discovered the following trends: 1) Couples part ways at the start of spring break and summer 2) Break-ups often happen on Mondays, and 3) Break-ups peak two weeks before Christmas.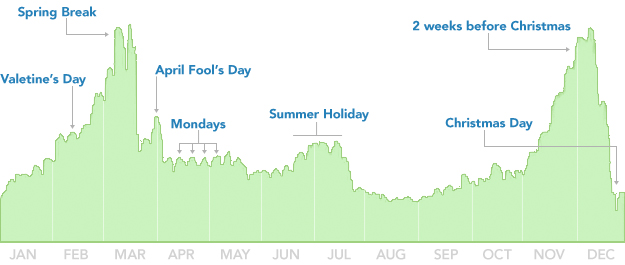 Source: Mashable
S.M.A.P. (Samahan ng Malalamig Ang Pasko)
Among those spending Christmas newly-single is Mica, who recently broke-up with her boyfriend of four years.
Mica does not deny this year's Christmas feels rather incomplete without her partner, after getting used to spending it with him in the last four years.
"Syempre kulang [ang Pasko ko]," Mica told News To Go. "Dati may kasama akong magsi-Simbang Gabi, tapos Noche Buena kasama rin namin siya...ang hirap eh. May seat na siya dun sa table namin, tapos biglang nawala," she said with a hint of longing.
Psychologist Randy Dellosa explains that couples may experience stress and pressure during the holiday season.
"Holidays like Christmas and Valentine's are very emotionally-charged days," he said. "And dahil emotionally-charged sila, then it somehow brings out our emotional insecurities."
Michael, a 24-year-old editor in an advertising company, called it quits with his girlfriend earlier this month, citing the lack of time for each other due to work.
"We don't see each other often anymore because we're both busy with our jobs. Hirap na raw siyang mag-adjust," he lamented.
Asked whether he thought the stresses brought about by Christmastime is what pushed them to the edge, he said, "Sa tingin ko wala namang kinalaman sa Christmas season yung break-up, nasa tadhana na siguro kung bakit ganito nangyari samin."
They were together for four years.
Meanwhile, Dale, a 28-year-old account representative in an insurance company, also parted ways with his girlfriend, a 24-year-old administrative assistant, at the start of December.
"My girlfriend snooped around my Facebook profile and saw a conversation between me and my ex. Nagbibiruan lang. I got pissed because I felt that my privacy was invaded," he reasoned.
It's the second time they've broken-up but this time around, neither of them is making the effort to reconcile.
Like Michael, Dale doesn't believe the timing of their break-up happening before Christmas has any significance.
"I don't think the break-up has anything to do with Christmas, at least on my part. Ewan ko sa kanya, baka she's expecting a Christmas gift from me to make it up to her. I'm still thinking about it," he said.
They were together for eight months.
The month of love "Christmas probably should be used to reflect on your current relationship. It's the period before New Year, and New Year is the symbol of turning over a new leaf, so it's good to assess your weaknesses and flaws as well as that of the relationship. It's always good to enter the New Year without [emotional] baggage," Dellosa advised.
It is interesting to note, however, that Christmas season is not only popular for break-ups, because a lot of couples pair up and get married during this time as well.
Facebook
data
show that both Christmas Day and Christmas Eve see more new relationships than break-ups (28% and 34%, respectively), next only to Valentine's Day (49%).