Filtered By: Hashtag
Hashtag
Good Scoop: Manila couple opens soup kitchen
Good deeds can come from anywhere.
At a house at 569 Ayala Boulevard in Ermita, Manila, a wife and her husband have taken the initiative to give poor vagabonds a warm meal of soup or porridge for lunch from Monday to Thursday.
The couple named their project, Zoe Soup Kitchen. For over three weeks now, they have served warm meals of champorado, miswa, arroz caldo, or sopas.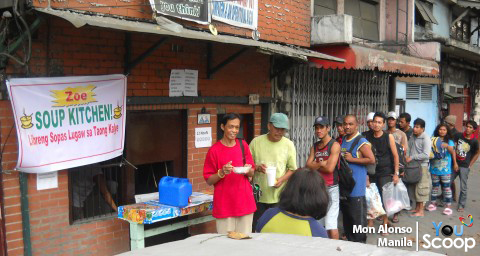 Zoe Soup Kitchen in Ermita. Photo by YouScooper Mon Alonso
Zoe Alonso, the woman behind the soup kitchen, said that at least 60 people visit them every day. "Kanina, umabot sa 100 ang pumunta. 30 minutes lang, ubos na [ang sopas]," Zoe said.
They come from Ermita, Intramuros, and Quiapo. Parents bring their children. Others bring themselves. There are even senior citizens, but they don't make it in time. "Palagi silang nauubusan. Pinagtitirahan ko na lang sila, binibigyan ng pambili ng pagkain," Zoe said.
Managing the soup kitchen has become a nearly daily grind. "Mahirap pero masarap," Zoe said. "Dream ko kasi na magpakain, tumulong," she added.
Zoe told GMA News that she got her motivation to help after seeing people scavenging for food inside waste containers in front of her home. She told her husband Mon about it, and he suggested the soup kitchen. They started it on January 17.
"Naglagay kami ng tarp para i-advertise. Hindi pa alam ng mga pulubi kung ano ang ginagawa namin kaya nagtanong pa sila noong una," Mon said. As weeks pased, news of their initiative spread, and the number of visitors steadily increased.
To meet the growing demand, the couple started a routine. Zoe cooks the food in the morning, while Mon assists in serving it. After the soup kitchen closes for the day, the couple shops for ingredients for next day's meal. They spend at least P300 a day.
Other feeding programs in the area are managed by church groups. However, those are only available from Fridays to Sundays. The homeless suggested to the couple that they have their soup kitchen on the days not covered by other feeding programs.
"Synergy effect ang habol namin," Mon said. "We want to give back to society. Ito ang aming moral obligation para gumanda ang standard of living ng iba."
The soup kitchen is open Monday to Thursday, from 12:00 noon to whenever the rations run out. —
EPE/ELR, GMA News
Share your story of random acts of kindness with us! Send your Good Scoop story to www.youscoop.tv and we may air it on News To Go on GMA News TV Channel 11.