Filtered By: Hashtag
Hashtag
MRT admin's blasé tweet over crashed train ignites public backlash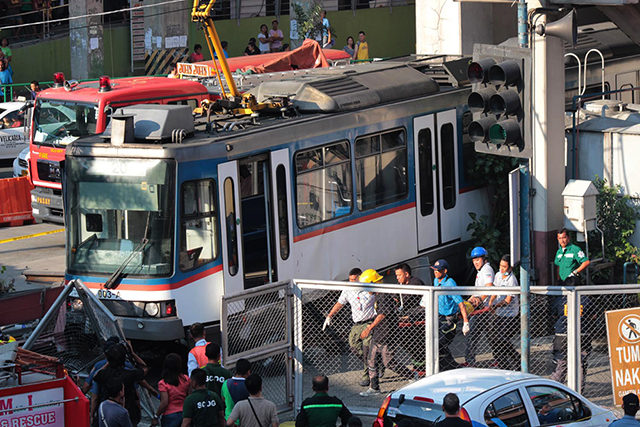 At least on social media, the administrators of the MRT public railway system seemed almost nonchalant over the derailing of one of their trains, which injured dozens of people late Wednesday afternoon.
At around 3:45pm on August 13, a southbound MRT train overshot the last station in Pasay Rotonda, causing the railcar to
crash through the station's end barrier
and onto the busy intersection of Taft Avenue and EDSA.
No less than 30 people were reported injured in the accident.
The shocked public naturally turned to authorities for answers and reassurance, but the official Twitter account of the DOTC-MRT3 had just this to say:
Advisory: We are currently undergoing necessary intervention for the technical problem encountered. We apologize for the inconvenience TY.

— dotcmrt-3 (@dotcmrt_3) August 13, 2014


The apparently blasé way in which the incident was treated, with nary a mention of the injuries and damage incurred, was naturally met with anger by other netizens:
@dotcmrt_3 Say it straight. A train accident at Pasay - Taft Ave Station.

— Logical Chaos (@logical_chaos) August 13, 2014


"@dotcmrt_3: We apologize for the inconvenience TY." You don't apologize for INCONVENIENCE to injured people in an ACCIDENT you caused.

— Sophia Lucero (@sofimi) August 13, 2014


can u also apologize for the incompetence "@dotcmrt_3: Advisory: We are currently undergoing nec ... We apologize for the inconvenience TY."

— Gerard Depardude (@chrlsdmrs) August 13, 2014


@dotcmrt_3 Wow, so casual. Can't you just say a train derailed at the Taft station? Jeez.

— OJ Tibi (@ojtibi) August 13, 2014


Understatement of the year. I feel bad for the one manning @dotcmrt_3 right now. https://t.co/4EEaMBRe3m

— Paige Occeñola (@ohnopaige) August 13, 2014


Chos lang. MT @dotcmrt_3: We are currently undergoing necessary intervention for the technical problem encountered. pic.twitter.com/CKYDllqj2n

— Angel Santos (@straaangge) August 13, 2014


@dotcmrt_3 Seriously? When an app crashes, that's a technical problem. When a train crashes, that is a monumental failure.

— Michael Palacios (@michaelpalacios) August 13, 2014


@dotcmrt_3 You owe it to the public to acknowledge the gravity of the situation. "Tech problem" is understatement of the year.

— Michael Palacios (@michaelpalacios) August 13, 2014


@dotcmrt_3 TY? TY??? TY THAT YOUR ILL-MAINTAINED TRAIN PUMMELED DOWN INTO EDSA AND FELL ON A CAR??? I AM NEVER RIDING THE MRT AGAIN

— Chandra Pepino! (@chandrakills) August 13, 2014


The dotcmrt-3 Twitter account only addressed the clamor with a tweet at 6:12pm, almost two hours after the initial advisory that started it all:
The MRT regrets the unfortunate incident, the management will extend all necessary assistance to those injured & inconvenienced. Thank you.

— dotcmrt-3 (@dotcmrt_3) August 13, 2014


This didn't put the authorities completely off the hook, however:
@dotcmrt_3 that was the last thing everybody wanted to happen. But it's just the government's apathy towards it that caused it to happen.

— Dru Sison (@awesome_drew) August 13, 2014


@dotcmrt_3 aantayin niyo ba munang may mamatay?

— Popo (@YANiPOPO) August 13, 2014


— GMA News