Filtered By: Lifestyle
Lifestyle
Pinoys show off their Korean language chops at KCC speech contest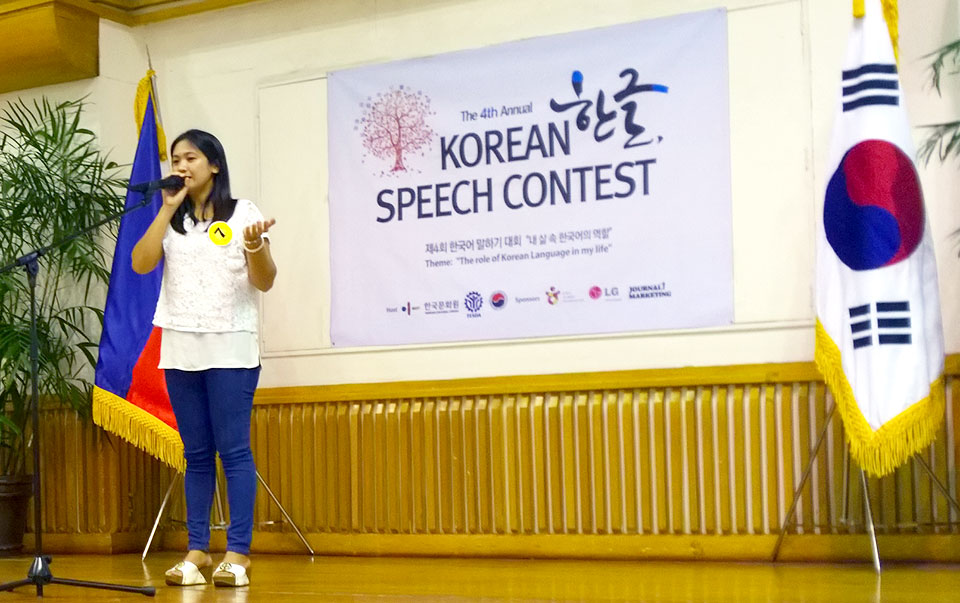 "Korea is my family's country and it's like [what] the Philippines is to me,â€Â says Michelle Song on the importance of Hangul and the Korean language in her life.
Â
Hallyu-loving Filipinos showcased their language skills at the Korean Speech Contest at the TESDA Center in Taguig City last Saturday. This year's theme was "The Role of the Korean Language in my Life.â€Â
Choosing Korean
The Korean Speech Contest is run by the Korean Cultural Center in the Philippines (KCC). This year, the contest was held in partnership with TESDA (Technical Education and Skills Development Authority). KCC has been providing the agency with tools and facilities to aid its Korean language training programs.
The common motivation for the contestants to study Korean is the Hallyuwave phenomenon—the huge rise in international popularity of Korean pop culture, in particular Kpop, Koreanovelas and Korean movies. Not understanding what their Korean idols were saying meant they only got half out of what they were listening to and watching, so these Pinoys resolved to learn the language.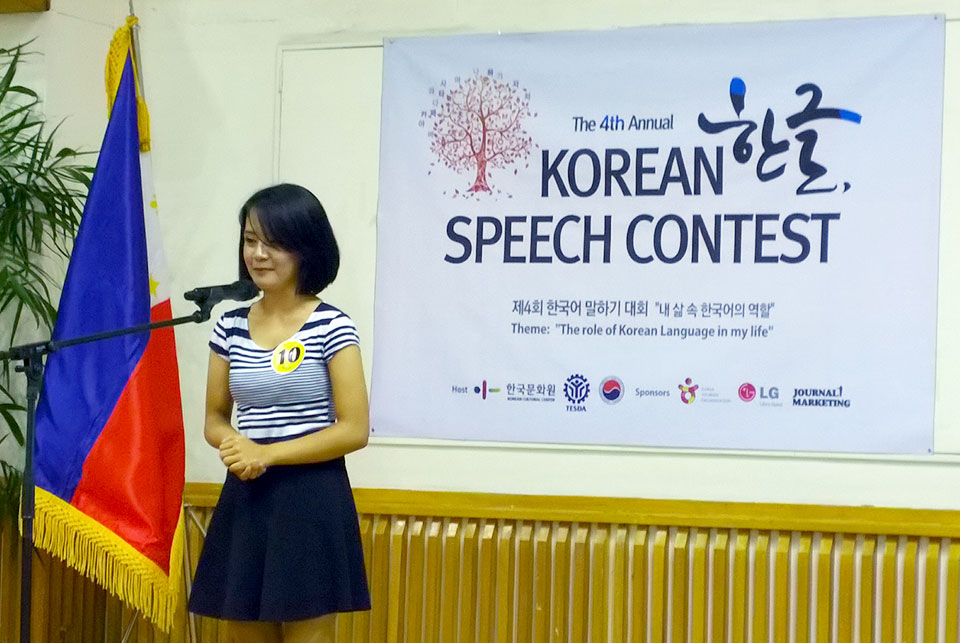 "I can now understand what they are saying. From 'Hah?', it became 'Ah!',â€Â says Hallyuwave fan Kena Shelsie Macaubos, describing how it feels to fully understand the context of Korean dramas and music after three years of studying Hangul.
Â
But it's not all about Hallyuwave. For contestant Michelle Song, she learned Korean because she wanted to converse properly with her Korean husband and in-laws.
The contestants have also found that their knowledge of the language comes in handy when communicating with Korean visitors to the country. In Angeli Marie-Baclea-an's case, she was able to talk to Korean soldiers assigned to Yolanda relief in her hometown of Tacloban.
Sarah Domingo-Lipura, a professor in the Korean language and one of the contest's judges, revealed that she joined the contest in the past. She said that back then, they were allowed to bring a printed copy of their speech on stage. Now, the contestants have to memorize their speeches.
Championing the Korean language
The contestants had to choose between two topics for their speech:
1. How is the Korean language helpful to me?
2. Why am I studying the Korean language?
They had to deliver their speech within a designated time period. At the end of their speech, the judges asked them basic questions that they had to answer in fluent Korean.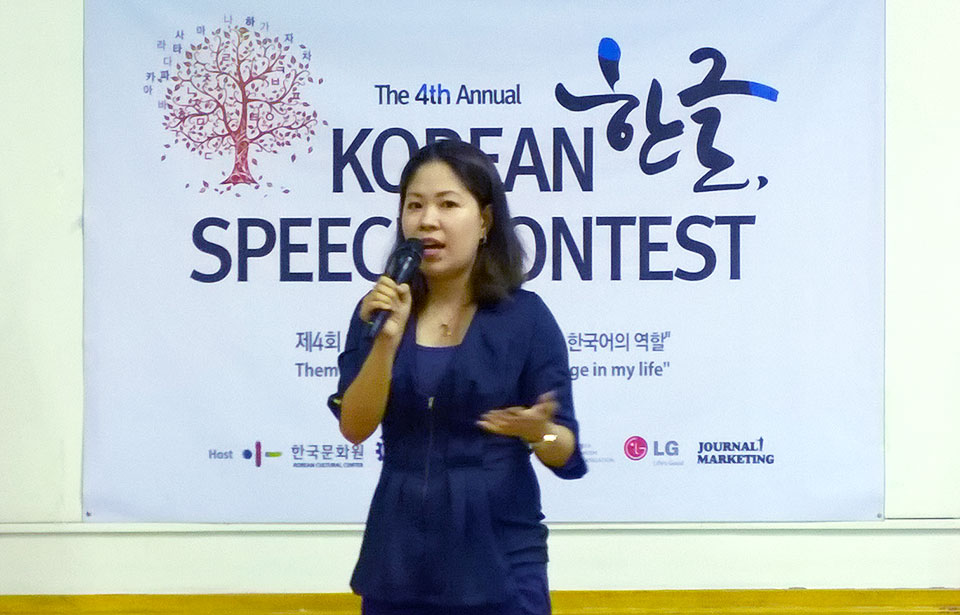 Contest judge and ADMU Korean Studies Professor Sarah Domingo-Lipura reveals that she once stood on the same stage years ago as a contestant.
Â
This year, the contest accepted applications from Korean language students in Cebu, Davao, and Iloilo. And in the end, two of the three winners were from outside Metro Manila: Baclea-an took third prize and Jannin Alegado of Cebu won second prize.
The top prize of a trip for two to South Korea was won by University of the Philippines student Maria Concepcion Chua.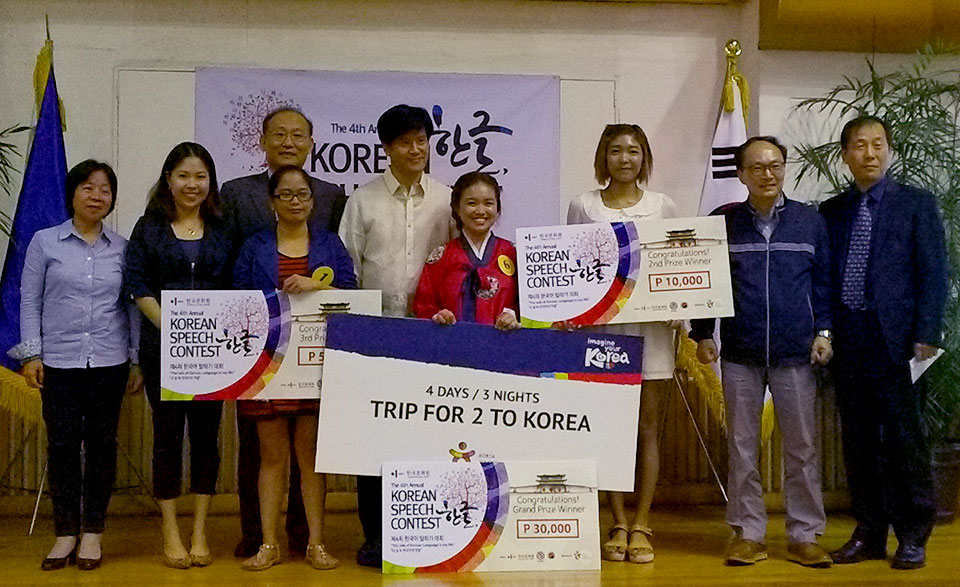 Fom left: TESDA Deputy Director Irene Isaac, judge Sarah Domingo-Lipura, Korea International School principal Hwang Sun-Tae, 3rd prize winner Angeli Marie Baclea-an, KCC director Oh Choong-Suk, grand prize winner Maria Concepcion Chua, 2nd prize winner Jannin Alegado, Korea Chamber of Commerce president Chang Eun-Gab and KTO director Park In-Shik.
Â
— BM, GMA News
The Korean Cultural Center in the Philippines offers Korean language lessons. Check its website or Facebook and Twitter accounts for enrollment updates.