Filtered By: Lifestyle
Lifestyle
IN PHOTOS
Silent Disco shouldn't be a listening party — dance, dance, dance!
On Saturday, eight DJs battled for a spot to play at the Malasimbo Music Festival in a silent disco at Ayala Triangle Gardens. Playing for a crowd equipped with earphones, the DJs (in sets of 3-3-2) fought to turn the crowd red, blue, or green.
Everyone in the audience wore headphones, with a switch that flips between three channels with corresponding colors. This is where the "silent" in silent disco comes from—everyone gets the music directly in their ear and are free to move to the rhythm as they please.
It sounds novel, but if you're particular about the sound quality, the headphones distributed at the event easily beats the set-up in some open-space performances. The sound isn't thrown in the air and thus doesn't have to compete with background noise (passing cars, loud chatter, et cetera) and the party also doesn't contribute to that noise.
ATM: Silent Disco at Ayala Triangle Gardens pic.twitter.com/K8QsVdUl5o

— Aya Tantiangco Miura (@ayaruim) February 18, 2017
DJs Marvelous, Nomoclassiq, and Shannon Conrado played the first set and the crowd gathered with a bit of trepidation. A lot of selfies were taken, a few switched between channels and tapped their feet, but the missing element? Dancing.
A small group (headed by Lara Parpan, who used to helm the now-defunct local edition of Women's Health) arrived and introduced movement to the crowd. At that point, people were still using their phones to document their existence during the event.
In the fringes, while taking photos of my own, I couldn't stop dancing. Who doesn't dance when Nomoclassiq plays Prince's "I Wanna Be Your Lover" directly in your ear?
Fortunately, by the time the second set was playing, people were beginning to loosen up. A majority of the people were still closer to standing still than dancing, but people were catching on to the disco part of silent disco. That or a kid dancing his heart out inspired them to move to the music.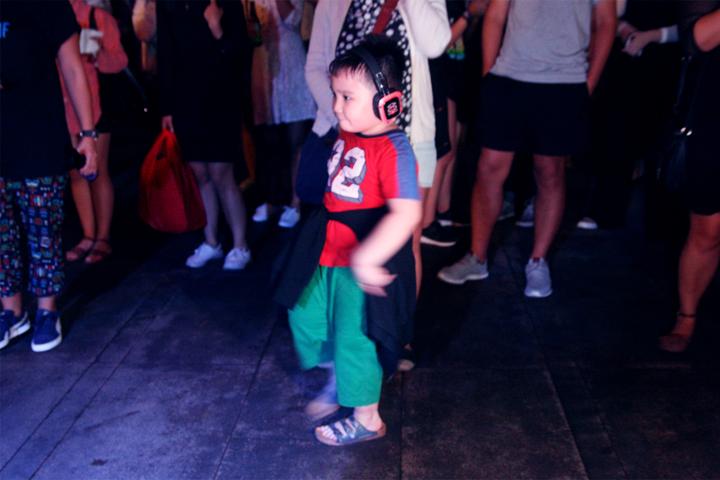 As I was flinging my arms around and making happy movements with both of my legs, I wondered if the headphones were isolating some people and stopped them from getting into the groove.
This musing was quickly resolved when Chryse joined Sky Dominique and Arpee Ong in the second set. He began to play, so I gave him a try. Chryse's set was, as kids would put it, smooth af. My right knee was hurting, but the music was commanding me to move so I kept going.
I turned to see if anyone else was being blown away by this set and the woman next to me was doing the same thing. We both pointed to our headsets, both blue at that time, and mouthed words of appreciation before going back to dancing.
A small group of people with headphones set to blue gathered in front of the DJs and I shelved the notion that this was a specialized party. It's just a party and people were still enjoying together.
Bercel Reyes and Paul Romanoff were the last to hit the stage. The crowd had thinned a little, but a bit of dancing prevailed. More dancing next time! — BM, GMA News
The Silent Disco at Ayala Triangle Gardens is part of the 10 Days of Art initiative from the people behind Art Fair Philippines.