Filtered By: Lifestyle
Lifestyle
Tacloban Prevails turns scrap and debris into stylish furniture
This is Nestor's coffee table.
It was made from an old ladder owned by 89-year-old Nestor Abilado, a resident of Tacloban, Leyte and a survivor of Typhoon Yolanda.
Th is is Francisko's wine glass rack.
The wood was taken from a cart that was used by 15-year-old Francisko Estupin until its wheels broke down. Francisko, who labors daily to help meet his family's needs, also suffered the typhoon's wrath, but is now one of its many spirited survivors.
These items are just a few of the eloquent, unique pieces from furniture line Tacloban Prevails, created by Costa Rican furniture designer Bernardo Urbina.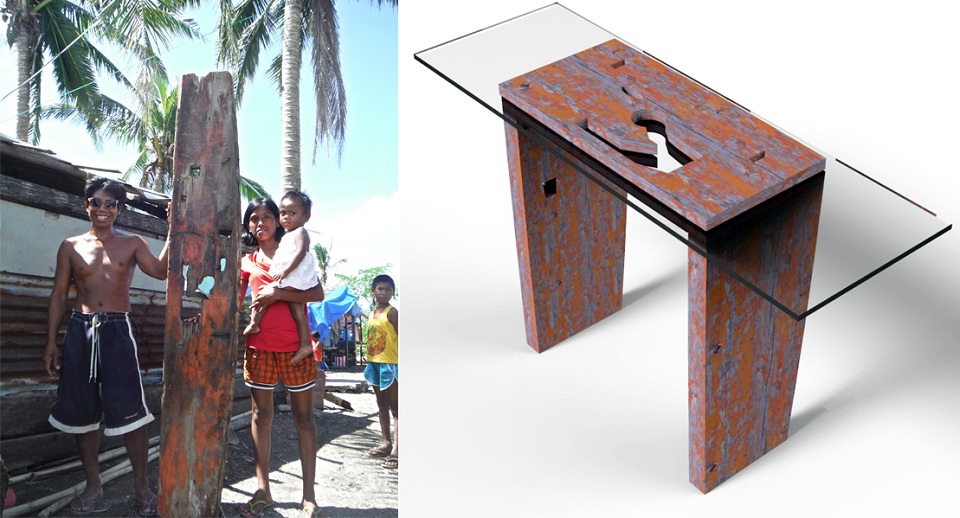 Wilson Pinaloza (left) sold Tacloban Prevails the remains of his boat. Urbina used the wood to create a stylish console table. Photos courtesy of Tacloban Prevails
Urbina and his girlfriend Aurelija Skikaite source debris and other scrap materials from homes of displaced families in Tacloban and use them to create functional pieces—furniture that Urbina calls "aesthetically and emotionally pleasing."
"I was traveling around the Philippines as much as I could," Urbina told GMA News Online. "Once I went to an amazing island, Malapascua. I saw so many nice and huge debris that no one was using. It was a couple of months just after Typhoon Haiyan [Yolanda] hit. I was picturing different kinds of furniture in my head from the debris being thrown away."
Urbina and Skikaite discussed his ideas, did some research, and met with wood sculptor Jim Doran-Webb, who advised them to go to Tacloban, "because it is the worst hit and needs the most help," said Urbina.
"We went to Tacloban in March and just walked around the villages. We bought wood and scrap on the spot."
Initially in the Philippines working as a senior designer and consultant for Cebu furniture design firm Vito Selma, Urbina fell in love with the country and its people and decided to prolong his stay. With an impressive background in Industrial Design—he is a graduate of New York's Pratt Institute—Urbina said he differs from his contemporaries because he is "determined to find solutions to everyday problems through discovery and innovation."
In Tacloban, the survivors' situation inspired the designer to make "furniture with a soul." Urbina says that inspiration flows when he interacts with the residents while sourcing the materials.
"Everybody has been very nice and has always made us feel very welcome," he said. "We accomplished the permit and other requirements and launched our first collection in June."
The wood is handpicked by Urbina himself. They ascertain that the scrap is no longer of use to the family, after which it is re-purposed and crafted into a one-of-a-kind furniture piece. A photograph of the original item and its previous owner is included in every purchase.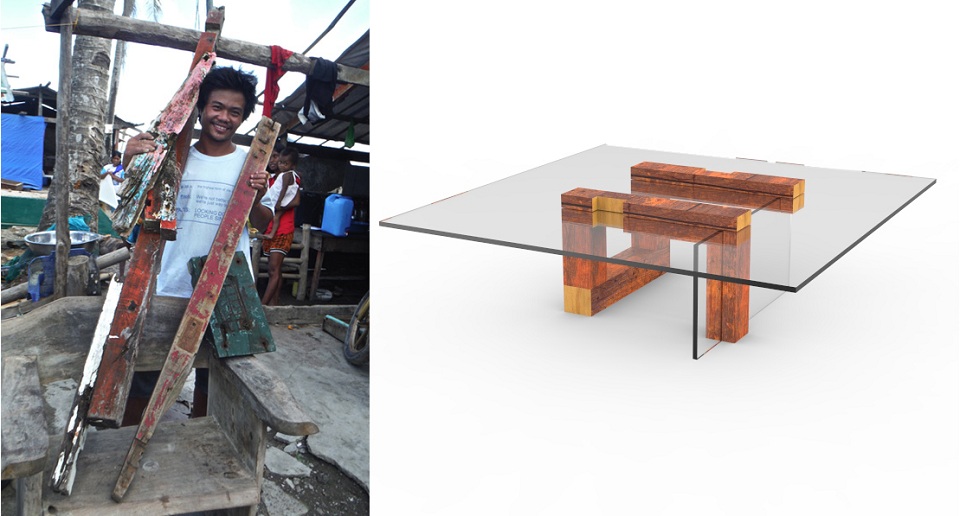 Another boat-to-table transformation: what was left of Juanito Coyos' banca was used to create a coffee table.
Tacloban Prevails, which is based in Cebu City, is currently working on being registered as a non-government organization. According to Urbano, along with the initial payment for the scrap, a 10-percent share of the final sale is given to the affected family.
Currently in the introductory stage, the Tacloban Prevails furniture line offers coffee and console tables, the wine glass rack, coasters and lamps. "As soon as we sell this collection we want to relocate to Tacloban, where we would hire local carpenters to produce the pieces," said Urbina. "This will increase production speed, allowing us to buy more debris and therefore help more families."
— BM, GMA News