Filtered By: Lifestyle
Lifestyle
FOOD REC
5 must-try meals at solar-powered diner Megawatt
Burritos, pizza, burgers, chicken pops, and turon filled with chocolate: Foodies can get a taste of all of these at Megawatt, a Tex-Mex place in Quezon City.
Perched on top of a car wash, the thirty-seat diner is drawing raves for its food, even though not one among its founders has any culinary training.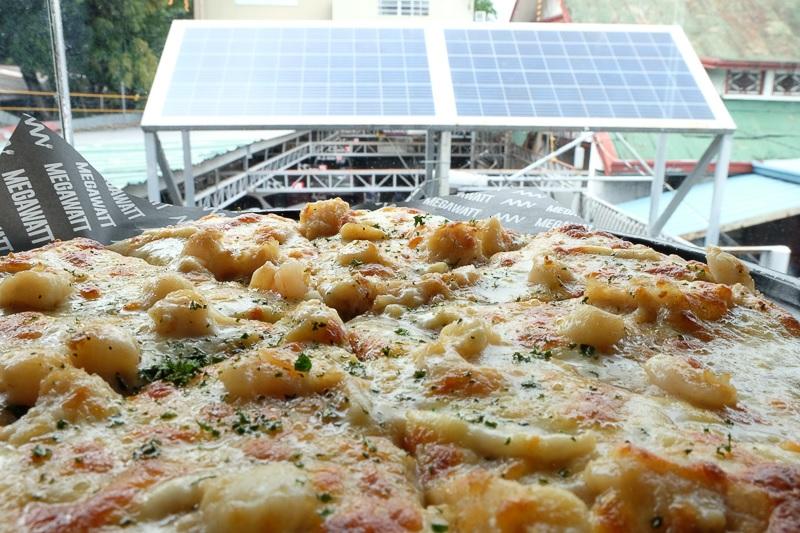 The Seafood Garlic Pizza is a bestseller. Megawatt's solar panels can be seen in the background. Photos: AC Dimatatac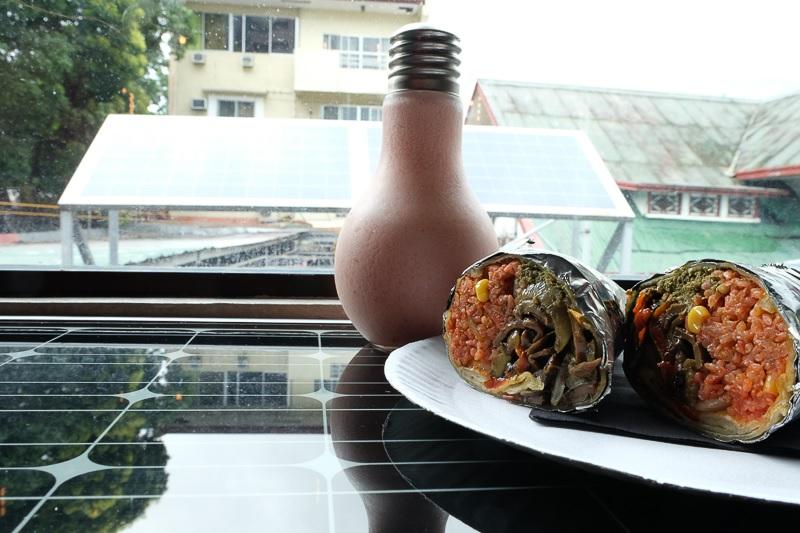 This gargantuan Vegan Pesto Burrito is perfect for sharing! The strawberry milkshake behind it is reserved for lacto-ovo vegetarians, but even grumpy folks would smile over the shape of the drinking jars.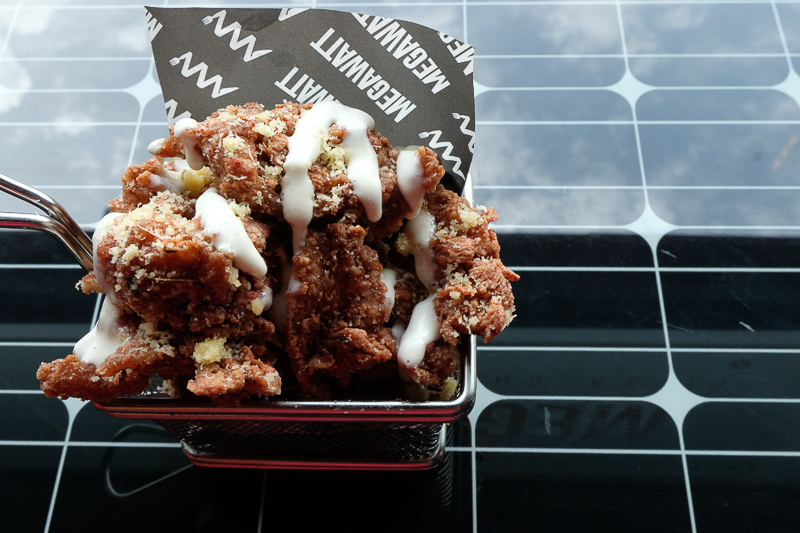 The Chicken Pops are seasoned just right, with parmesan to boot!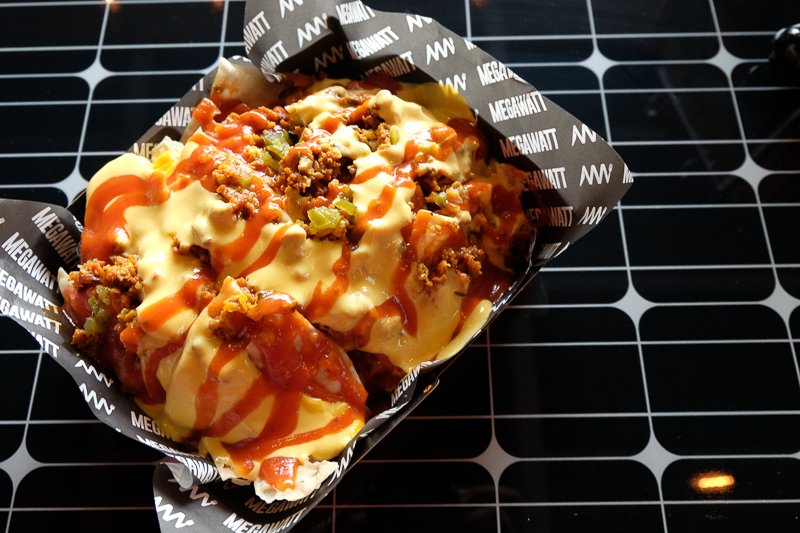 The Nacho-Rizo boasts of crispy homemade chips topped with jalapeno and chorizo bits, drizzled with sun-dried tomato ketchup, and smothered by a boatload of cheese sauce!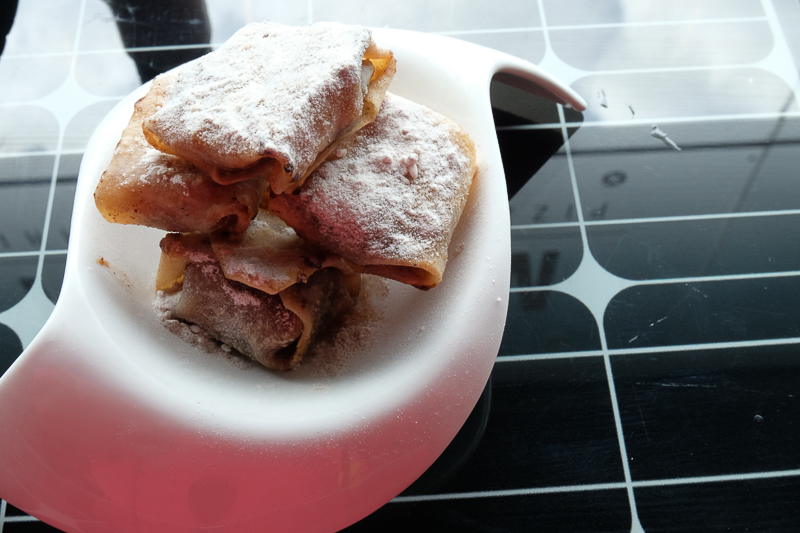 The Electrified Snickers are bite-sized turon. But instead of bananas, except chocolate to fill your mouth.
But what makes Megawatt stand out even more is the fact that its power plant theme goes beyond bare cement, industrial steel, exposed pipes, and tables that look like solar panels: those are two actual 250-kilowatt solar panels that you can see if you look out the window, and they power the restaurant.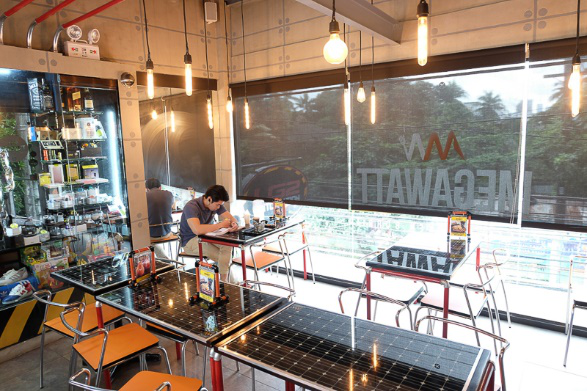 Megawatt's tables look like solar panels.
"It basically started with one of our partners going to a power plant station in the province. They saw cement floors, orange, pipes, and then the solar panels. That's how we came up with the concept," said store manager SJ Esteban.
SJ's sister, Joyce, is one of the three partners behind Megawatt.
"Eventually our goal really became to inform others about the use of [solar] power, encourage other people who own restaurants, encourage others who want to invest…It's starting to be part of our advocacy and corporate social responsibility," she said.
The two remember one instance that using solar energy gave them an advantage over their neighbors. "One night we were able to use it very well. It was raining really hard, and the entire street had a blackout," said SJ.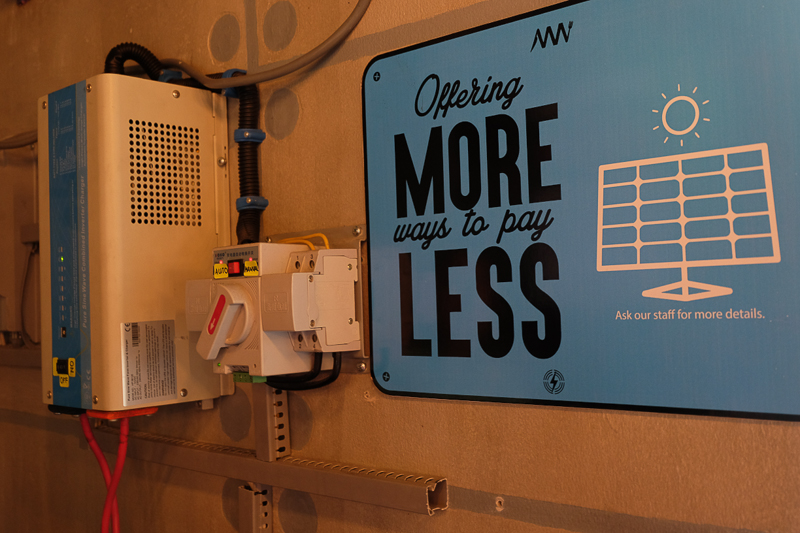 On a good day, the entire system can power the restaurant's lights for three to four hours.
"Our customers were happy and found it ironic that they were at a solar-powered place when power went down. We had enough power to light up the whole place until closing time, he added.
With business going well, Megawatt is looking to branch out in the metro, with plans to put more solar panels on the roof to power even larger appliances.
Will we see more restaurants and other establishments powered by solar and other forms of renewable energy? We certainly hope so! — BM, GMA News
Megawatt (41-A N. Domingo St., Brgy. Valencia, Quezon City) is open from 11 a.m. to 9:30 p.m. Call 501-2987.