Filtered By: Lifestyle
Lifestyle
Restaurant community expresses disappointment over TikTokers for 'irresponsible' video at a Japanese resto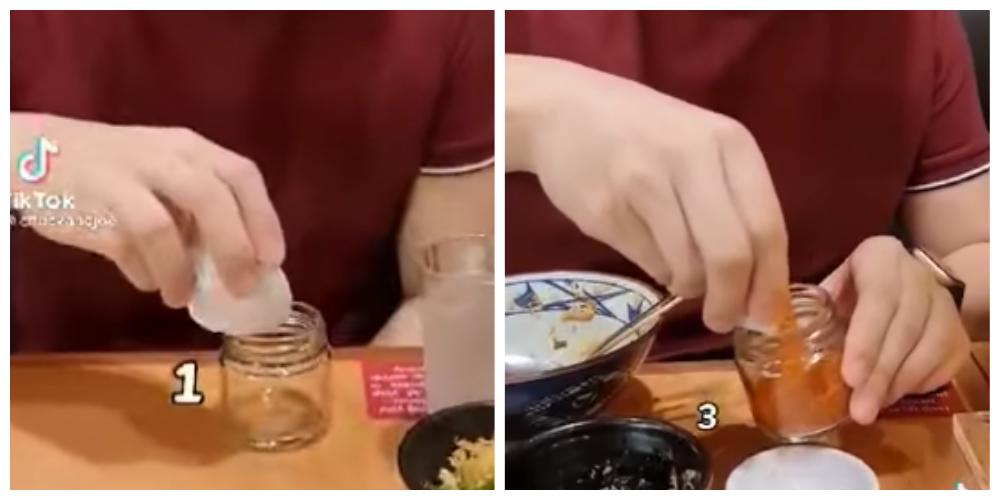 The local restaurant community expressed disappointment and outrage over TikTok duo Chuck Aquino and Joe Abad — aka Chuck & Joe — after they posted an "irresponsible" video that showed them filling up a small bottle with additional servings of togarashi powder they had asked from the wait staff of an unnamed Japanese restaurant.
On Tuesday, RestoPH, an association that supports Philippine restaurants and their employees, released a statement addressing the said video, saying the duo's "intention to deceive was crystal clear."
"We are deeply concerned and saddened by the irresponsible Tiktok video posted by the influencers known as Chuck and Joe," the statement began.
"They asked for additional servings of Togarashi powder, which they filled up jars with, hid in a bag, and surreptitiously brought out with these instructions: 'do not make eye contact' and 'no one will ever know'," RestoPH wrote.
For the group of restauranteurs, the act was clearly a "form of theft; and once promoted on social media, theft no longer becomes petty."
"Restaurant losses are not casual matters to be used for a 'Social Experiment'," it added.
According to RestoPH, the video "may encourage others" to do the same, especially the youth which populates the platform.
"Malicious videos set a negative example and will have an adverse effect on the thousands of people who rely on the F&B industry for their security," it added, pointing to the current struggles of restaurants to survive amid the pandemic.
PLEASE SHARE, THANK YOU! ???????? Dear F&B Industry Partners, Chefs, Writers, Suppliers, Content Creators: please help...

Posted by Resto PH on Monday, 1 February 2021
Over the weekend, Chuck & Joe released another video of themselves, this time to address the issue and to say sorry.
"Gusto lang po naming linawin na hindi po namin kayo ine-encourage na magnakaw, kung hindi ine-encourage po namin kayo na 'wag magtapon at 'wag magsayang," they began.
According to the duo, what they did was not theft, "dahil wala naman kaming inuwi na hindi binigay sa amin."
The two, presumably frequent diners of the restaurant, explained that every time they would dine there, the staff would give them togarashi spice, since "hindi na po puwede kumuha ng condiments duon sa condiments section, due to safety protocols."
But they often don't get to finish the togarashi spice given to them. Sayang naman, they said.
When they took the video, they knew that (1) they will be again served with togarashi spice and (2) that they won't be able to finish all of it. So that's why they brought a container: So they can take the leftovers home.
"Alam po naming se-servan po nila ulit kami, at hindi po namin uli mauubos, so nagdala po talaga kami ng lalagyan, kasi ayaw namin siyang masayang. Puwede naman po talagang i-takeout 'yun," he said.
"But it wouldn't be as funny as kung ipapa-takeout namin siya galing 'yung kanilang lalagyan. That was part of the humor na hindi na-gets ng iba."
The togarashi spice was already on their table, they said. It wouldn't be served to another customer. "Itatapon lang nila ulit yun, so inuwi na lang namin kesya masayang."
Despite explaining their side, the duo apologized "kung di po naging malinaw 'yung humor po ng video namin, na naging dahilan po upang masaktan at ma-offend po 'yung iba," he said.
"We are very sorry. Hindi po yun ang intention namin. 'Yun lamang po at salamat po sa pakikinig," they ended their statement.
Though RestoPH acknowledged the influencers' "attempt at an apology, it was disappointing, as their video is still up on Tiktok," it said.
As of this writing, the controversial video cannot be accessed on the duo's TikTok account. — LA, GMA News