Filtered By: Lifestyle
Lifestyle
Kids cope better in life when the family eats together
The scene is all too familiar. You wake up late, so you skip breakfast. You spend the entire day at work, and your kids are in school. By the time you get home, they've already had dinner. You can barely remember the last time the whole family sat down and bonded over a meal.
It's a pity, as sharing a meal goes beyond just eating together.
Research shows that children who experience regular and frequent family dinners adjust to and cope better with situations and realities faced by their generation today—from difficulties in school, to destructive behavior such as alcohol and drug use, smoking and early sexual behavior, Monde Nissin said in a press release.
Such research is the basis for Monde Nissin's Kainang Pamilya Mahalaga campaign, which they launched in 2007.
"Underscoring that the noblest way of giving back to society is raising happy and healthy children, Kainang Pamilya Mahalaga encourages parents to be actively involved in their children's lives, an important part of which is to engage them in meaningful moments during mealtimes," the press release said.
The company called on Pinoy families to rediscover the importance of mealtime togetherness on September 24, which President Benigno Aquino III declared "Kainang Pamilya Mahalaga Day."
"Having a common family meal encourages parents to stay connected with their children and understand the challenges they face," President Aquino said in his
Proclamation 326
.
Kainang Pamilya Mahalaga Day is held every 4th of September, in conjuction with the annual celebration of Family Week.
"There is a need to highlight and celebrate the value of families sharing meals together as a national tradition that should be observed annually and sustained by all Filipino families," Aquino said.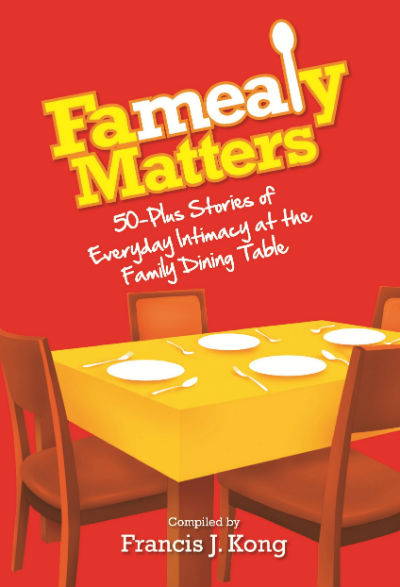 Monde Nissin launches "Famealy Matters: 50-Plus Stories of Everyday Intimacy at the Family Dining Table." Photo from Monde Nissin
This year, Monde Nissin also launched "Famealy Matters: 50-Plus Stories of Everyday Intimacy at the Family Dining Table," a book compilation which features well-known personalities and their stories about sharing memorable meal time moments with their respective families.
"Meal times provide opportunities for members of the family to sit around one table, share the same food, and listen to each other's stories," said Gen Aquino, Monde Nissin Media and Public Relations Manager. The book is one way the company reminds Filipino families of the joys that come with sharing meals together, as many Filipino families today are guilty for taking such moments for granted, the press release said.
In the book, personalities like Vice President Jejomar Binay, Tourism Secretary Mon Jimenez, Archbishop Antonio Tagle, and GMA 7 Chairman and CEO Atty. Felipe Gozon talk about what goes on at the dinner table.
A lot of these contributors would admit that sharing meals together becomes quite difficult to achieve, especially with all kinds of social, economic, and technological factors contributing to the decline in the frequency of family dining, the press release said. "'Famealy Matters' is a touching collection of personal narratives that make us realize how the gratification and benefits we get from sharing meals with the family is worth it," 'Famealy Matters' publisher Francis Kong said.
Whether it's by trying out exotic dishes together or by preparing meals themselves, the famous personalities share how they try to make their meal time moments more special, despite hectic schedules. "At the end of it all, it's nice to know that even these well-known celebrities and personalities go out of their way just to be able to gather their family together and sit down at the dining table," Kong said. –Carmela G. Lapeña/KG, GMA News
"Famealy Matters: 50-Plus Stories of Everyday Intimacy at the Family Dining Table" is available at National Book Store and Powerbooks, or through Anne Cristobal of Success Options Inc. (727-0291, 0920-9253348, or successoptionsinc@yahoo.com).