Filtered By: Lifestyle
Lifestyle
Stress, pollution, fatigue: How traffic jams affect your health
Last Tuesday night,
thousands of commuters and motorists were caught in a gridlock
along EDSA and its arterial roads following a thunderstorm that caused flooding in some areas in Metro Manila during rush hour.
The traffic jam was so bad, many commuters spent hours on the road just to get home. Some managed to reach their destination only past midnight.
But traffic jams in the metro does not only happen when it rains or
when protesters take to the streets
; gridlocks are part of the daily grind here.
The Philippines
placed fifth in the list of countries with the worst traffic in the world
on Serbia-based online research database Numbeo.com.
But dealing with heavy traffic does not just make people late for work or dinner; several studies show that living with constant traffic congestion also has negative consequences on your health.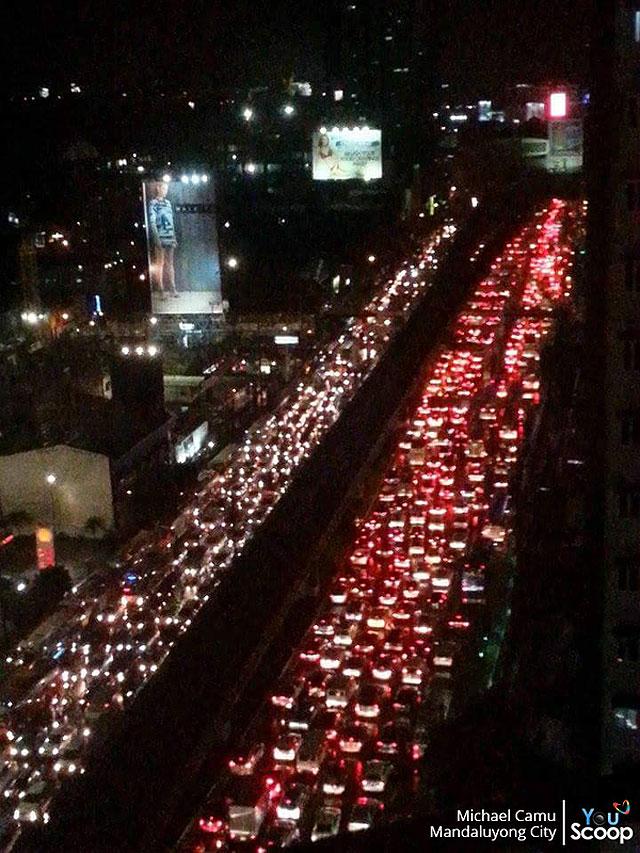 Metro Manila experienced a four-hour heavy downpour on Tuesday, September 8, which resulted in a six-hour carmageddon. Thousands of commuters and motorists were stranded due to traffic and floods. Photo shows EDSA and Reliance Street at a standstill. Photo: Michael Camu via YouScoop
Stress
According to a CNN report, a 2012 study by Washington University in St. Louis noted that long commutes eat up exercise time. Thus,
long commutes are associated with higher weight, lower fitness levels, and higher blood pressure
—all strong predictors of heart disease, diabetes, and some types of cancer.
The study also notes that
"being exposed to the daily hassles of traffic can lead to higher chronic stress."
One of the stress triggers while driving during a traffic jam is impatience—having to wait for the traffic to move and dealing with the mistakes of other motorists on the road.
"Impatience, if you don't handle it at the beginning, tends to turn into resentment and anger,"
said University of Hawaii psychology professor Leon James
, who co-authored "Road Rage and Aggressive Driving."
Stress, according to psychiatrist Emily Deans of Psychology Today, is
a "killer disease"
that makes people vulnerable to other diseases and even depression.
Air pollution
Commuters who are exposed to air pollution, like those riding in non-airconditioned vehicles such as jeepneys and motorcycles, double their health risk.
Aside from stress, they are also exposed to pollutants that can affect the lungs. In fact, the World Health Organization (WHO) said that
air pollution is to blame for 3.2 million preventable deaths worldwide every year.
The National Emissions Inventory in 2012 said that 71 percent of air pollution in the country comes from vehicles on the road. This number is even higher in the National Capital Region (NCR) where 85 percent of air pollution comes from vehicles.
Aside from chronic lung diseases, research by UC Irvine M.D./Ph.D. student Sharine Wittkopp and her peers finds that
air pollution can cause blood pressure to rise and inflame the arteries
, increasing heart attack and stroke risk.
"Blood pressure went up with increased traffic pollutants, and EKG (electrocardiogram) changes showed decreased blood flow to the heart," Wittkopp said.
Lack of sleep
Some commuters who were caught in Tuesday night's traffic mess were also deprived of sleep, especially those who had to get up early the next day to avoid the morning rush and get to work on time.
A recent article on The Telegraph said that
a week with less that six hours of sleep each night can lead to 711 changes in how genes work.
Sleep deprivation can also affect performance, attention, and long-term memory.
Moreover, lack of sleep can cause anxiety, exhaustion, frustration, impulsive behavior, lower immunity, and some mental health problems. It also encourages drug and alcohol use.
— BM, GMA News