Filtered By: Lifestyle
Lifestyle
UNICEF provides supplies for malnourished Filipino kids
UNICEF's global supply and logistics network has delivered nutrition supplies for as many as 50,000 severely malnourished children in the Philippines.
According to a press release from the United Nations agency, it is working with the Department of Health to bring ready-to-use therapeutic food (RUTF) to children in "priority provinces."
RUTFs are "energy-dense, micronutrient-enhanced pastes used in therapeutic feeding," as UNICEF describes on its site.
"These soft foods are a homogenous mix of lipid-rich foods, with a nutritional profile similar to the World Health Organization-recommended therapeutic milk formula used for inpatient therapeutic feeding programs. Typical primary ingredients for RUTF include peanuts, oil, sugar, milk powder and vitamin and mineral supplements," the agency says.
RUTFs are used to treat children with severe acute malnutrition (SAM), defined by the World Health Organization as "a very low weight for height (below [the lowest] scores of the median WHO growth standards), by visible severe wasting, or by the presence of nutritional edema."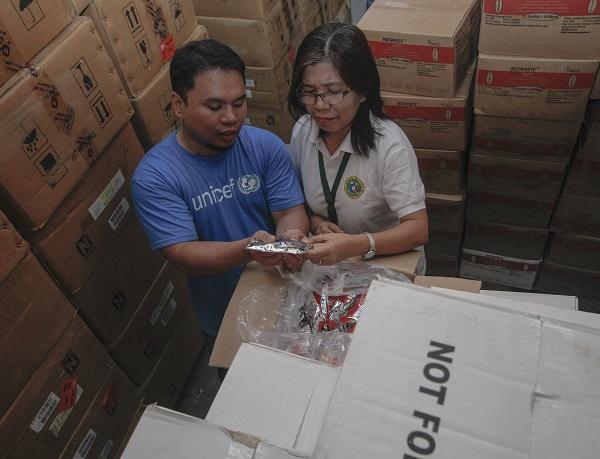 Department of Health Region 8 nutritionist/dietitian Felicita Borata and UNICEF's Alvin Manalansan inspect RUTFs procured by the DOH through UNICEF in a DOH warehouse in Palo, Leyte. Photo: UNICEF
In its statement, UNICEF reports that as many as 3.4 million children in the country are stunted (short for their age) and more than 300,000 children under 5 years are severely wasted (thin for their height) concentrated in Regions IVB, ARMM, Eastern Visayas and Bicol Regions. Children who have severe wasting—also known as severe acute malnutrition or SAM—are nine to 12 times at risk of dying.
The 2016 Global Nutrition Report ranks the Philippines among the top 40 countries in the world when it comes to wasting, at 7.9%.
The UNICEF Global Nutrition Database ranks the Philippines 10th in the world in the number of children under the age of 5 who are moderately or severely wasted.
"Good nutrition is the foundation of a child's survival, health and development. Identifying severely malnourished children early, feeding them therapeutic food and giving them routine medications before any complications develop are key to saving their lives," said UNICEF Philippines Deputy Representative Julia Rees.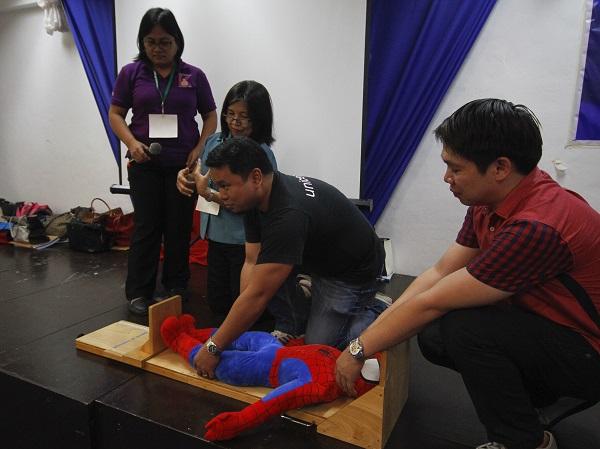 Health workers and professionals from Region 8 attend a training on the Management of Severe Acute Malnutrition (SAM) in Tacloban City, Leyte. With technical support from UNICEF, DOH is scaling up SAM management services in 17 initial provinces in 2016. In the Philippines, there are 300,000 children who are severely malnourished. Photo: UNICEF
According to UNICEF, in 2016 it provided technical support to DOH in scaling up SAM management services in an initial 17 provinces. This includes training health workers in detecting SAM. It was also the first time DOH received commodities such as RUTFs and therapeutic milk, enough for 50,000 children with SAM and with additional stocks prepositioned for emergency situations. — BM, GMA News