Lifestyle
BRAND TALK
What work looks like in the 'new normal'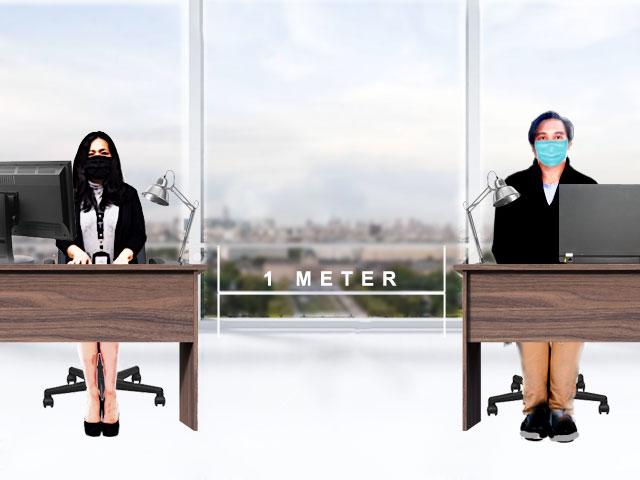 The office culture we once knew is probably something that we will never see again. As employees return to work due to the easing of the restrictions set by the enhanced community quarantine (ECQ), they will face the much-needed transition to the "new normal."
Even before the community quarantine was in place, several precautions are already in place in establishments such as groceries, supermarkets, banks and remittance centers. Before entering, a mandatory hand sanitizing and temperature check are conducted by the security guards. The temperature check will be done while you are stepping on a disinfecting mat and the next person is a meter away. If you are not wearing a facemask, you will not be allowed to go inside.
The same with office locations, there will be new safety measures that will be in place. Here are the things that you should expect to encounter once you go back to work:
Limited transportation options
While Metro Rail Transit 3 (MRT 3) has resumed its operations, physical distancing is strictly enforced inside the trains. According to a GMA News report, "passengers, whether seated or not, will have to be a meter apart from each other."
All railway operators will be ready to serve consumers in reduced capacity once ECQ is lifted in Metro Manila. "We have to limit our passenger capacity per trip. This is to prevent COVID-19 from spreading while our commuters are in transit," Transport Secretary Arthur Tugade said in a statement.
Physical distancing can help stop the spread of disease-causing germs and viruses according to the Department of Health (DOH). Apart from this, the DOH stressed the importance of wearing a mask and hand sanitations if handwashing is not possible.
Even buses, jeeps, the UV Express, and other shuttle services are required to follow. With few transportation options, walking and biking might be the more efficient way to travel to work.
Tons of safety measures
Expect to see visual cues, handwashing reminders, "no face mask, no entry" policy everywhere. All establishments are strictly implementing these guidelines under the new normal. Your company is no exemption.
Employers should provide a safe environment for employees. The Department of Labor and Employment (DOLE) recently released guidelines to help cut the spread of COVID-19. "Before entering the workplace, all employers and workers must have face masks, and it must be worn at all times and removed only when eating/drinking," Secretary Silvestre Bello III said.
Upon entering the workplace, employees must undergo a temperature check. Commonly touched items such as door handles and switches must be disinfected every two hours. Even cars and equipment entering the company establishment should undergo disinfection.
Employers must provide appropriate face masks for workers, according to DOLE guidelines. Washable type masks shall be worn with additional filter material such as a tissue, the guideline said.
Physical distancing must always be practiced, according to the guidelines. Employers must ensure one worker per table and one meter per worker plan. Given this, eating in common rooms and engaging in conversation are discouraged. Face-to-face meetings will be a thing of the past as any close-contact interactions should be avoided.
DOLE also urged companies to adopt work-from-home schemes. Those who are reporting to work may be tested for COVID-19. Per DOLE, testing kits to be used should be shouldered by the employers.
Washrooms should have sufficient, clean water and soap. Hand sanitizers would also be installed in corridors, elevators, stairways, conference areas, and places workers frequently pass, the guidelines said. The DOLE guidelines will most likely find its way to your company policy.
Taking the "new normal" to heart
The new safety measures are necessary in the fight against COVID-19. However, according to DOH, flattening the curve is not enough. The government agency stressed that to defeat the pandemic, people must take to heart and imbibe the idea of being careful and observant. They also asked people to check facts before making a decision.
DOH also promotes the following health protocols to curb the spread of the virus:
Wearing a face mask;
Physical distancing of 1 meter;
20-second handwashing with soap and water; and
Avoiding face-touching.
The government agency also reiterated the importance of staying fit and observing a healthy diet. Our body is our best defense against sickness. To fully understand the efforts of DOH, like, follow, and watch Beat COVID-19 Virtual Presser on DOH's Facebook page or go to their official website.
Brand Talk partners with the advertisers of GMA Network to create content valuable to its audience.