Filtered By: Lifestyle
Lifestyle
#PINNED: Get your hands on these Star Wars merchandise this Lazada 5.5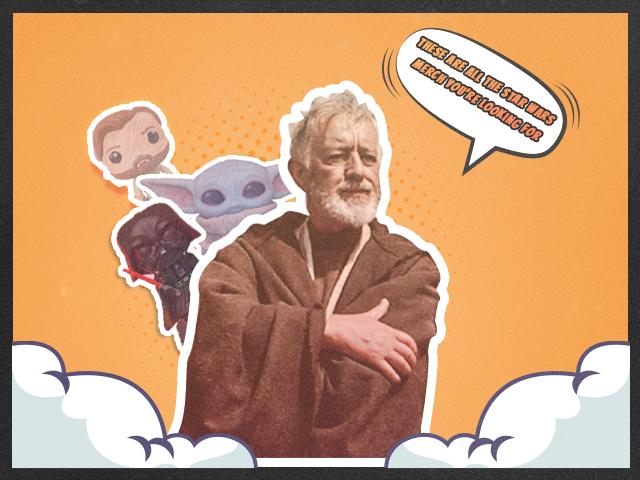 #Pinned makes it easier for young Filipinos to discover meaningful and enriching content and stories that will help them separate music from the noise, wheat from the chaff, and flowers from the weeds.
All our stories are written by young creatives who made it their life mission to know everything there is to know about how fellow young adults can make the most out of their limited down time every day, every week.
---
Hello there.
Now that we have your attention, random Star Wars fan, let us introduce you to the wonderful dates of May 4 and 5. Every self-respecting Star Wars fan knows that May 4 is reserved for a marathon of the whole Star Wars saga, warts (sequels) and all (everything else). The next day is, of course, for new Star Wars merchandise shopping. Because we can never have too many Star Wars merch, that is.
Fortunately for us Warsies, 5.5 happens to be the biggest online sale event of the month of May. This means that discounts, deals, and free shipping coupons will rain like you're in stormy Kamino investigating the production of clones.
To help you sift through the merch worth spending money on and steer clear of bantha poodoo, we've prepared you a list below.
Besides Imperial Remnant Moffs, who doesn't love Grogu? This huggable plushie with a soft body, roto-vinyl head, and a sturdy bean-filled base will undoubtedly bring out your inner Mandalorian, one that is caring and fiercely protective.
So you don't want plushies, eh? Well, you can still show your love and care for Grogu by having a Funko POP figure of him on your work desk! The calming presence of Grogu, err, Baby Yoda on your desk will surely help you soldier on for the day and endure pointless meetings with workmates you barely tolerate.
If you have the cash to burn, we'll definitely recommend that you go for this Baby Yoda merch. This animatronic toy features motorized movements – a head that moves up and down, ears that move back and forth, and eyes that open and close! Furthermore, there's also sound effects, ranging from Grogu being excited to him being tired and sleepy.
4. Hasbro Black Series Mandalorian
For The Mandalorian fans who are not as taken with Baby Yoda as other fans are, this action figure is perfect. Featuring the Mandalorian himself, Din Djarin, without the beskar armor of season two, this action figure comes with two accessories – a blaster and a carbine rifle.
If you're a Star Wars fan who just discovered the wonderful (and expensive) world of Lego collections, this is the perfect Lego set to kickstart your collection! Other than the iconic X-wing that took down the Death Star in Episode 4, this set includes Luke Skywalker, Princess Leia, General Dodonna, and R2-D2 minifigures.
For collectors and casual fans alike, this action figure of Princess Leia during the Battle of Endor is a must-have. This action figure also comes with the iconic poncho that Princess Leia wore during the battle plus a helmet and a blaster.
A little short for a stormtrooper? Yes, we know. However, this action figure of Luke Skywalker disguised as a stormtrooper is one of the best Star Wars merchandise that you can buy now. Featuring the Luke Skywalker that planned the daring rescue of Princess Leia aboard the death Star, this action figure includes a removable stormtrooper helmet plus a blaster.
General Kenobi. You are a bold one. This infinity figure of Obi-Wan Kenobi, the Negotiator, on your work desk will help you get through the daily communication hurdles of working from home. That is, with witty and passive-aggressive one-liners every now and then.
Relive the most (in)famous scene of the prequel series in Lego! Well, the second-most, that is. We're not really sure if Lego would push through with the long-rumored (and long-denied) Jedi Temple scene of Anakin Skywalker killing younglings, but we're actually pretty content with this one. You'd have to make do with an Anakin Skywalker minifigure that still has its arms and legs, though.
10. Darth Vader Electronic Lightsaber
While this lightsaber will not be cutting old, scheming Jedi Masters anytime soon, it is still very much fun to play, er, practice with or spar with your fellow Sith-wannabes. Furthermore, the light and sound effects faithfully follow the movies.
Watching all of the Star Wars films (from prequels to the sequels) would take as much as 22 hours. And because we cannot really get enough of the greatest series in all of the galaxy (suck on this, Potterheads), what's a few hours of more Star Wars by scrolling through all the merch available on Lazada?
Add to cart now and check out on May 5 to avail of the many, many deals!
Happy shopping and may the Force be with you all!