Filtered By: Lifestyle
Lifestyle
Exploring Vietnam's Mekong Delta
It was a predominant shade of ochre, and fringed with water lilies—I was up close with the wide river of the Mekong Delta. Even though the sun was brightly shining, the sky blue and the air fresh, the Mekong river cruise was far from romantic. It had a more rustic appeal, highlighted by the evidence of livelihoods supported by this major waterway. The Mekong Delta is a two-and-a-half hour bus journey from Ho Chi Minh City. We booked a day tour with other tourists from Asia and Europe. Like them, I looked forward to seeing Vietnam's floating market with my own eyes. Upon arrival at our destination, Cai Be, our group boarded a spacious motorboat and cruised along Vinh Long as we headed to the market area. It was different from what I had pictured in my mind. I thought we would be navigating through numerous small boats filled with various produce. I wasn't sure if it was because we arrived there late in the morning, but all we saw were houseboats with the produce displayed on top.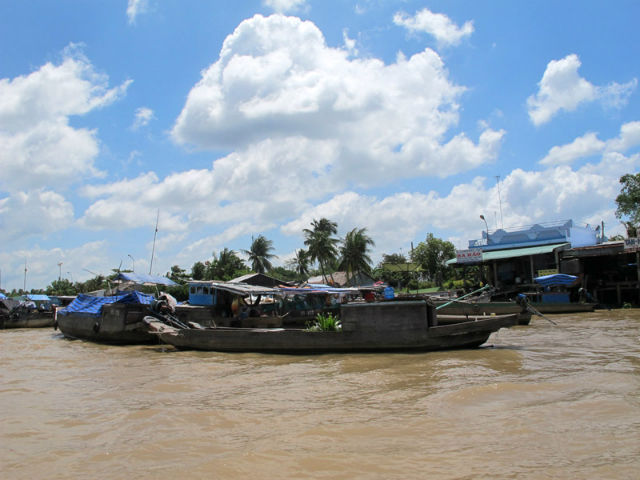 A house boat in the floating market
The boats were big enough to accommodate living quarters, and each sold a particular product — we saw pineapples, watermelons and sweet potatoes for sale. Our English-speaking tour guide, Mr. Nguyen (a common name in Vietnam), mentioned that the houseboats have addresses as well to identify what area they're from. Though I came prepared with my own eco-bag, we didn't have a chance to go shopping in the floating market. Our guide said that the prices would be somewhat expensive as the people there knew that we were tourists. So, instead of shopping, we just enjoyed sights. Along the way, Mr. Nguyen pointed out the different "san" houses or houses on stilts lining the river's edge. After a while, we stopped and got off the boat to explore the countryside.
A day in the life
I got a glimpse of the pastoral life in the Upper Mekong Delta and it could have been a scene from any countryside in the Philippines. We walked along a narrow paved street and visited small shops where locals sold products made from native materials. At our first stop, our guide showed us where the store got its fresh honey and even gave us the opportunity to get really close to the bees.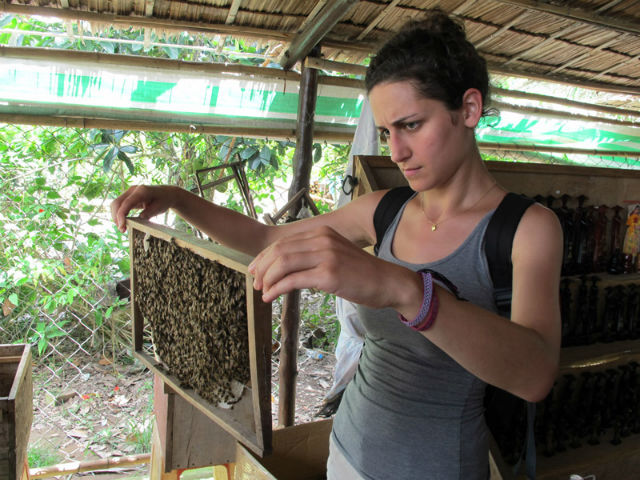 Almost rubbing elbows with the bees
We had hot tea with honey and sampled sweet treats on the side such as candied ginger and winter melon. After a short break, we visited a family that made a business out of selling coconut candy. Like the Philippines, Vietnam abounds with coconut trees. We saw the family manually crack a coconut open, grate its meat and get the milk out of it—the candies' main ingredient. Each member of the family has a role and even the kids help out. They make, pack the candies and sell it right there. They even gave out samples to entice tourists. While walking down the road, we saw a place that had a 14-kilo python in captivity that visitors were allowed to carry and touch. I dared to do so and the reptile just felt like a heavy scarf on my shoulders. Some of the people in our group had a photo op with the snake as well, and even sampled snake wine, which claims to have health benefits and is supposedly an aphrodisiac, too. Next door was another family business — this time pop rice. We witnessed how they make "popcorn" out of rice grains: a big wok is heated using dried longan as fuel, then the grains hit the wok, where they become crispy and airy. In the Philippines, the snack is known as ampao. Another establishment made spring roll wrappers. Again, there were no high-tech machines but traditional instruments that looked a hundred years old or so were used. The locals made it look effortless, but our guide said it actually takes years to perfect the skill. While there, we were able to taste different variants—one had coconut milk and another had a ginger flavor.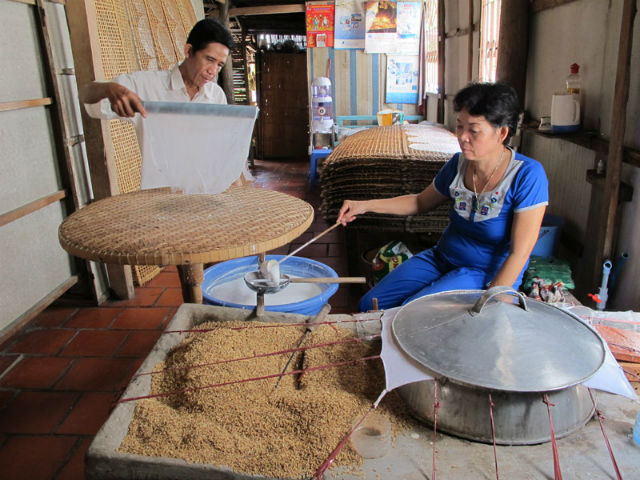 Creating spring roll wrappers by hand
Our river tour concluded with a simple lunch at a no-frills resort. After the meal, we had some time for ourselves and I wandered around the garden while the others relaxed on hammocks. The Mekong Delta tour was an eye-opener for me. I thought, if the Philippines has the same resources, why can't we include such activities in our tourism program as well? I hope that we take our cue from Vietnam and promote the Philippines along with local livelihoods.
- BM, GMA News