Filtered By: Money
Money
Philippines misses agri growth target anew in 2020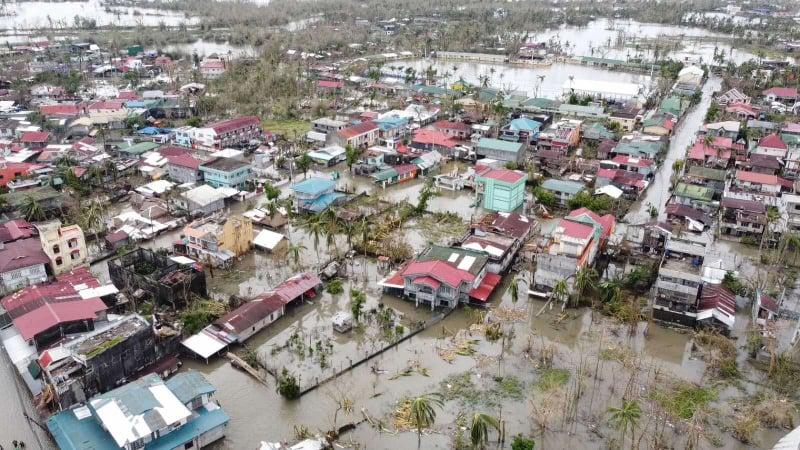 The Philippines missed its agricultural growth target anew in 2020 as production contracted in the fourth quarter of the year, with declines recorded across all commodities following the typhoons that struck the country during the period.
Data released by the Philippine Statistics Authority (PSA) on Wednesday showed that the value of total farm production fell by 3.8% in the last semester of 2020, wider than the -0.1% recorded in the same quarter of 2019.
Crops which accounted for 57.9% of total output contracted by 0.4% after production of palay (unhusked rice) fell 1.4% and corn dropped by 0.3%.
Livestock — which contributed 15.4% to the total output — declined by 12.9% after hog production dropped by 13.8%. Poultry, which accounted for 12.2% of output, fell 5.5% after chicken production declined by 7.9%.
Meanwhile, fisheries, which shared 14.5% to the total production, fell by 4.7%. Lower production levels were reported in major fish species such as fimbriated sardines, blue crab, threadfin bream, tiger prawn, tilapia, and yellowfin tuna.
The latest figures brought the full-year contraction to 1.2%, a reversal of the Department of Agriculture's (DA) 1% growth target for the year.
"We believe that despite the Taal Volcano eruption, COVID-19 pandemic, continued incidence of the African swine fever (ASF), and a series of strong typhoons, the country's agriculture and fishery sector has remained pliant and resilient, facing head on and surmounting the huge challenges last year," Agriculture Secretary William Dar said in a separate statement.
Dar said the DA — through the Agricultural Credit and Policy Council (ACPC) — will also allot an initial P500 million for lending to backyard and semi-commercial raisers as approved on Wednesday.
"Another favorable development is that the board of directors of the Land Bank of the Philippines during its meeting today (January 27, 2021) has approved a special financing window for swine commercial raisers, with an initial exposure of P15 billion," said Dar, who sits as a member of the LandBank Board.
"In all, with the OneDA family, in continued strong partnership with the LGU chief executives, the private sector, farmers and fisherfolk, and agri-fishery industry stakeholders, we will aim for a 2.5-percent growth this year," he added.
A series of typhoons hit the country during the last three months of 2020, leaving billions in agricultural damage. This, along with the ASF, was blamed by the DA for the shortage of supply and the rise in market prices.
In December, Dar said damages due to the series of typhoons also pushed back the DA's rice adequacy target of 93% which the department aimed to achieve in 2020.
For this year, the DA targets 20.48 million metric tons of palay. —KG, GMA News