Filtered By: News
News
Tony de Zuñiga: The 'legend' in Pinoy invasion of US comics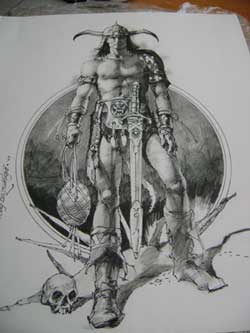 Anyone who doesn't know Tony de Zuniga deserves to be banished from the comic book universe and be beaten up by Supergirl, Batman, Superman, or Conan, among other super heroes he has created in the last three decades. As the first Filipino to ever do illustrations for comic book juggernauts, Marvel and DC comics, Tony is perhaps best known for bringing to life "Jonah Hex," a disfigured rough-and-tumble Western anti-hero and the bullet-proof super heroine "Black Orchid" which he both inked in the 1970s. In August, Tony quite literally received his own stamp of approval after the United States Postal Service honored one of his works, Spider-Woman, and is now part of Marvel Superheroes' stamp collection. Four decades after opening the doors to other Pinoy artists in the US, Tony takes a break from breathing life into superheroes and for now, concentrates on his paintings and attending comic conventions where he is rightfully called,"the legend." "There's a big niche for Filipinos in the US market, because Filipinos are just great artists," Tony said in an interview with
GMANews.TV
. "As Pinoys, we are always proud of the work we put in anything we do."
Legendary journey
Before carving a name in the US, Tony honed his 'powers' back in the Philippines. This proud gentleman from Sampaloc, Manila first realized his knack for illustrations after watching a cowboy movie with his dad at age four. "When I came home I started drawing the cowboy on a horse and my dad was so happy and gave me lots of paper to draw [on]," he reminisced. At age 16, he started as a letterer for the Roces publication, Liwayway, one of the country's leading weekly magazines at that time. Then, worked for Admakers and Manila Bank. After finishing Commercial Arts in the University of Santo Tomas and working for several leading advertising companies, Tony took up Industrial Design at the New York School of Design in 1963. He then came back to the Philippines to do story boards for BBDO and, at the same time, illustrating for McGraw Hill and Scholastic Corporation. In 1968, he went back to New York to study sales motivation.It was then that he met DC comics editor Joe Orlando, who hired him right away after seeing his impressive portfolio. He debuted in "Dr. Thirteen" story for Phantom Stranger, published in April, 1971. After being a regular contributor, Tony worked with John Albano and created one of the most enduring modern day characters of DC comics, "Jonah Hex." While in DC, Tony also inked the first version of the Black Orchid, Supergirl, Batman, Superman, Ghost Rider, Romance Gothic, Arak, Weird War, Weird Western, All Star Western, Dracula, Infinity, and House of Mysteries. Soon after, he moved to Marvel and worked on Spiderman, Spider-Woman, Punisher, Robocop, Incredible Hulk, Conan, several characters for X-men and about six covers for Star Wars. "I get a lot of good feedback during Comic Conventions [where] most of our buyers are the artists," Tony proudly said. Indeed, Tony excels in making his characters more human than artificial. A Conan aficionado described his version of the barbarian hero showing more likeness to a real person and veering away from gross muscles that Arnold Schwarzenegger might have exaggerated in the 1980s film version. "They always tell me I'm the master of my trade because I draw everything from my head. I don't need any material to do the character," he added. From his legendary work in comic books, Tony then expanded his craft and was hired as the main conceptual designer for Japanese video game giant, Sega. He has since retired in 1998.
Opening doors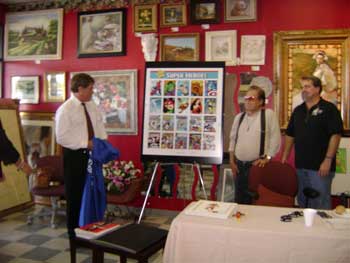 While working for DC in the late 70s, Tony noticed that the company was simply reprinting the comics that they did before. Apparently, DC had to cut back on hiring new artists for fresh works due to lack of funds. Tony then explained to his editor that there is a pool of talented artists waiting to be hired in the Philippines who can be commissioned "for the same price they [DC] pay for reprints." With his editor, Tony flew back to the Philippines in 1978 to scout for Filipino comic book artists. "[Pinoys are] also fast, which is one of the requirements [in the US], you've got to be good and fast," he said. It perhaps helped, too, that Tony showed exceptional work ethics in the US that's why he didn't have a hard time convincing his bosses to hire more Filipino artists. "My father was the one who influenced my work ethics," Tony confessed. "I think all comic book artists always want to beat the deadline. Sometimes you can't even sleep and go out because all you want is to see the finished products," he explained.
Missing home
Apart from the mangoes,
atis,
and lanzones, Tony misses the people back home most of all. He recalled how Filipinos love sharing stories. "Just step out of the house and people are ready to tell you stories, lots of friends, all those get-togethers," The Stockton-based 70-something artist said. His wife, Tina De la Rosa, serves as his manager. Earlier this year, Tony opened an exhibit, "Superheroes" at the Crucible Gallery of SM Megamall where about 200 people came, including his huge fan base of comic book lovers who have long revered this legendary Pinoy artist.
"Si Mang Tony ang matatawag kong 'Father of Filipino Invasion' sa US comics
, (I could say that Tony is the 'Father of Filipino Invasion' in the US comics)"
Randy Valiente
wrote in his blog after meeting Tony in January. "
Kung babalikan natin ang kasaysayan, siya ang kauna-unahang Pilipino na nakagawa ng komiks sa Amerika, at siya rin ang dahilan kung bakit nakarating doon ang mga trabaho nina Nestor Redondo, Alfredo Alcala at Alex Niño
(If we go back through history, we can see that he is the first-ever Filipino who created comics in America and he is also the reason why Nestor Redondo, Alfredo Alcala and Alex Niño went there to work)," he added. Tony was ecstatic with the overwhelming reception of the Filipinos to his exhibit. "We sold every single thing we brought: prints, books, original arts and the paintings," Tony said. For now, Tony plans to come back to his homeland before year end and mount another show in February at the GSIS Gallery. "I think I still carry that Pinoy style of story telling: [the artwork] should be powerful with a lot of story, even without the dialog. That's how we were trained to work in the Pinoy Comics," he said. Tony's portraits are sought after among elite circles in Southern California. These days, he presides over Tuesday evening model sketching sessions with local artists at Augustine's, a north Stockton gallery he and De la Rosa own. They plan to set up shop in Pasadena to further his portraiture work. -
Mark Joseph Ubalde, GMANews.TV