Filtered By: News
News
Elephant expert says Manila Zoo's Mali is suffering
Manila Zoo's lone elephant Mali is suffering physically and psychologically, and should be relocated to an elephant sanctuary where experts can ensure her physical and psychological well-being, a new medical report on her condition revealed in June.
According to a report by internationally recognized elephant expert Dr. Henry Richardson, the 38-year-old elephant is suffering from potentially fatal foot problems and profound loneliness, the People for the Ethical Treatment of Animals (PETA) Asia said in a statement.
The
report
is based on Richardson's visual medical examination of Mali on May 29, and was published at PETA's expense.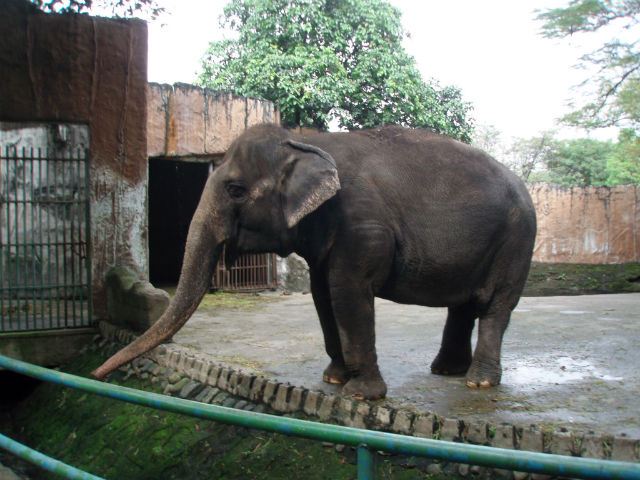 Manila Zoo's solitary elephant Mali. Photo courtesy of PETA
According to Richardson, the elephant suffers from chronic pressure sores open to contamination as well as foot ailments, including cracked nails, overgrown cuticles, and cracked pads. "The lack of a preventative foot-care program is putting Mali in jeopardy of severe foot disease with accompanying pain and suffering," said Richardson.
Richardson said that the zoo's small enclosure, which he estimated to be no more than 0.001 square kilometers, does not allow Mali to carry out normal elephant behaviors like walking up and down hills, digging in the dirt, wallowing in the mud, and swimming. He also noted that Mali's night quarters had several days' accumulation of feces and urine.
PETA noted that Mali's foot ailments can harbor bacteria and become infected. "Such foot problems are the leading cause of death in captive elephants," PETA said, adding that while Richardson's examination is the most complete physical evaluation that Mali has ever received, she still has not had a blood workup.
"All of my comments on Mali's health are based on a visual inspection only," wrote Richardson, who has been working with captive animals for more than 40 years.
Richardson has reported on the conditions of over 100 elephants in zoos, circuses and sanctuaries. He has written reports on captive elephants for the US Department of Agriculture, and has been invited to work in wildlife and captive-animal rehabilitation projects in several countries, including Bolivia, Rwanda, and the Democratic Republic of the Congo.
"A complete health evaluation requires hands-on physical manipulation and examination of all four feet, as well as blood sampling for inflammatory processes and infectious diseases," he said.
PETA Asia campaigns manager Rochelle Regodon said that unless Mali is immediately transferred to a sanctuary, it's only a matter of time before Mali's lack of medical care takes her life, even with the zoo's best intentions.
"Even zoos with twice the finances and expertise of the decrepit Manila Zoo have proved unable to provide adequately for elephants," said Regodon.
PETA noted that a growing number of progressive zoos — including several in the US and the UK— have realized that they cannot possibly fulfill the complex needs of elephants and have closed their elephant exhibits. "The government of India has ordered that all elephants in zoos be transferred to government-run sanctuaries and reserves," PETA said.
While Richardson is concerned about Mali's lack of veterinary care, he is particularly troubled by her loneliness and the extreme psychological stress that it causes:
"My major concern is that Mali is alone," Richardson wrote in his report. "Female elephants in their natural habitat never leave the herd. They are in constant communication with the other members of their family. Mali's social and psychological needs are being neglected at the Manila Zoo. Even the best intentions … cannot replace these needs, which can only be met by the companionship of other elephants."
He concludes, "In my experience, even elephants who have been alone for more than 20 years integrate well with other elephants when moved to a sanctuary."
PETA adds that all elephants who are confined alone and denied everything that is natural and important to them suffer psychologically. "The frustrations of captivity and lack of companionship often lead to abnormal, neurotic, and even self-destructive behavior called "zoochosis" or "stereotypy"—in Mali's case, incessant pacing," said PETA.
PETA has secured Mali a place at a sanctuary with 14 other elephants in northern Thailand and will pay for expenses related to her transport there. Richardson believes Mali is mentally and physically capable of making such a trip.
Better off at Manila Zoo?
Meanwhile, Manila Zoo's veterinarian Donald Manalastas said that Mali is better off at Manila Zoo. "With her condition at 'yung kanyang matagal na stay dito, kapag nilipat po hindi na siya mabubuhay," Manalastas told GMA News in a telephone interview.
Manalastas said that Mali was transferred to Manila Zoo when she was three years old, and she is nearing the end of the typical life span of an elephant in captivity.
"Mali is given a good diet. 'Di naman po siya ina-abuse... Mali is in a good state. Besides the cuticles of her feet, she needs a pedicure, but it is not a life-threatening situation," he said.
According to Manalastas, Richardson only recommended the pedicure and improvements to Mali's enclosure during his inspection last May.
Manalastas said Manila Zoo has not received Richardson's report. –KG, GMA News