Filtered By: News
News
Tension anticipated as DOLE meets with owner of gutted factory
Manila Police dispatched its forces to the regional office of the Department of Labor and Employment-National Capital Region ahead of the expected arrival of militant groups as the labor department meets with representatives of Kentex Manufacturing Corporation.
Atty. Renato Paraiso, lawyer of Kentex which owns the factory gutted by a huge fire in Valenzuela City, arrived before 10 a.m. Wednesday for the second mandatory conference called by DOLE.
Kentex did not attend the first meeting as it was not issued a formal notice, Paraiso said.
On Monday, survivors and kin of victims of a huge fire in a Valenzuela City factory, along with Bagong Alyansang Makabayan (BAYAN), staged a rally in front of the said office in Malate, Manila.
Tensions rose as relatives of the victims demanded to be allowed inside DOLE-NCR office to join the meeting between the labor agency and the victims' employers.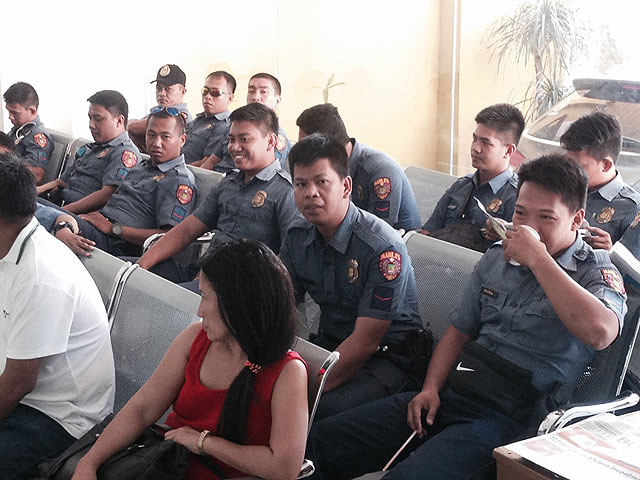 Policemen are briefed at the office of DOLE-NCR in Manila on Wednesday, May 20, ahead of the expected arrival of militant groups. Cedric Castillo
CJC Manpower Services, the agency tapped by Kentex for its contractual workers, attended Monday's meeting.
Protesters questioned DOLE's move not to have the survivors and victims' kin invited to the meeting. Some of them were eventually allowed into the building. Police arrived at the scene to help control the situation.
In its initial investigation, DOLE found out that CJC Manpower Services is not registered as a legitimate agency.
DOLE-NCR Director Alex Avila said Kentex is thus considered the direct employer of the victims.
Seventy-two people died
in the fire.
—KG, GMA News