Filtered By: News
News
QCPD to file raps vs. protesters for allegedly mugging, mauling cop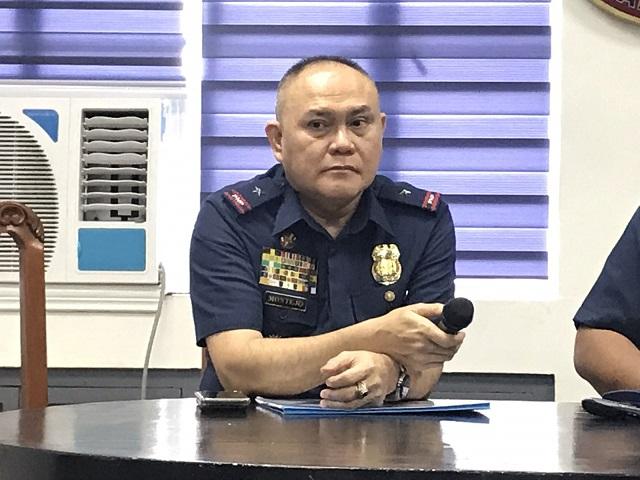 The Quezon City Police District is set to file charges against some leaders and members of cause-oriented groups for alleged robbery, and for mauling a police officer during a protest action.
In a statement on Sunday, QCPD Director Police Brigadier General Ronnie S. Montejo said the Criminal Investigation and Detection Unit (CIDU) will file charges against the following persons:
Bryan Gonzales, a leader of KARAPATAN
Kara Levina Taggaoa, a leader of League of Filipino Students (LFS)
Larry Balbuena, president of PASADA PISTON
other leaders from Bayan Muna, Anakpawis, Sanka, Lumad, Save Our School Network, and Kabataan
The complaints that will be slapped against the protesters are robbery, physical injury, direct assault, grave coercion, violation of communicable disease laws (Republic Act 11332), and illegal assembly (Batasang Pambansa Bilang 880).
The QCPD claimed that protesters robbed and mauled Police Chief Master Sergeant Feliciano Evangelio, 46 years old, assigned at the District Special Operations Unit (DSOU) in Camp Karingal.
It said that at about 10:30 a.m. on Saturday, around 150 protesters from different cause-oriented groups staged a protest rally inside the Commission on Human Rights compound in Barangay UP Campus.
"However, five personnel from the DSOU including PCMS EVANGELIO who were in the area for peacekeeping and monitoring were approached by several unidentified demonstrators," QCPD said.
"With intent to inflict harm and apparently upon the orders of their leaders, the demonstrators grabbed and dragged Evangelio and mauled him," it added.
Moreover, the QCPD said that the protesters took away his belongings, including a black belt bag containing one caliber 9MM, Glock Gen17 with SN: PNP 09996 with two magazines loaded with thirty 30 live ammunition, brown wallet containing assorted ID's and cash money amounting to P5,000, a G Shock wristwatch and an iPhone 6 mobile phone.
Personnel from UP Police pacified the group and brought the policeman to their office for initial investigation. He was later turned- over to the CIDU, according to the QCPD.
"Sasampahan natin ng mga kaukulang kaso ang mga lider at miyembro na nanakit at nagnakaw ng gamit ng ating pulis," Montejo added.
However, Karapatan Secretary General Cristina Palabay told GMA News Online that their group has no staff or member by the name of Bryan Gonzales or even Ryan Gonzales.
"While Karapatan participated in the activity yesterday, Karapatan believes that any charge of illegal assembly for the said activity yesterday is unfounded as the CHR area is a freedom park and permit has been sought from the CHR," Palabay said.
She underscored that Karapatan was not part of any alleged incident as specified in the QCPD's statement.
"In fact, if the QCPD once again invokes the participation of a fictitious staff or member of ours to justify its further harassment against us and our human rights workers, we will file appropriate complaints and charges against them," she told GMA News Online.
Last week, Palabay exposed an attempt by authorities to serve a warrant for her arrest, which has been recalled by the court three months ago, through a police officer posing as an employee of a courier service.
"It was just last week when QCPD police tried to serve me an invalid warrant of arrest, using their LBC ruse. So QCPD, pwede ba, tigilan nyo ang Karapatan. Namumuro na kayo ha," she said.
Condemnations
In a statement, LFS denounced QCPD's threat, calling it another tactic of the Philippine National Police "to curtail our freedom of expression and dissent."
"We condemn in the strongest terms the slapping of trumped-up charges against our militant leaders!," it said.
LFS argued that the plan to file illegal assembly against those who joined the July 11 protest has no basis as it was held in a freedom park and was permitted by the CHR.
"Under the Batas Pambansa 880 or The Public Assembly Act of 1985, the intelligence officers were the ones who violated the law for carrying a firearm in the vicinity of the protest," it said.
LFS noted that its national spokesperson Kara Taggaoa was nowhere near the incident.
"Due to the militarist approach in battling the pandemic, state forces are relentless in shrinking spaces for civil liberties and overall democratic expression. Repression is growing as human rights and press freedom are being attacked!," it added.
In a separate reply to GMA News Online inquiry, Piston also condemned the QCPD's threat against the protesters and urged the police group to stop dragging the name of the organization down without enough evidence.
Piston said QCPD is making the organization vulnerable again to "attacks" while it is busy assisting drivers and operators with their resumption on public transport.
"Naniniwala ang Piston na ang pagbabantang ito ay para ilihis ang pananagutan ng QCPD sa panggugulo sa mapayaoang pagkilos," Piston said.
"Gayundin, maaaring gamitin ng PNP ang gawa - gawang kaso para mang-aresto, raid at tanim-ebidensya gaya ng modus nito sa nakaraan," Piston added.
GMA News Online sought the side of Bayan Muna, Anankpawis, Save Our Schools Network, and Kabataan about the issue, but their comments were not at hand as of posting time.
Likewise, GMA News Online is still trying to contact Sanka, and Lumad for their comments about the QCPD allegations. —LBG, GMA News