Filtered By: News
News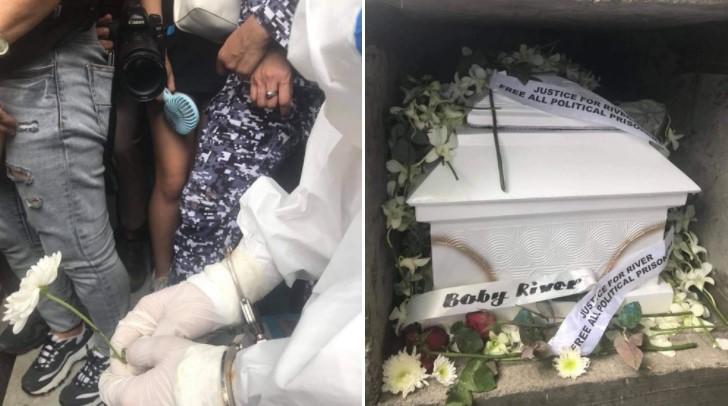 Detainee mom kept from embracing coffin as Baby River laid to rest
The three-month-old daughter of a detained activist was laid to rest on Friday as armed guards surrounded her handcuffed mother.
River Emmanuelle, the daughter of 23-year-old urban poor organizer Reina Mae Nasino, was buried at the Manila North Cemetery past 3 p.m., one week after she died of pneumonia.
Nasino was allowed to go out of the Manila City Jail for three hours on Friday to say goodbye to her firstborn. Mother and daughter had been ordered separated weeks after Nasino gave birth.
"Lalaya ako nang mas matatag... panandalian yung pagdadalamhati natin... babangon tayo..." Nasino was heard saying as she knelt before River's casket wearing full personal protective equipment and her hands cuffed.
Reina Mae Nasino tells her Baby River: "Lalaya ako nang mas matatag... panandalian yung pagdadalamhati natin... babangon tayo" ???? Atty. Sol Taule @gmanews pic.twitter.com/N62d4Dakx3

— Nicole Lagrimas (@nclagrimas) October 16, 2020
She faces charges of illegal possession of firearms and explosives, allegations that her camp says are fabricated.
It was not immediately clear how many jail and police personnel were deployed at the cemetery but photos showed several officers in uniform. Even before the burial, more than 20 officers stood outside the cemetery, according to prisoner rights group Kapatid.
The Department of the Interior and Local Government earlier said the security arrangement was in anticipation of the large crowd that may form at the event. An official said this was "not overkill."
Relatives and supporters of Nasino said otherwise, claiming that police "want to hijack the funeral." They claimed that the funeral car sped up, leaving walking family members behind.
This was after Nasino's mother, Marites Asis, "had to go down on her knees before [the officers] to plead to bring the coffin down because time is of the essence," Kapatid said.
The funeral car also skipped the Supreme Court (SC) and the Court of Appeals, which was planned to be part of the procession, and went straight to the cemetery, Kapatid said.
The group also said even the priest who led the funeral rites asked the police to uncuff Nasino so she could "spread her hands to embrace the coffin," to no avail.
Asis, speaking at a program at the cemetery, decried the treatment they got from the police, saying "Si Baby River ay hindi ginto. Tao siya. Bakit ang dami niyo? Wala akong kinakalaban. Sobra na kayo. 'Di porke't mahirap lang kami at walang malaking pangalan."
Critics of the heavy police presence during Baby River's wake and funeral have complained of stark differences between how the Nasino family was treated and how detained prominent public officials were in their own furloughs.
Nasino was one of the detainees who had asked the SC to order their release on humanitarian grounds amid the pandemic. Other petitioners cited old age and existing medical conditions as COVID-19 risk factors.
Five months after the petition was filed, the highest Philippine court released a decision referring the case, treated as an application for bail, to the trial courts where the detainees are facing charges. -NB, GMA News