Filtered By: News
News
PNP nabs 9 suspects in illegal sale of test kits, diagnostic tools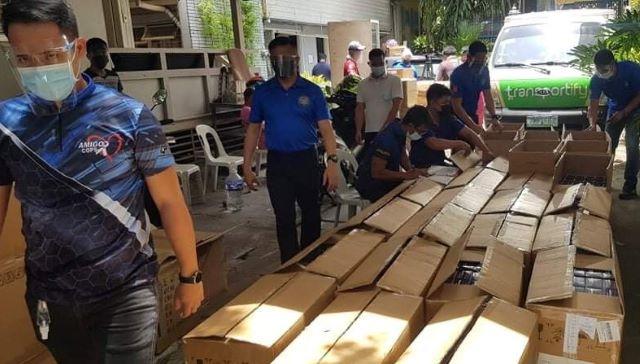 The Philippine National Police on Tuesday arrested nine persons allegedly involved in illegal sale of COVID-19 test kits and confiscated P30 million worth of the diagnostic tools in Quezon City.
Citing reports from the Criminal Investigation and Detection Group, PNP chief Police General Debold Sinas identified the suspects as:
Marize Santiago, 28 years old
Joshua Raphael Bautista Ramirez, 21
Zeus Catamora Jimena, 27
John Vincent Almante Sumalabe, 23
Rio Joyce Mingay Perando, 20
Hermogenes Rivero Villordon, 28
Jomari Pareja Estrada, 21;
John Marthy De Jesus Parentela, 22
John Paolo Solibaga San Pedro, 28
The Quezon City District Field Unit (QCFDU) and 300th Air Intelligence and Security Wing conducted an entrapment operation against the suspects in Barangay South Triangle after a verification from the Food and Drug Administration.
According to the PNP, the operation stemmed from reports on unauthorized distribution and selling of unproven and illegally marketed medical devices.
These medical devices include Joinstar, Clungene rapid test kit, Innovita antibody test, Sanli disposable virus specimen, and Wondfo rapid test kit.
An unauthorized online seller of COVID-19 test kit placed these items for advertisement through online selling website, the PNP said.
According to the PNP, the operation was conducted after the suspects received payment from a police undercover for 30 boxes of Clungene rapid test kit amounting to P204,000.
Recovered items from the suspects were assorted volume of unauthorized rapid test kits worth P30 million.
Police said the suspects failed to show their license to operate or special permit to sell and distribute the test kits, as stated in FDA Circular No. 2020-016 during the operation.
Authorities linked Santiago to a Chinese online selling group that offers unauthorized rapid test kits for COVID-19.
Operatives brought the suspects to the QCDFU office for appropriate documentation for the filing of cases in violation to FDA Act of 2009 in relation to FDA Circular No. 2020-016 or the prohibition of online selling of FDA Certified COVID-19 Antibody Test Kit.
"This operation is part of our continued efforts to run after those who take advantage of the pandemic to earn money by illegally marketing medical devices through illegal online selling by unauthorized online sellers of Covid 19 rapid test kit", Sinas said. —LBG, GMA News