Filtered By: News
News
Christmas exodus starts to peak; transport firms, authorities ready
Air and sea transport firms as well as transportation authorities went into high gear as the yearly holiday exodus started to peak, with just days to go before Christmas.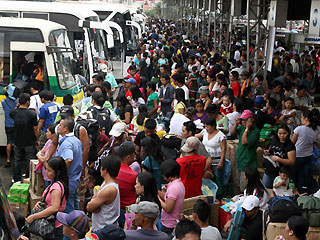 People bound for the provinces for the holiday break flock to the Araneta bus terminal in Quezon City on Wednesday.
Mark Adrian
Radio dzBB reported early Wednesday that airlines and shipping firms announced added trips for the holidays, even as they advised passengers to be at airports and seaports three hours before their scheduled trips. Flag carrier Philippine Airlines said late Tuesday it has intensified its operations to accommodate the surge of holiday travelers. A separate report on dzBB radio said Cebu Pacific also added flights for the holidays. "To accommodate the surge of holiday travelers, Philippine Airlines (PAL) is adding flights, deploying all available aircraft and posting full staff complement at airports,"
PAL said
in its website Tuesday night. But it also reiterated its advice to passengers to leave early and be at the airport at least three hours before departure for international flights, and two hours before for domestic flights. "PAL is again advising its passengers to leave early for the airport to avoid missing their flights after getting stuck in traffic around NAIA particularly during the holiday rush. Those with international flights should be at the airport at least three hours before departure, while for domestic, at least two hours before published time of departure," it said. For this year's peak season, PAL has added flights to five international and seven domestic destinations. The international destinations include Los Angeles, Hong Kong, Bangkok, Riyadh and Singapore; while the domestic destinations include Zamboanga, Ozamiz, Puerto Princesa, Iloilo, Dipolog, Bacolod and Cagayan de Oro, At least five selected flights going to Guam are also using a bigger aircraft (Airbus A330), the same with the mid-morning flight from Manila to Davao, using the Boeing 747-400. Details of changes in schedule and aircraft may be viewed at the PAL website at www.philippineairlines.com, it said. On the ground, PAL's frontline offices including check-in counters, baggage handling, cargo sales, ticket offices and other customer-contact work places in Manila and all domestic and international stations, will have maximum manpower complement to serve the needs of travelers.
'Zero maritime accidents'
In Manila, Philippine Coast Guard spokesman Lt. Cmdr. Armand Balilo said they are now implementing the Transportation Department's order for "zero maritime accidents" this year. "There is a reported 80-percent increase in passengers at the terminals, nationwide. We have increased our operating units and canceled their vacation leaves to cope with this traffic," Balilo said in an interview on dzBB radio. As this developed, shipping firms with trips from Metro Manila to the provinces are now fully booked for the yearly Christmas exodus. Radio dzBB's Carlo Mateo reported shipping firms are coordinating security measures with the Philippine Coast Guard to ensure the passengers' safety. The report added most of the fully booked trips of the shipping firms involve destinations in Visayas and Mindanao. Balilo appealed to passengers to watch out for colorum vessels, or inter-island ferries without franchises. He also reminded the shipping firms to undertake safety measures, including inspecting baggage to make sure they do not contain deadly weapons, firecrackers and explosives. For his part, Transportation Undersecretary and department spokesman Dante Velasco said they have added personnel to inspect passengers' baggage at seaports and airports. Velasco said they are also coordinating with the Philippine Atmospheric Geophysical and Astronomical Services Administration to check weather conditions. "We keep watch over the weather as there may be occasional rains," he said in an interview on dzBB radio. "As much as possible there should be no sea accidents," he added.
— LBG, GMANews.TV