Filtered By: News
News
Muslim youth fight 9/11 biases with 'jihad by heart'
A decade after the September 11, 2001 attacks in the United States by Islamic extremists, young Muslim Filipinos are coping with the backlash against their religion by promoting peace instead of waging war on other faiths.
"Kumbaga una mong kakalabanin 'yung sarili mo na hindi ka gagawa ng mali,"
said Shahanee Lao Balindong, who is taking up a master's degree course in Islamic Studies at the University of the Philippines (UP) in Diliman. She explained that
jihad
, the Islamic concept that extremists used to justify the 9/11 attacks, can be understood on three levels – "by heart, by tongue, and by the sword."
Jihad
by the heart, which involves an internal struggle to live by Islamic teachings, is the "greater" type of
jihad
compared to
jihad
by the sword, which involves the use of brute force, she added. Balindong is a member of the UP Muslim Students' Association (UP-MSA), which was established in the 1960s and whose younger generation is more focused on academics and socio-cultural activities in an effort to erase negative perceptions about Islam. GMA News Online interviewed some UP-MSA members a few days before the 10th anniversary of the 9/11 attacks that killed 3,000 people, triggering reprisals by Western allies against various targets in the Islamic community. The
threats against the west
have continued despite the assassination of al Qaeda leader Osama bin Laden this year. At the UP-MSA
tambayan
, which also serves as their prayer room in the secular state university of mostly non-Muslims, the students said
jihad
is not equivalent to the violent "holy war" that terrorists waged against America. Rather, it is more appropriate to understand
jihad
as a struggle to remain faithful to Islam.
Negative perceptions
The prevalent interpretation of
jihad
as a holy war has led to perceptions that Islam is a violent religion, something that the students have had to endure along with the rest of the Filipino Muslim population. (
Watch more in the video below
) Alyssa Ashley Baragir Usman said she is particularly dismayed that Mindanao is often portrayed as chaotic due to the presence of Muslims there. She recounted the experience of a friend who, along with other students, was preparing for a role-playing activity about Mindanao.
"Okay, sige, 'Sinong mga militar? Sinong mga Muslim? O, kunyari may sasabog na bomba,'"
the group's discussion reportedly went, eliciting light-hearted laughter from the UP-MSA members. Usman said such images come from the media's stereotypical portrayal of Mindanao, which she said is actually more peaceful than it is depicted to be.
"Ewan ko, parang miseducated siguro tungkol sa mga Muslim,"
she said.
Personal 'jihads'
The discriminatory and prejudicial contexts in which Filipino Muslims often find themselves become opportunities for
jihad
by the heart, the students noted.
The meaning of jihad
In his book
Jihad in Islamic History: Doctrines and Practice
, Michael Bonner explains that "the Arabic word
jihad
does not mean 'holy war' or 'just war.' It really means 'striving.'" An Islamic scholar at the University of Michigan, Bonner writes, "When followed by the modifying phrase
fi sabil Allah
, 'in the path of God,' or when – as often – this phrase is absent but assumed to be in force,
jihad
has the specific sense of fighting for the sake of God (whatever we understand that to mean)." Maher Hathout, author of the book
Jihad vs Terrorism
, also clarifies that
jihad
is much more than
jihad
by the sword, which, according to National Geographic, "has received the lion's share of global attention."
(Read more)
For Al Amin Julkipli, these include instances when they could not find
halal
food – or meals that are prepared in the proper way – and are tempted to eat forbidden dishes.
"Part ng personal jihad mo 'yon kung kaya mong i-overcome 'yung gutom mo,"
he said. Even what they do as students – seeking knowledge – can serve as personal forms of
jihad
, said Yassen Ala, another student. "To be able to establish a good perception of other people about Muslims,
kailangan naming makisabay at makibagay. Kailangan kaya din naming gawin ang kaya nilang gawin. And that's one of the reasons kung bakit kami nag-aaral,"
he said. The peaceful practice of
jihad
can benefit not only Muslims but the entire country and even the whole of humanity, said the young Muslims from UP. "Although very internal
ang process ng jihad, ultimately, ang translation niya outward pa rin – so sa interactions mo with other people, whether you will lie to them, treat them badly. All these things kasi, jihad mo 'yan,"
Julkipli said. Formally recognized in 1983, the UP-MSA aims to foster better understanding between Muslims and non-Muslims through academic, religious, and socio-cultural activities, among other things.
Only in self-defense
Ala said Muslims only resort to
jihad
by the sword in extreme cases, such as when lives are directly at stake or when defending oneself from immediate harm. Otherwise, Muslims are enjoined to exercise patience, he said.
"Kasi
in Islam, we are not taught to hurt others. But somehow, we make sure that they will not be able to hurt people weaker than us," he added.
"Pero 'yung tao lang kasi," Balindong explained, "mas gusto niya 'yung 'by sword' kumbaga. Siyempre tao lang tayo. Minsan hindi natin napipigilan ang sarili natin: 'O sige, makipaglaban tayo para sa ganyan,
go fight!'" However, she noted that
jihad
by the heart merits greater rewards than
jihad
by the sword.
"Kasi 'pag malaki ang patience mo, siyempre si Allah mas gusto Niya na huwag ka nang mag-fight back. Ang gusto niya, maging tahimik ka na lang,"
she said.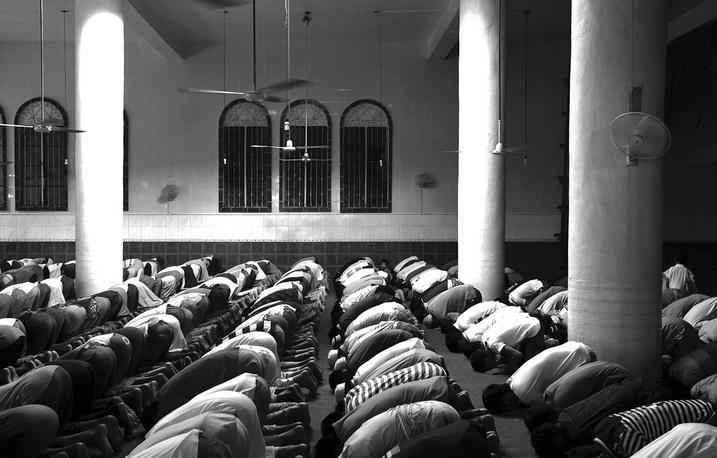 For Muslims, jihad is not a means to sow violence but a way to glorify Allah. Photo courtesy of Rick Rocamora
The problem, said Balindong, is that people interpret the Quran in a way that best suits their intentions.
"'Yung iba, nagko-quote tapos hindi nila masyadong pinag-aaralan 'yung verse na 'yon kung ano talaga 'yung ibig sabihin,"
she said. Usman said the ultimate objective of
jihad
is to glorify Allah.
"Anong ibig sabihin ng glorification ni God?" she said. "'Di ba, mas isinusulong mo na rin naman no'n ay 'yung betterment ng kapwa mo?"
– YA, GMA News