Filtered By: News
News
Swiss slogan in '51 exactly the same as PHL's new campaign a 'coincidence'
Apparently, it's also more fun in Switzerland, if one believes that country's tourism slogan from 1951. The slogan was on a Swiss ad found on a
web site
selling vintage ads. Word about the Swiss ad began circulating through Twitter just hours after the Philippines' Department of Tourism unveiled the slogan for its new international marketing campaign, "It's more fun in the Philippines."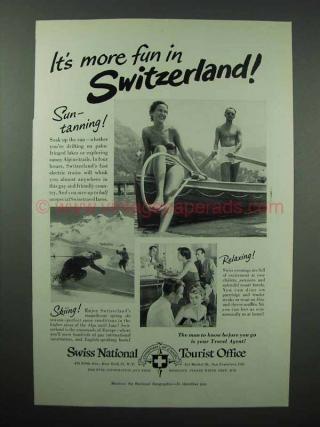 The black-and-white magazine ad of the Swiss National Tourist Office shows a smiling, leggy Swiss lass in a bikini on a boat underneath the words, "It's more fun in Switzerland!" Tourism Secretary Ramon Jimenez promptly pronounced it a "coincidence." Jimenez tweeted: "This Switzerland coincidence only makes our line truer. Sun Tanning IS more fun in the Philippines." "C'mon, you have to give BBDO more credit than that," Jimenez told GMA News Online, referring to the advertising giant that got the contract to conceptualize the campaign. "It's not a manufactured line. It comes from human conversation. It only has power if it's true. It's not the most original line in the world." Jimenez also expressed dismay that some Filipinos are harping on the uncanny coincidence. "Now is not the time to look for
butas
(in the campaign)," he said. The government's last tourism campaign launch, in 2010, became a fiasco when critics lampooned the slogan, "Pilipinas Kay Ganda," and accused the creators of the logo of copying from a Polish campaign. "Pilipinas Kay Ganda" was scrapped and the tourism official who was in charge of it resigned. The new Philippine slogan was Twitter's top trending topic in the world soon after Jimenez formally announced it Friday morning.
- Howie Severino, GMA News