Filtered By: News
News
Sandiganbayan orders arrest of Gloria Arroyo, 3 others for NBN-ZTE deal
The Sandiganbayan anti-graft court on Tuesday ordered the arrest of former President Gloria Macapagal-Arroyo, her husband Jose Miguel, and two other former officials during her incumbency for the scrapped and scandal-ridden
NBN-ZTE deal
.
A staff member of the Sandiganbayan fourth division, who refused to be identified due to lack of authority to talk about the case, said the court issued a resolution for the arrest of the Arroyo couple on Monday morning.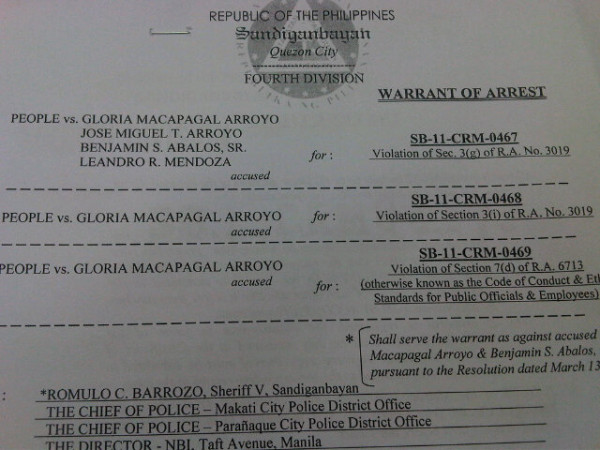 Photo by Kara David
Also ordered arrested were former Commission on Elections (Comelec) chair Benjamin Abalos Sr. and former Transportation and Communications chief Leandro Mendoza. The four were slapped with graft charges alleging that they used their positions in government to push through the $329-million national broadband network (NBN) project in 2007 as proposed by China's Zhong Xing Telecommunications Inc.
Atty. Ferdinand Topacio, lawyer of the Arroyo couple,
posted on Twitter
shortly after 11 a.m. Tuesday that he is on the way to the Sandiganbayan to post bail for former First Gentleman Jose Miguel "Mike" Arroyo. He did not disclose how much bail the anti-graft court recommended.
Both Mrs. Arroyo and Abalos are currently detained for separate poll sabotage charges.
Mrs. Arroyo is currently under hospital arrest at the Veterans Memorial Medical Center in Quezon City. Abalos meanwhile is detained at the Southern Police District Jail in Pasay City.
Separate motions
Mr. Arroyo and Mendoza's respective camps had earlier separately asked the anti-graft court to defer the arrest orders.
The former First Gentleman claimed in an Urgent Omnibus Motion dated March 9, 2012 and filed by lawyer Edna Batacan that there was no basis to indict him and his co-accused as the NBN-ZTE contract was rescinded and the project never took off.
Mendoza used the same argument in his motion filed Monday through the Poblador Bautista and Reyes law office.
Thus, the case filed by the Ombudsman was based on a non-existent contract, Mendoza and the former First Gentleman argued.
Mrs. Arroyo was implicated in the case amid reports that she did not do anything to stop the government from forging a deal with the Chinese firm despite being made aware of its repercussions to the country.
She, along with her husband and 16 other individuals, had been separately charged with obstruction of justice and disturbance of proceedings related to the abduction of Senate whistleblower Rodolfo Lozada, who testified on the anomalous project.
The Ombudsman, however, later dismissed these cases related to the supposed abduction incident. –KG/HS, GMA News