Filtered By: News
News
Feuding Basa family reconciles at impeachment trial
While the Senator-judges were deciding in caucus how to treat the unconditional waiver of Chief Justice Renato Corona on his bank accounts, the estranged Basa relatives, including Mrs. Cristina Corona, wife of the chief justice, apparently reconciled. In an interview with GMA News' Joseph Morong, Ms. Baby Nebrida—a classmate of Mrs. Corona from Maryknoll (now Miriam College)—narrated that she and other friends of Mrs. Corona learned that the feuding first cousins of the Basa family had wanted to reconcile. Nebrida said she saw Betsy Chavez, another friend of hers attending the Senate impeachment session Friday.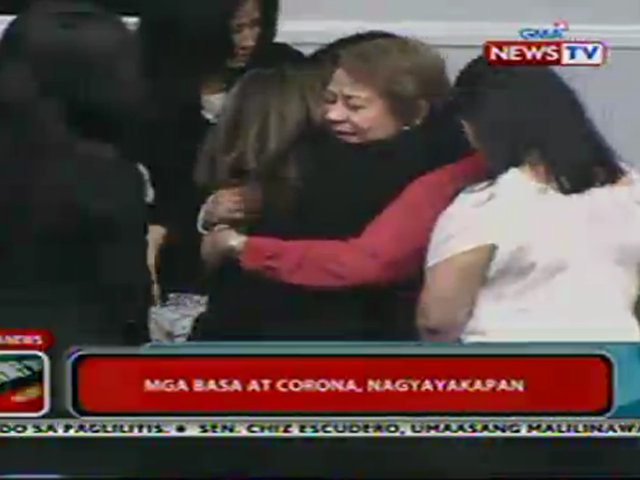 Chief Justice Renato Corona's wife Cristina gets a hug from her estranged cousin during the impeachment trial Friday. GMA News
Nebrida also said she discovered that Chavez is a cousin of the Basas and learned from her that the daughters of Cristina Corona's uncle Jose Maria Basa II were willing to set aside their decades-long feud. "Are you ready to reconcile?" Nebrida said. She narrated to Joseph Morong that she then urged the chief justice's wife to approach her cousins. "I brought Tina there," Nebrida said. Mrs. Corona and her cousins hugged each other. A while later, Mrs. Corona led her cousins to her husband, who also embraced his wife's cousins. "Don't decide on anything right now. Take it one day at a time," Nebrida recalled advising Mrs. Corona.
The Basa family feud came to public attention during Corona's impeachment trial after the chief justice declared an P11-million loan from the Basa Guidote Enterprises Inc (BGEI) in his statements of assets, liabilities and net worth (SALNs).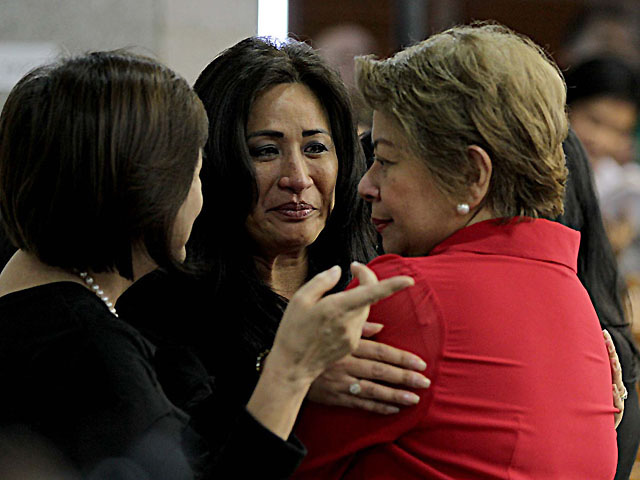 In an unexpected twist to the Corona impeachment trial on Friday, Carmen Basa (center) and Cristina Corona (right) patch up their families' long-standing feud over a real estate property in Manila.
During the trial, former Manila Mayor Lito Atienza testified that the city's government purchased a BGEI land for P34.7 million. The defense claimed that the amount was deposited in Corona's bank account and was not reflected in his SALN because it was owned by the BGEI.
Cousins-in-law of the chief justice had disputed the chief magistrate's testimony that their deceased father, Jose Maria Basa III, caused the long-running disputes within their family. Carmen Basa, cousin of Corona's wife Cristina, said Corona "maligned" and "slandered" the name of her dead father in Tuesday's session of his own impeachment trial last Tuesday. Corona had characterized the older Basa as a "spoiled brat" who never held a job. Carmen Basa's father is the brother of Mrs. Corona's mother, Asuncion. "To hear the chief justice was one of the most painful moments in our lives. Our father was an honorable man who strongly believed in the justice system," Basa said at a press briefing. She also maintained that Mrs. Corona was the one who "stole the company from its legitimate owners."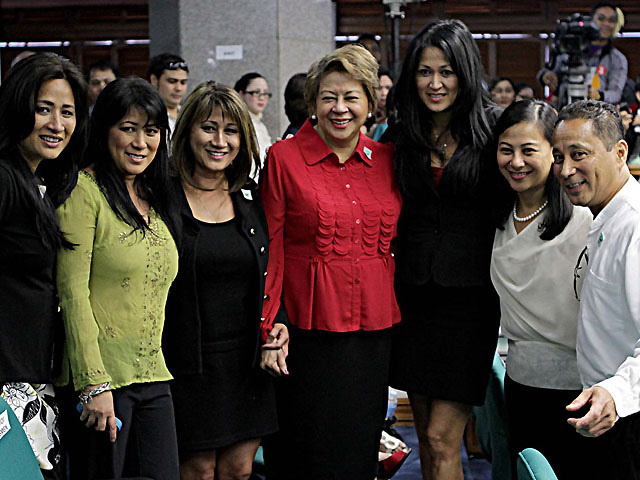 Cristina Corona (center), wife of Chief Justice Renato Corona, poses with members of the Basa family at the Senate gallery on Friday after they have reconciled their long standing feud over a real estate property.
Corona testified in his impeachment trial Tuesday to rebut the impeachment charges against him. Lead defense counsel Serafin Cuevas said he still wanted to conduct direct examination when Corona suddenly left the Senate session hall after delivering a nearly three-hour opening statement. The chief justice was confined at The Medical City in Pasig where doctors monitored his health to examine him for a possible heart attack following his supposed episode of hypoglycemia, or low blood sugar level after he rose from the witness stand.
— with Kimberly Jane Tan/LBG/VVP/HS/ELR, GMA News