Filtered By: News
News
Veteran TV reporter Jun Bautista, 73, 'lived curious'
Veteran television reporter Augurio Bautista Camu Jr., better known as Jun Bautista in the media, died on Tuesday after a long battle with chronic obstructive pulmonary disease.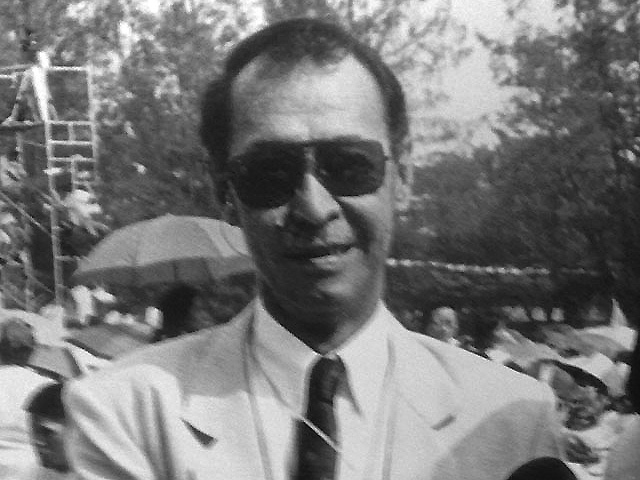 In a telephone interview with GMA News Online, his daughter Maria Lourdes Camu said that Bautista, who goes by the nickname "Bote," passed away at around 8:30 a.m. at the Makati Medical Center. He was 73 years old. A long-time television reporter for GMA-7, Bautista was a respected political journalist whose coverage of Philippine events spanned the Martial Law regime of strongman Ferdinand Marcos in the '70s up to the restoration of democracy in 1986 and several post-Marcos administrations. Jessica Soho, GMA News television anchor and Vice President for News of GMA Network, recalled that "Bote covered the opposition, Ninoy and Cory during the Martial Law years. "Largely because of his stories, GMA Network was a credible news source at a time when viewers wanted balanced and complete news reporting," Soho said. "Today is a sad, sad day for me," wrote Kelly Vergel de Dios, GMA Network's assistant vice president for the News and Public Affairs Administrative Division, on her Facebook page. "I lost a colleague and a friend Augurio Camu, Jr. - Jun Bote to the rest of us, the cool Senate reporter who was like a kuya to many of us, who wouldn't think twice about helping me put together the newscast coming from his Senate assignment the times he knew I was doing it alone, who treated me like an equal even when I was just starting out with GMA and was his intellectual inferior, who would patiently explain the workings of Philippine politics to me so that when I wrote the news, I can do it in the right context," she recalled.
Diagnosed with emphysema
His daughter Lourdes said Bautista was first diagnosed with emphysema five years ago. "Nung first attack nag-collapse lungs niya," she said. "Tapos umokay naman tapos, medyo may katigasan ulo ng father ko, nagsisigarilyo pa rin siya tapos nag-second attack, nagkatubig ulit lungs niya at nagka-pneumonia," Lourdes said. She said Bautista was still able to recover for a while until he had his third attack last September 9. "Lumabas siya ng hospital. Pagkalabas po niya sa hospital medyo mahina na siya sa bahay, naka-oxygen na po siya," she said. "Nitong early morning nakita po namin yung breathing niya wala na. [Sabi nung] nurse na kapitbahay [namin] mahina yung pulso so we rushed him to the Makati Med, ni-revive siya pero wala na," she added. According to radio dzBB, Bautista's remains were brought to Magallanes Church in Makati City.
He lived curious
With his trademark mustache and dark glasses, Jun Bautista was a familiar figure in the journalism community in recent decades. Before his retirement a few years ago, Bautista was a senior reporter covering the Senate in the 1990s, when former President and incumbent Pampanga Rep. Gloria Macapagal-Arroyo was still a senator. On Twitter, Arroyo said, "I add my condolences to the family of Bote. I have fond memories of him from my Senate days."
Also on Twitter, Vice President Jejomar Binay's spokesman
Joey Salgado
said, "Prayers for the family of Jun Bautista of GMA 7 who passed away a few minutes ago. You will be missed, Bote." Veteran journalist Butch Fernandez of BusinessMirror, who had also covered the Senate, called Bautista the King of Iconoclasts.
"Walang sinasanto ang wit niya," he said in a text message to GMA News Online. "The man loved his work until the end of his life. He was always finding a new perspective, a fresh look at things. He always lived curious, never stopped questioning things & events. He was forever texting me to read his column if it was something that concerned the craft or an event we've been through together. He was always critiquing the present news," Vergel De Dios also recalled. Aside from television, Bautista also wrote a column for the Daily Tribune newspaper. Good mentor to cameramen Dandy Seva, Bautista's cameraman at the Senate, remembered the veteran journalist as a "good mentor." "Sasabihin niya sa 'yo ang istorya, kung ano ang ine-expect na upsound na dapat ma-put on tape, kung ano ang anticipated na galaw at posibleng gagawin ng subject. Bote will guide you, hindi ka niya pababayaan," he said in an interview with GMA News Online. He said Bautista was also very professional, which made him popular with news sources. "Maski saan 'yan, siya ang nilalapitan ng sources. He was fair and square, pag sinabing off the record ang statement, off the record kaya walang reklamo sa istorya niya," he said. He was just a new cameraman when he was assigned to Bautista, who was already a seasoned journalist then, at the Senate. Seva is now GMA's head video journalist. Seva added that Bautista made sure he has all the information about a particular story, which he shared with his cameramen, before pursuing it. "Ide-describe niya kung paano ang gusto niyang takbo ng istorya at bahala ka na (bilang cameraman) na i-compose 'yun sa video," Seva said. A good friend Bautista was not only a good co-worker but also a good friend, Seva said. "Magkasama kami bababa sa Senate, magi-smoke, iinom, pupunta sa bar na My Other Office, kung saan puro 1930s na music ang pinatutugtog," he said. Vergel De Dios also said Bautista "would remember me with little gifts at Christmas and appreciated the tokens I got him especially if they had anything to do with golf -- like golf-club cuff links or tie-pins one got at a bargain." When he got sick, Bautista still retained his self-effacing ways, Vergel De Dios said. "He hated to draw attention to himself even when he was already ill. He'd be embarrassed when we visited him at the hospital," she recalled. TV reporter of the year Bautista started working for GMA-7 in 1974, and remained loyal to the network until his retirement in 1999, according to company records. He obtained an Agriculture degree in 1959 from the University of the Philippines in Los Baños, where he was a member of the Upsilon Sigma Phi fraternity. During his active years in the media, he was a fixture at the National Press Club, where he was also a member. In 1997, the Rotary Club of Manila gave him the TV Reporter of the Year award for his reportage. Bautista was born on January 8, 1939 in Naga City, Camarines Sur. He was married to Erminda Camu, with whom he had four children: Leo, Loida, Lourdes, and Liza Jane. - with a report from Kimberly Jane Tan/VVP/YA/RSJ, GMA News