Filtered By: News
News
Zaldy Ampatuan enters 'not guilty' plea in Maguindanao massacre case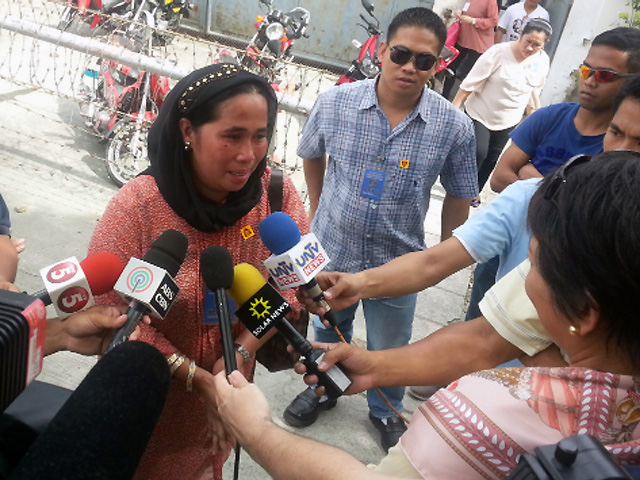 Jennah Mangudadatu-Lumawan, the sister of Maguindanao Gov. Esmael Mangudadatu breaks into tears on Wednesday after the arraignment of Zaldy Ampatuan in Taguig City where he pleaded 'not guilty' to charges of masterminding the Maguindanao Massacre on Nov. 23, 2009. Mark Merueñas
(Updated 10:24 a.m.)
Three years after the grisly Maguindanao massacre, a third member of the powerful Ampatuan clan of Mindanao on Wednesday finally entered his plea to the 58 counts of murder filed against him. Like his two relatives who were arraigned before him, former Autonomous Region in Muslim Mindanao (ARMM) Governor Rizaldy Ampatuan insisted he was not guilty of the charges.
Zaldy entered the court room clad in a yellow short-sleeved polo and wearing a gray traditional Muslim prayer cap.
When asked by the judge to enter a plea, Zaldy said he was leaving everything to his lawyer Sigfrid Fortun. When the judge further pressed Zaldy to make the plea himself, the former governor said: "I am not guilty, your honor."
Private prosecutor Nena Santos, counsel for Maguindanao Gov. Esmael Mangudadatu, said she was "happy" that Zaldy was finally arraigned.
"It took three long years for this to happen," Santos told GMA News Online. Present during the hearing were relatives of the victims including Mangudadatu. Maguindanao massacre
Ampatuan was accused of plotting what would turn out to be the worst single-day election-related violence in Philippine history. A total of 58 people, including 32 journalists, were killed on Nov. 23, 2009 by supposed members of the Ampatuan clan and alleged members of their private army. The victims were part of a convoy that was supposed to register for the 2010 polls then- Buluan Vice Mayor Esmael Mangudadatu, who was challenging the Ampatuan clan for governorship of the southern Philippine province of Maguindanao. Ampatuan became only the third clan member to be arraigned, some three years after the massacre happened and after more than 100 witnesses have been sent to the stand. His first two relatives who came before him – his brother Andal Jr. and their father, clan patriarch Andal Sr. – both pleaded not guilty in 2010 and 2011, respectively. For the last three years, Zaldy had repeatedly attempted to get his name off the list of accused – running both to the Court of Appeals and the Supreme Court. All his efforts however ended in vain, with the high court sealing his arraignment last November 14 when it denied the former governor's final plea and ruled that it will no longer entertain any pleading regarding the matter. In July 2011, the then one-and-a-half year-old trial took a significant turn when Zaldy – through interviews in several media outfits while in detention – broke his silence and said he was willing to testify in the massacre case. His lawyers would later clarify that while their client wants to take the stand, he will not be applying to become a state witness. Rumors started swirling about Zaldy's plan to turn into a state witness after reports that he was separated from his other detained relatives and was "isolated" in a separate detention cell. Amid speculations of a souring relationship between Zaldy and his father and brothers, the former governor's lawyers insisted the transfer of detention cell was purely due to medical reasons. Suffering from diabetes for more than a decade now, Zaldy supposedly needed to have his own space to protect him from infection. Zaldy has also been confined for a time at the Philippine Heart Center in Quezon City but was later sent back to detention.
— LBG/RSJ, GMA News