Filtered By: News
News
Father Reuter, mentor to generations, passes away at 96
Jesuit priest Fr. James Reuter, an influential force in Philippine education, media and theater for over seven decades, died on Monday at the age of 96. He had been ailing for years, but still managed to churn out newspaper columns and make periodic appearances at events held in his honor by several generations of students. "The University mourns the passing of Fr. James B. Reuter, S.J., who joined our Creator at 12:51pm today, at the age of 96," Ateneo de Manila University said on its official Twitter account.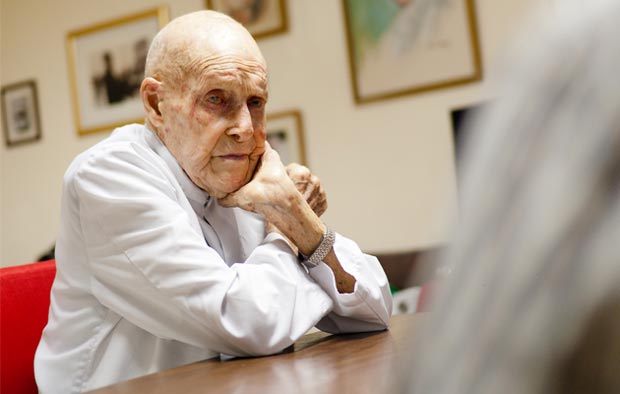 Fr. James Reuter, SJ, an influential force in PHL education, media and theater for over seven decades, died on Monday at the age of 96. Photo courtesy of Tim Arafiles/The GUIDON
"He was a very pious and exemplary Jesuit priest who was always wearing his sotana, the habit of Jesuits. He was a great communicator of the Good News of Jesus, using modern media, even musicals, plays and movies," said Bishop Arturo Bastes upon learning of Reuter's death said.
The Sorsogon prelate said the US-born priest loved the Philippines and considered himself a Filipino.
Jaro Archbishop Angel Lagdameo remembered Reuter's unforgettable talents as a drama directorship, actor, preacher and retreat master.
"As a young priest I presented some of Fr. Reuter's one-act plays to the joy of seminarian-actors. We had watched many Shakespearean dramas. He was an actor-director. A preacher and retreat master. May he rest in peace," he said. Reuter was the executive secretary of the Catholic Bishops Conference of the Philippines Commission on Social Communications and Mass Media for 39 years before
he retired in June 2009
due to poor health.
Malacañang also issued a statement on the passing of Fr. Reuter, who "was friend, mentor, confessor, adviser to generations of Filipinos, both in public and private life, and in the media, arts, and journalism." "
"We join the Society of Jesus in the Philippines, the generations of alumni of the Ateneo de Manila University, and men and women of media, arts, and letters, who mourn the loss of this man of faith, good cheer, and eloquence," Malacañang said.
"His love of the Philippines and Filipinos was legendary; so much so it earned him a stature and affection beyond the measure of the many awards, both national and sectoral, that he received throughout his long life," the statement said.
A personal history
Reuter was born in New Jersey in 1916 and first arrived in the Philippines as a Jesuit scholastic, or seminarian. He stayed permanently to mentor generations at the Ateneo, where he led its famous college glee club as well as directed stage plays. In later years, he would also teach at St. Paul's College. During World War II, he was detained by the Japanese in Los Baños and liberated by US forces. He received the Ramon Magsaysay Award for Journalism in 1989 and was granted honorary Filipino citizenship by the Philippine Congress in 2006. "The only thing that I see is the holiness of the Filipino people. The Filipino people are very, very close to God," Fr. Reuter said in a 2009 QTV report:
Following is an excerpt from a biographical essay written by Howie Severino several years ago for a book published by the Ramon Magsaysay Foundation:
Born the eldest of five children on May 21, 1916 to a young German-Irish couple, Reuter had spent most of his life in New Jersey when he volunteered to be a Jesuit missionary in 1938 in America's only colony in Asia.

Reuter's choice of vocation came early, inspired by his own Jesuit mentor, Ernest Hartnett, at his Catholic high school in New Jersey, Saint Peter's Prep. A few months after graduating valedictorian while playing varsity athletics, he entered the Society of Jesus and started his novitiate training in Pennsylvania. By age 20, Reuter had taken his first holy vows, and arrived in Manila at age 22 as a Jesuit scholastic, or a priest-in-training. He had known about the archipelago since high school, when he had argued in favor of independence in the intense debates going on then in the United States over the fate of the Philippine islands.

After several years of study, including two years in Baguio, he was assigned to teach at the Ateneo de Manila in mid-1941. At the same time, he began his radio career when he was also tasked to help produce the Catholic Church's popular Sunday-night radio drama show, "The Commonweal Hour."



This was the start of Reuter's long career in Philippine media. But it may have also marked the dawn of his extraordinary impact on the would-be republic's public life. The radio program reached many listeners, and featured actors from the Ateneo who would later distinguish themselves in the public sphere: Leon Ma. Guerrero, Raul Manglapus, Ricardo Puno, and Francisco 'Soc' Rodrigo, to name a few. The show's chief writer was a precocious young Jesuit named Horacio de la Costa, later the superior of the Jesuit province and one of the country's pre-eminent historians. (Back then, de la Costa wrote witty radio plays for the masses, including the series "Kuwentong Kutsero," which became so popular it eventually crossed over into television and also became a hit.) The reverie of Reuter's early years in the Philippines was interrupted by the Japanese invasion and the start of World War II. As an American, the priest was interned in Los Baños, where he was assigned the duty of burying dead inmates. In early 1945, while the Japanese guards were doing their daily calisthenics, U.S. paratroops sprung a surprise assault and quickly took over the Los Baños camp. As he was liberated, Reuter was overcome by patriotic emotion and vowed then that he would never give up his U.S. citizenship. He would recall four decades later, "Coming into Manila in a military jeep, in the bright morning sunlight, with my hair blowing in the wind, I was in real ecstasy. We were free! We were really free!" Reuter returned to the United States for more studies after the war and was ordained in 1946. In addition to theology, he enrolled for a summer at Fordham University to study a new course in radio and television, which was then a new medium that many radio professionals were skeptical about. Located in New York, Fordham exposed the Jesuit communicator to the media industry's cutting edge. In 1948, he returned to the Philippines where he was assigned to teach at the Ateneo de Naga, in the Bicol region, where he began to blossom as the prototypical Jesuit Renaissance man. He taught English and religion, but after class he was in charge of five extracurricular activities: the school's monthly magazine and yearbook, the glee club, the debate team, dramatics, and the varsity basketball team. He was reassigned to the Ateneo de Manila in 1952, where his versatility was put to full use. His theatrical talents were already well-known. But soon after his return to Manila, he revived the Ateneo glee club, which "quickly became something of a national phenomenon," according to one account of those years.


— With Carmela Lapeña / TJD, GMA News