Filtered By: News
News
Models strip for Mali the elephant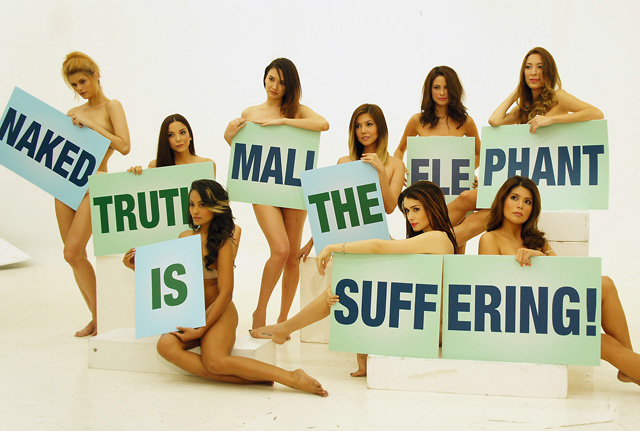 Holding letters that spell out 'Naked Truth: Mali the Elephant Is Suffering,' a group of models and actresses pose for a People for the Ethical Treatment of Animals (PETA) photo shoot in Makati on Tuesday. They were not actually naked, as the model holding the "IS" card shows. Models Bianca Valerio, Amanda Griffin Jacob, Geneva Cruz, Daiana Menezes, Sheena Vera Cruz, Mia Ayesa, Julia Sniegowski, Ornusa Cadness, Isabella Gonzalez, and Sanya Smith are campaigning for the transfer of Mali the elephant from the Manila Zoo to a sanctuary in Thailand. Photo by Danny Pata
Wearing nothing more than placards and a grim-visaged determination, several female models and local celebrities posed nude for a People for the Ethical Treatment of Animals advertisement that called for the transfer of the Manila Zoo's lone resident elephant, Mali, to a sanctuary in Thailand.
Put together, the words and letters printed on the placards the ladies were undressed with read, "Naked truth: Mali the elephant is suffering".
PETA insists that Mali is in a wretched state in the Manila Zoo given that her enclosure is too small for her, she has some kind of foot disease and she's suffering from "profound loneliness" having had no other elephant companion in decades.
One of the free-spirited celebrities in the PETA ad, actress/singer Geneva Cruz, explained to GMA 7 news program "Saksi" that Mali is in very unfortunate circumstances relative to elephants in the Thai sanctuary.
"Thirty-six years [old na] yun, dapat may pamilya na. Kasi, siyempre, nasa reproductive system natin mga babae, yung, gustong magaanak," explained Cruz.
Model Sanya Smith was sweeping with her views, as she flat out said, "I think we should shut down that zoo once and for all."
However, the Manila Zoo said that PETA and its supporters should respect the zoo's decision to keep Mali. They further insist that Mali is well taken care of as she is well fed and given vitamins.
Furthermore, the zoo said the trip to Thailand may be dangerous to the pachyderm's health. "The long distance transportation is very stressful to the animal because she is 'fairly old'," said Manila Zoo Zoological Division chief, Dr. Donald Manalastas.
But PETA senior campaigner Ashley Fruno wasn't convinced as she had some fighting words for the Manila Zoo, "We can guarantee you, as long as Mali is suffering at the Manila Zoo, we will keep fighting for her freedom." — DVM/ELR, GMA News