Filtered By: News
News
In Palm Sunday homily, Cardinal Tagle urges Pinoys to shun vengeance
Be innocent like Christ, don't plan anything that will hurt others, and shun evil. This was the exhortation of Manila Archbishop Luis Antonio Cardinal Tagle to the faithful, in his homily marking Palm Sunday in Manila.
"As we start this Holy Week, let's emulate Jesus, worship Him and follow His examples," Tagle said at the San Fernando de Dilao Parish Church in Paco, Manila.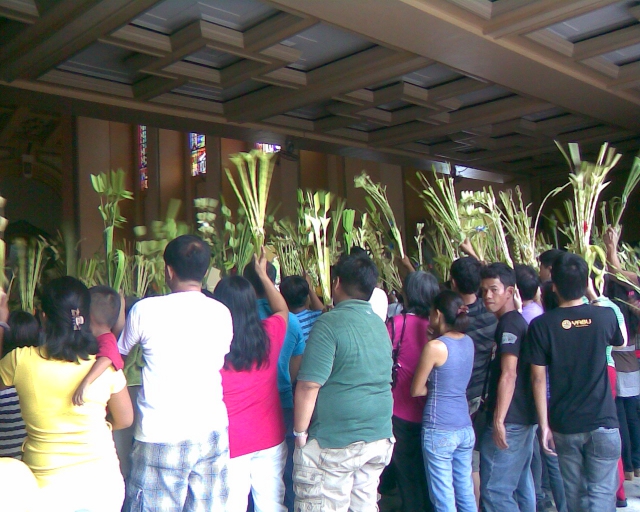 Catholics at the Santo Domingo Church in QC wave their palm fronds for the priest to bless before a Mass Sunday morning. Catholic Filipinos started the Holy Week by attending Palm Sunday liturgical rites. GMA News
Excerpts of his homily were posted Sunday afternoon
on the Catholic Bishops' Conference of the Philippines news site.
Tagle particularly urged Filipinos to shun a mentality of retaliation, which he said "will only breed evilness" and possibly start a vicious cycle.
"Evil will pervade us should we repay evil with evil," he said, adding one can defeat it by "being innocent like Jesus" and not planning "anything that will hurt others."
Tagle added that a person who is wronged should do good instead of evil, saying good is a more potent weapon than evil.
"Your goodness will defeat evil. Let's journey with (Christ) in our everyday life by being innocent, charitable, and (doing what is) righteous," he said.
Earlier on Sunday, Tagle led the start of Holy Week for Catholics in the Archdiocese of Manila.
He led the blessing of palms and performed the Palm Sunday ritual before a packed Paco Church.
Catholics on Sunday started Holy Week by commemorating the triumphant entry of Jesus into Jerusalem before His Passion and Death.
— LBG/HS, GMA News