Filtered By: News
News
'I don't know what pork barrel is' — Janet Lim-Napoles
Janet Lim-Napoles, the businesswoman portrayed as so savvy with money that she created a complex network of channels for embezzled public funds, has claimed that she does not know what pork barrel is.
"Unang-una, hindi ako mambabatas, so hindi ko alam kung ano 'yun," Napoles
told Malou Mangahas
in an interview for GMA News TV program "Investigative Documentaries."
At the time the interview was done, the Makati Regional Trial Court had not yet issued the arrest warrant for Napoles, who, together with her brother, Reynald Lim, is accused of causing the serious illegal detention of their cousin, Benhur Luy.
Luy has become a whistle-blower, and has accused Napoles of channeling monies from the Priority Development Assistance Fund (PDAF) of several senators and congressmen to her own accounts and the bank accounts of some legislators through various foundations.
As of Thursday evening, the arrest warrants have not yet been served because law enforcers have been unable to find Napoles and her brother.
"70 - 30"
Napoles said in the "Investigative Documentaries" interview that the only foundation she was involved with is the Magdalena Luy Lim Foundation
"Ang meron po kami, 'yung sa mommy ko," Napoles said. She denied being involved with 20 or 30 non-government organizations (NGOs), as reported in a daily newspaper.
Two former employees of JLN Corp. – Benhur Luy and Merlina Suñas – implicated Napoles in the PDAF Scam.
Luy, who claimed he was in the employ of Napoles for 10 years, alleged in a sworn affidavit that Napoles' modus operandi includes a 70-30 sharing scheme, with the legislator getting 70 percent while she keeps 30 percent.
"Iyan ho ay pawang kasinungalingan. Sinasabi niya yan, eh dapat siya ho ang magpatunay. Bigyan nila ng papers, kausapin nila yung, kasi ho madaling magsabi eh, 'di ba?" she said.
Suñas has alleged that pork barrel funds did not go to the foundations she helped establish for Napoles, but went only to the businesswoman.
Gertrudes and Arturo Luy, the parents of Benhur, said in a sworn affidavit that Napoles organized the Pangkabuhayan Foundation Inc. which got P195 million in pork barrel funds in 2009 and 2010, according to various reports of the Commission on Audit.
The Luys said Napoles also set up other entities, including the Social Development Foundation Program for Farmers Foundation, Inc., which they said received pork barrel funds from five Members of the House of Representatives.
It was also reported in the "Investigative Documentaries" that Napoles was on the receiving end of pork barrel funds from Senator Jinggoy Estrada, Sen. Juan Ponce Enrile, Sen. Ramon "Bong" Revilla, and Rep. Michael Velarde.
But Napoles maintained that her family's wealth came about when her husband was invited by an Indonesian friend to invest in coal. Napoles said they also invested in developing a subdivision village in Indonesia.
She said those investments in Indonesia exist until now.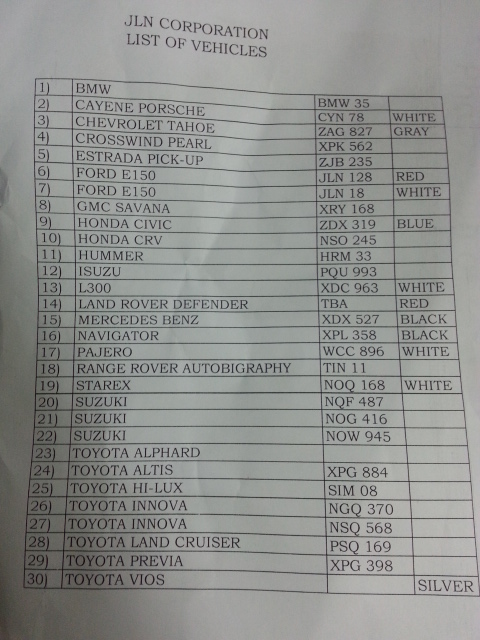 Law enforcers are on the lookout for 30 cars that are linked to a firm of the Janet Lim-Napoles.
22 companies, 30 cars
Records from the Securities and Exchange Commission show that members of the Napoles family are involved in at least 22 companies registered with the SEC.
Eight of these firms submitted an affidavit of non-operation in 2012. Two have closed down, while six were registered as non-profit organizations or foundations.
Meanwhile, the Land Transportation Office said eight motor vehicles are registered in the names of Janet Lim-Napoles and her husband, retired Philippine Marines Major Jaime Napoles.
However, the Department of Justice came out with a list of 30 motor vehicles belonging to the JLN Corporation.
Atty. Lorna Kapunan, the legal counsel of Napoles, said the allegations against her client were meant to steer public attention away from other people who are stealing pork barrel funds.
"To conveniently point everything to Mrs. Napoles, anong tawag diyan? Smokescreen. Ang tawag diyan eh to divert, to divert the attention of this people," Kapunan said.
"Meron talagang nagnanakaw ng PDAF funds. Ang sinasabi namin, hindi yun si Mrs. Napoles. By all means, please investigate." Kapunan added.
— Rouchelle Dinglasan/ELR/CM, GMA News
Investigative Documentaries is hosted by Malou Mangahas and airs every Thursday, 8 PM on GMA News TV Channel 11. Follow Investigative Documentaries on Facebook and Twitter.