Filtered By: News
News
From Facebook to Luneta: Anti-pork protest spills into streets August 26
(Updated 3:24 p.m., 22 August 2013)
Are people mad enough to get off their screens and into the streets?
Wait and see on August 26, the date set by outraged netizens for an amorphous anti-pork barrel movement to march to Luneta. The target: one million marchers.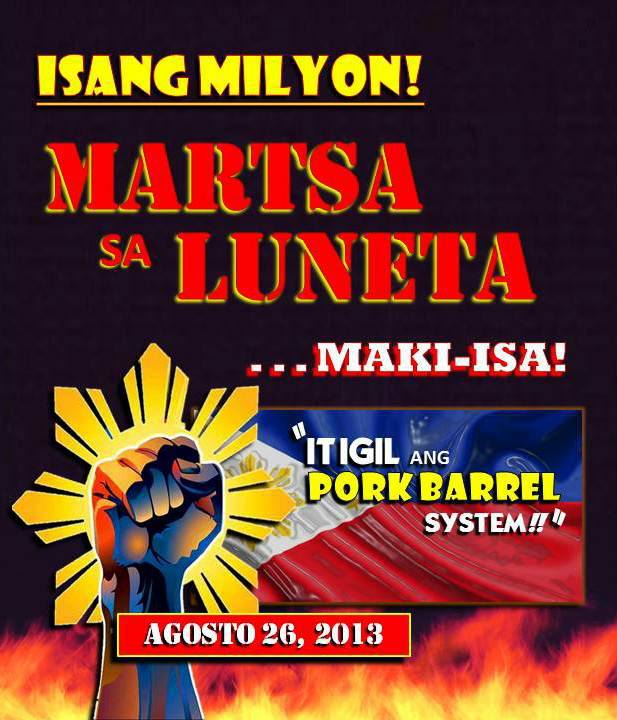 This is one of several posters circulating on Facebook, inviting people to join the August 26 march to Luneta.
It's an ambitious goal for an anger that has been mostly expressed online so far. The event, triggered by sentiments posted on Facebook, will be a test of whether netizens are motivated enough by this issue to eyeball each other in large numbers.
It is being branded
a "pocket picnic" for taxpayers who demand that the pork barrel be scrapped
, and that guilty lawmakers in the pork barrel fund scam charged, "with full media coverage for the people to see."
Since the Facebook event page was created on Saturday afternoon, thousands had indicated they would join the protest action, which coincides with the celebration of National Heroes' Day.
As of Sunday, over 3,000 people said they were going. Some also expressed support with statements such as "Enough is enough!" and "It's time to walk the talk."
Social media has been abuzz with outrage since news broke of
a P10-billion pork barrel fund racket allegedly led by Janet Lim-Napoles
. The businesswoman was accused of channeling money from the Priority Development Assistance Fund (PDAF), or pork barrel of several lawmakers to her own accounts through various foundations.
Angry Filipinos have taken to sites like Facebook and Twitter to express their disgust, denouncing Napoles's wealth, including
her daughter Jeane's lavish lifestyle.
Those who feel the protest should also be held offline welcomed the August 26 march, which was inspired by
a post by music executive Ito Rapadas
: "What we need is a MILLION PEOPLE MARCH by struggling Filipino taxpayers- a day of protest by the silent majority that would demand all politicians and govt. officials (whatever the political stripes, color they may carry) to stop pocketing our taxes borne out from our hard work by means of these pork barrel scams and other creative criminal acts. They don't want to investigate themselves, they remain relaxed and unperturbed because they believe it will die down in time. Let's make them feel that this time is DIFFERENT cause we are all sick and tired of it! PLS. REPOST IF YOU AGREE!"
Rapadas told GMA News Online that the "million people" line was "a visual tool" that can help mobilize some form of action. "It gained followers in short time so it manifests the need for these individuals to 'do something,'" he said.
Among those who shared Rapadas' post was
Peachy Rallonza-Bretaña, who set the date for the march.
"Dapat sa ARAW NG MGA BAYANI tayo mag-march, AUGUST 26. Dahil tayong lahat ang pinapatay na lang ARAW-ARAW ng mga Senador, Congressmen at mga tulad ni Napoles habang AYAW NILANG IMBESTIGAHAN ANG KASUKA-SUKANG PORK BARREL FUND na 'to," Bretaña wrote on Facebook.
The event page was created by documentary television program Power ng Pinoy, but Bretaña says there are no organizers for the march.
"I have no political affiliations. This is being powered by ordinary people. No groups. No funds,"
Bretaña said on Facebook when asked who was behind the march
.
Bretaña, who described herself as an "ordinary diligent taxpaying employee," said the march was
"social media-activated and people-powered."
"Ako mismo hindi naman nag ma-march. Pero baka in the midst of all this genuine venting of frustration sa social media – parang meron 'oo nga ano!' moment ng mabasa nila na pwede mag meet ang mga tao re this issue," Rapadas said.
Some who were interested in joining noted that there may be a need for more coordination and security.
So far, the only details were to meet in front of the Luneta Grandstand at 9 a.m., wearing white for solidarity. Protesters were instructed to share the following on social media: "I am *NAME* PINOY ako. I pay my taxes, on-time & in-full. YOU, my government, owe me a full explanation. @ProtestaNgBayan HASHTAG: #OnePinoy #MillionPeopleMarch #ProtestaNgBayan"
"No group banners. No political colors. No Speeches. Just ALL OF US ordinary, tax-paying people showing GOV'T THEY ANSWER TO US. TAYO ANG BOSS DITO. We need this outrage, anger to reach critical mass. SPREAD THE WORD. REPOST," the event description read.
While many welcomed the plan to march, some noted its rules were not realistic. "If it is an open call to join with no definite set of leaders or coordinating group, then don't expect to impose any stringent rules like who can or can't join or what kind of placards or streamers they can bring, etc.,"
Teddy Casiño said.
According to Rapadas, the rule may be a result of social media netizens' lack of trust in politicians and political groups. "Parang knot na impossible ma-unknot sa paningin nila. Pero kung tutuusin simple lang naman ang gusto nila – stop these pork barrel scams, investigate so solutions can be devised," he said.
He added that the idea to hold a "power picnic" would be practical, as such an activity would not need a permit. "So ang general plan ay magkikita-kita roon. Maaring may pumunta, maaring wala. Ano kaya ang gagawin? 'Di ko alam. Baka biglang mag kwe-kwentuhan lang ang naroon. Or kung umulan like right now, baka walang pumunta. So tingnan natin kung yung outrage ng netizens ay ma e-express nga sa meet up/eyeball na ito," Rapadas said.
Others were suspicious that the rally might be used by certain groups to promote their own interests, or that interest would not be sustained without someone to lead the movement. "If not, we will just look like a tourist enjoying Luneta. And if we bring out a single placard in protest with the tight security because it's 'Araw ng mga Bayani' we can be dispersed without any right,"
Bandril Mon wrote on the event page.
Despite such concerns, the number of attendees kept growing. "It's all moving on its own volition because
this is so personal for all of us
," Bretaña said on Facebook.
Meanwhile,
a nationwide walkout of classes for the abolition of the pork barrel system
has been set for August 23. There will be a program from 2 to 5 p.m. at the Liwasang Bonifacio in Manila, to be followed by a protest concert.
On Wednesday, Bretaña told GMA News Online that everyone should "act civil and respectful especially towards 'others' (whether groups or beliefs) but still being mindful and firm in making sure that no ONE group or color dominate or hijack this gathering."
"This is hopefully going to be a historic one wherein our government and lawmakers see us as ONE Pinoy with one demand: for them to treat us and serve us honestly," she said.
– BM/HS, GMA News