Filtered By: News
News
Anti-pork barrel sentiment drives largest protest under Aquino
(Updated 2:35 p.m.)
"Makibaka. Huwag magbaboy."
This was the dominant call of tens of thousands of white-clad Filipinos who gathered in Manila on Monday to stage a social media-driven protest against the alleged misuse of pork barrel funds—the largest mass action during President Benigno Aquino III's administration.
Occasional rainshowers did not stop 75,000 to 100,000 people from trooping to the muddy grounds of the Luneta facing the Quirino Grandstand, a far cry from the ballyhooed one million the organizers aimed for.
But it was still the most diverse and largest political gathering seen in years, and coincided with similar events across the country and some cities overseas. Those who took to the streets could be the tip of an iceberg of growing discontent with corrupt politicians.
Seen at the rally were various personalities and groups that have been at loggerheads on other issues, showing how corruption in the pork barrel system has tapped into a common nerve and bridged political divides.
The mass action also drew people from all walks of life—from ambulant vendors to those checked in at the five-star Manila Hotel, located near the venue of the protest.
Sister Sofia from the Siena College in Quezon City decided to spend her Monday morning in the protest action instead of the convent to call for the proper spending of public funds.
"We really wanted to be here. We wanted to be counted among the people with the same sentiments. We would like the resources of the government to be used properly, especially for the poor," she said in an interview.
Cardinal Luis Antonio Tagle led a prayer and spoke during the event to appeal to Filipinos for integrity in all levels of society.
"Patunayan natin na marangal ang Pilipino. Marangal dahil may takot sa Diyos, paggalang sa buhay, pagpapahalaga sa kapwa tao, pagmamalasakit sa bayan at pag-aaruga sa kalikasan," the prelate said.
Judith Salvacion, a third year high school student from the St. Scholastica's College, meanwhile said that she decided to forego her long weekend to join the call to prosecute individuals who pocketed public funds.
"Unahin po ang Pilipinas bago ang bakasyon. Para ho sa kinabukasan namin ito," Salvacion said in a separate interview.
Million March
The Facebook page which jumpstarted the mass action described the event as a "
massive pocket picnic get-together
" of Filipino taxpayers to demand the scrapping of the pork barrel, and the prosecution of lawmakers involved in the misuse of these funds.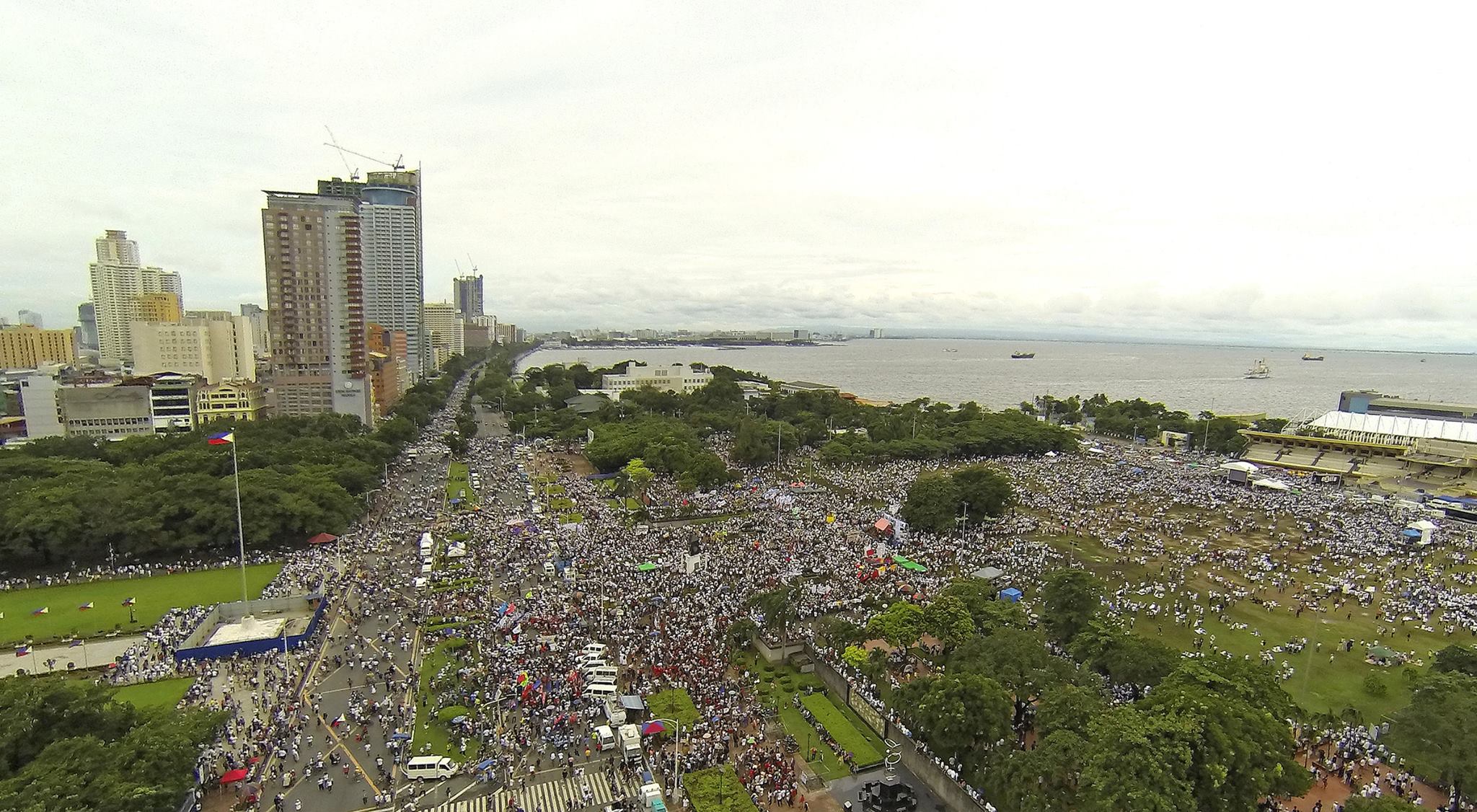 Aerial shot of the Million People March in Luneta. Photo by Paulo Alcazaren
The protest action, dubbed the "Million People March," pushed through despite Aquino's call on Friday to
abolish the pork barrel
of legislators – a change in his earlier stance to retain but reform these controversial discretionary funds. Aquino won the presidency in 2010 with an anti-corruption platform.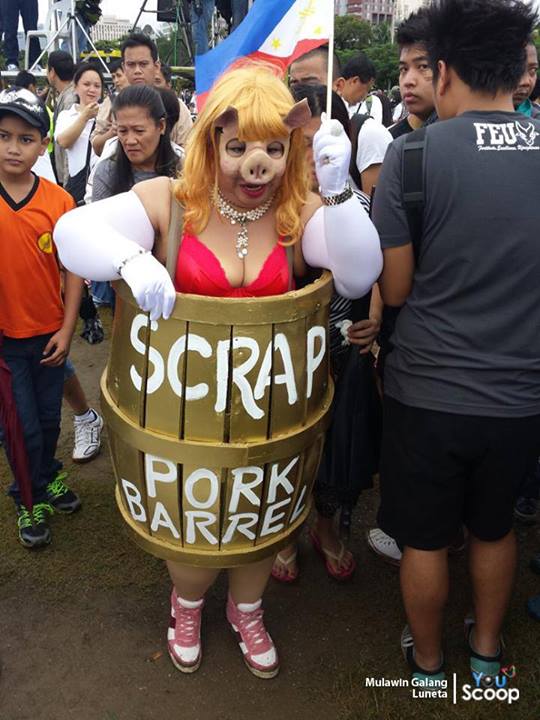 Character actress Mae Paner - more popularly known as Juana Change - dressed up literally as 'pork barrel.' Photo by YouScooper Mulawin Galang
The mass action was staged at the Quirino Grandstand on National Heroes' Day, a nationwide non-working holiday. The event did not have formal leaders, but various groups, including religious and activist organizations, earlier
expressed their intention to join to protest
.
By Monday morning, over 20,000 people had confirmed their attendance on its event page on Facebook, although the event is targeting one million attendees.
Not angry
The mood in the area was more playful than angry, with various groups staging pocket protests by displaying militant messages and singing activist songs. Some families ate their lunch at the park grounds during the mass action.
"Hindi kami galit. This is a celebration of democracy. Ang gusto ko lang, since may kontrobersiya, i-scrap na talaga ang pork barrel at idiretso na sa mga ahensya ang pondo," said Taguig resident Opel de Asis, who dressed up as an "Angry Bird."
Fashion designer Rajo Laurel joined the event with other celebrities such as Raymond Gutierrez and Georgina Wilson, who called for "more transparency and accountability in government."
"Mahal natin ang bansa natin kaya gusto natin magbago ang gobyerno, magbago ang proseso," Laurel said. "I'm not mad. I am just concerned, because if this doesn't change, it's going to be a continuing disease," he added.
As of 9:15 a.m. Senior Supt. Joel Coronel, Manila Police District Deputy Director for Operations, said around 60,000 people were at the venue, with more on the way.
As of 10:30 a.m. the situation in Luneta and other places in the country was peaceful, according to National Police spokesman Senior Superintendent Reuben Theodore Sindac.
Pork scam
Public outrage against the pork barrel funds, or PDAF, gradually snowballed after the Philippine Daily Inquirer ran last month a series of reports detailing an alleged scam which funneled P10 billion in PDAF to bogus groups to fund ghost projects.
Two weeks ago, the
Commission on Audit (COA)
also released a report which bared how the PDAF was "not efficiently monitored and tracked, if at all" from 2007 to 2009 under the previous administration of President of Gloria Macapagal-Arroyo, now charged with plunder and electoral fraud.
The money was frequently channelled to projects to impress voters, though many have turned out to be non-existent.
Despite the economy's strong fundamentals - growth in the first quarter was the fastest in the region - corruption remains a chronic problem hindering sustained economic development.
Aquino, who won the presidency in 2010 on a good governance and anti-corruption platform, consistently enjoys popularity ratings of more than 70 percent, a feat not seen by previous presidents, including his mother Corazon, who toppled dictator Ferdinand Marcos in the 1986 "people power" revolt.
He has served half of his single six-year term. On Friday, he bared a new proposal that would require projects under the fund to be set down in the budget, unlike in previous years where the money was placed under a single budget entry consisting of about 1.1 percent of available funds.
The President also promised to prosecute those found to have misused the funds. –
With a report from Reuters/RSJ/HS/KBK/YA/HS, GMA News