Filtered By: News
News
Oh snap! UP student wins photography contest with plagiarized photo
(Updated 1:40 a.m. September 23, 2013)
After topping the Chilean Embassy's local photo contest, an amateur snapshooter is under fire after a Brazil-based photographer claimed ownership of the photo that he had sent in.
University of the Philippines student Mark Joseph Solis' entry
"The Mettle of the Filipino Spirit,"
about a young boy who "helps his father in farming seaweeds along a coastal community in Zamboanga province," is disputed by
Gregory John Smith
, a social entrepreneur with the global network
Ashoka
and founder of the Children At Risk Foundation in Brazil.
"The photo was actually taken by me in Brazil in 2006, whilst on Christmas holidays at the coast together with four brothers from the same poverty-stricken family in Brazil, who were supported by our program at the time," Smith told GMA News Online.
"The photo was taken by me on a beach in Paraty, Rio de Janeiro, whilst the kids were having fun chucking seaweed at each other," he added.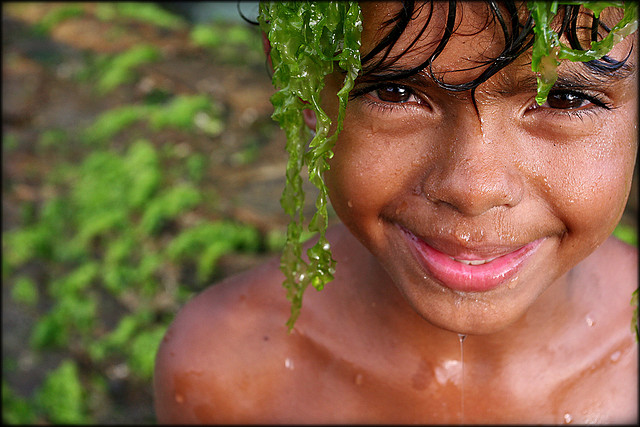 Mark Joseph Solis passed off Gregory John Smith's "Neptune, King of the Sea" as his own work and won a photo contest with it. Photo posted with permission from Gregory John Smith
Providing
a link to his original work
, Smith said he is relying on the internet to get in touch with the organizers of the photo contest.
"So far I have heard nothing, but then again, it is the weekend, so maybe on Monday I shall get an answer from someone," he said.
His post has since been cited in various social media posts, including Narinig Ko sa UP.
Apology
GMA News Online got in touch with the 22-year-old Solis, the winner of the 2nd Calidad Humana National Essay Photography Competition. Aside from mentioning a "letter of apology to the owner which I will personally send to him," he refused to give any other statement.
Smith confirmed that Solis' apology was forwarded to him at around 11 p.m.
(PHL standard time), but saw it first online. "The press get my letters before I actually do," Smith joked.
"I hope [the organizers] will say something more about their position regarding the matter," he added.
Chile's Ambassador to the Philippines Roberto Mayorga said in an email that they received complaints about Solis' entry, and that Solis "has recognized it and is sending us a letter resigning to his participation."
"Most Filipinos have Calidad Humana (human compassion, humaneness, human tone), that our project is intending to preserve here in the country, and disseminate around the world through their smiles," said Mayorga. "We take this plagiarism as a strong sign or call that Filipinas need to take care of their people, avoiding that this kind of attitude could affect the majority, who certainly have Calidad Humana."
Meanwhile, the contest's 3rd placer, Hannah Reyes, speaking as a photographer and UP alumna herself, was disappointed with Solis.
"[Solis has] hurt the organisers, the sponsors, the other contestants, his UP community, and most importantly, the person who put care in taking that beautiful photograph," said Reyes in a post. "Let's keep in mind, however, that this is a person who made a mistake, is already having a really difficult day, and most likely a very difficult week ahead.
"He's facing the loss of his reputation at a young age, in a very public manner. For someone who's already being vilified, it's easy for all of us to join in the vilification and reason that it's only his just due," she added. "But there will already be enough voices condemning him, probably his own as well. We don't know what went on in his mind when he did it. "
The winner's prize consists of $1,000 and air fare and accommodation to Brazil and Chile.
Medardo Marquez, 55, and Hannah Reyes, 22, both UP alumni as well, placed 2nd and 3rd respectively.
Even if his photo won a contest he didn't enter, Smith hopes he gets the prize for his foundation instead.
"I myself have already planned a visit to Manila and New Smokey Mountain at the beginning of 2014, together with some of the young people from my social development program in Brazil, to visit a partnership program that we support there called Young Warriors," said Smith.
"Instead of offering such a round-trip to Brazil and Chile to an imposter, I think my suggestion is much more in line with the thoughts behind the contest."
However, Mayorga said that they would "probably give the prize to the second place."
Solis is scheduled to meet with Mayorga on Monday afternoon.
— BM/DVM, GMA News