Filtered By: News
News
LESS THAN 2 WEEKS BEFORE OCT. 31 DEADLINE
3M voters still without biometrics - Comelec data
Voter registration resumed last Saturday after giving way to the candidates' week-long filing of their respective certificates of candidacy.
With the deadline for registration less then two weeks away, more than 3 million registered voters may not be able to cast their ballot as they have yet to update their voter's record with biometrics data.
The figure is 5.86 percent of the 52.2 million registered voters for 2016.
Republic Act 10367, signed into law in February 2013, requires registered voters whose biometrics— photograph, fingerprint and signature — have not been captured to submit themselves for validation before the city or municipal election officer.
Early this year, the Commission on Elections launched the "No Bio, No Boto" campaign to make voting centers accessible and partnering with malls to encourage registration.
Voters who fail to submit for validation on or before October 31, 2015 — the last day of filing of application for registration for the May 2016 elections — shall be deactivated, meaning his/her registration record shall be removed from the corresponding precinct book of voters.
In an interview, Comelec Education and Information Department assistant director Rey Doma noted that the 3 million voters without biometrics is already a big drop from the 8 million early this year.

He said the poll body expects the number to plunge even more as the October 31 deadline nears.
"We expect naman na bumaba pa siya (3 million with no biometrics). Ang mga Filipino, we are known for the manaña habit, Talagang pinagpapaliban pa hanggang sa kadulu-duluhan," Doma said.
He said poll officers anticipate a deluge of voters in Comelec offices in the succeeding days. "I was just in Las Piñas last week, ang totoo, humahaba na ang pila," Doma said.
GMA News Research mapped out the areas with the highest proportion of registered voters with no biometric data, including top vote-rich cities and provinces.
Davao City is the third vote-rich city in the country;at least 1 in 10 of its registered voters has no biometrics data.
Three provinces that are in the top 10 vote-rich provinces in the country – Cavite, Rizal and Nueva Ecija – each have more than 100,000 registered voters with no biometrics data.

In Metro Manila, a total of 369,865 registered voters have no biometrics as of last month.
In Cotabato City and Kalinga province, 18 percent or nearly 2 in 10 voters have yet to update their voter's data with biometrics.
Sheer volume of registrants can be a factor in the cities of Cotabato, Davao, and Taguig.
These cities are in the top 100 cities with highest number of registered voters.
Doma has a ready explanation for the biometrics deficiency in cities: "Dahil urban areas, ang mga tao nagtatrabaho. Preoccupied sila sa pagtatrabaho kaya din siguro walang time magparehistro."
In rural areas, on the other hand, transportation can present a problem, as in the provinces of Kalinga, Zamboanga Sibugay, Nueva Vizcaya and Mountain Province. "Itong mga lugar na ito, liblib talaga. Mahahabang distansya ang tatahakin para makapapagparehistro," Doma said.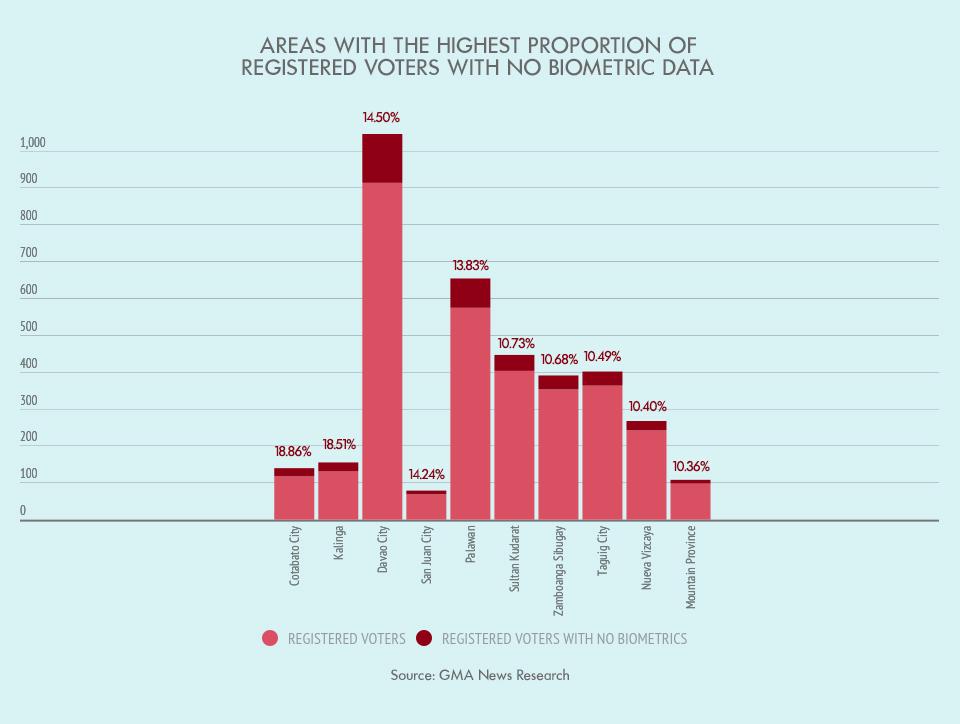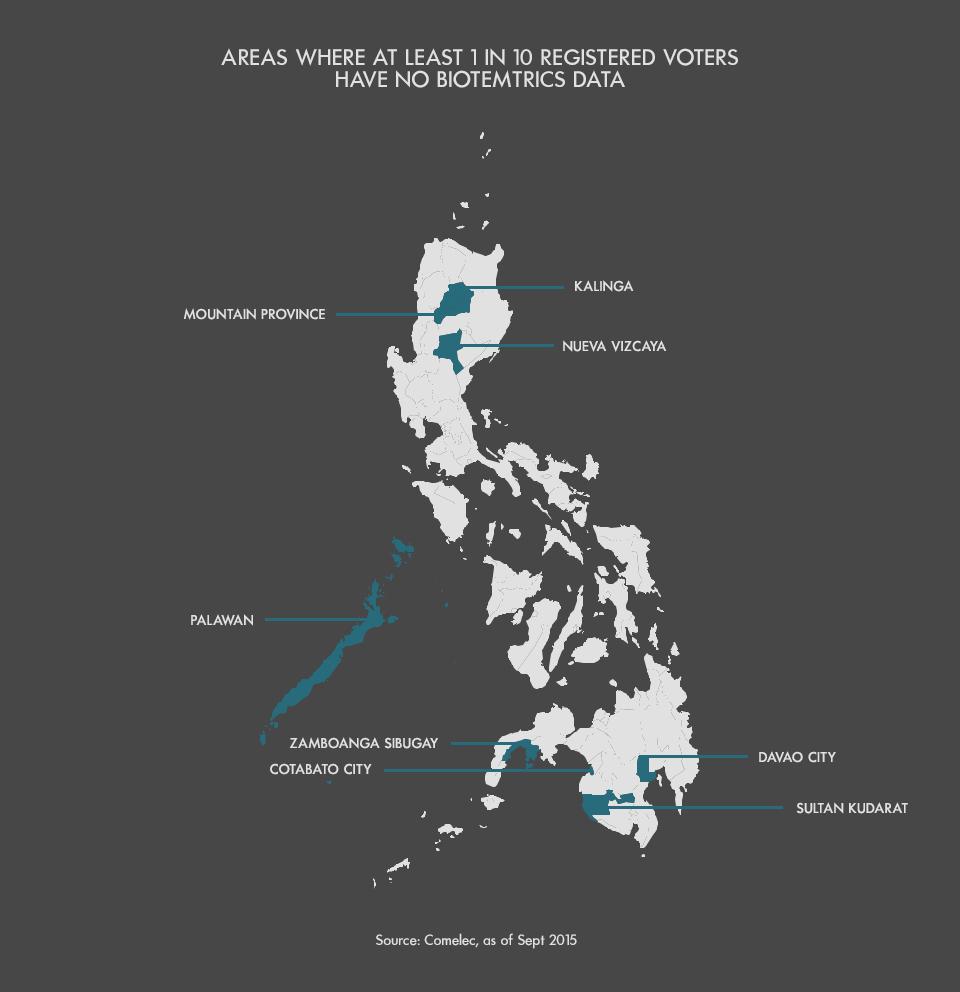 The latest Comelec figures show that of the 3.059 million registered voters with no biometrics,
12 percent are in Metro Manila
4 percent are in Davao City
4 percent are in Cavite
3.6 percent are in Rizal
3.37 percent are in Nueva Ecija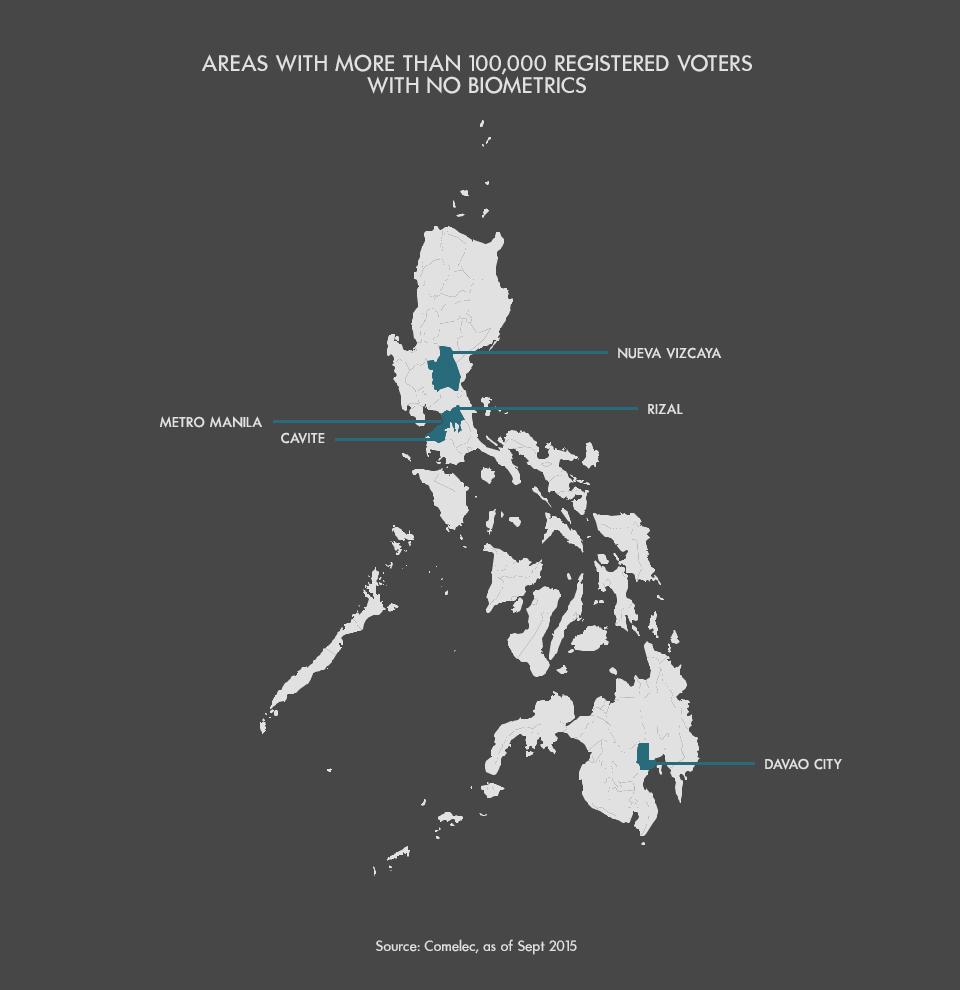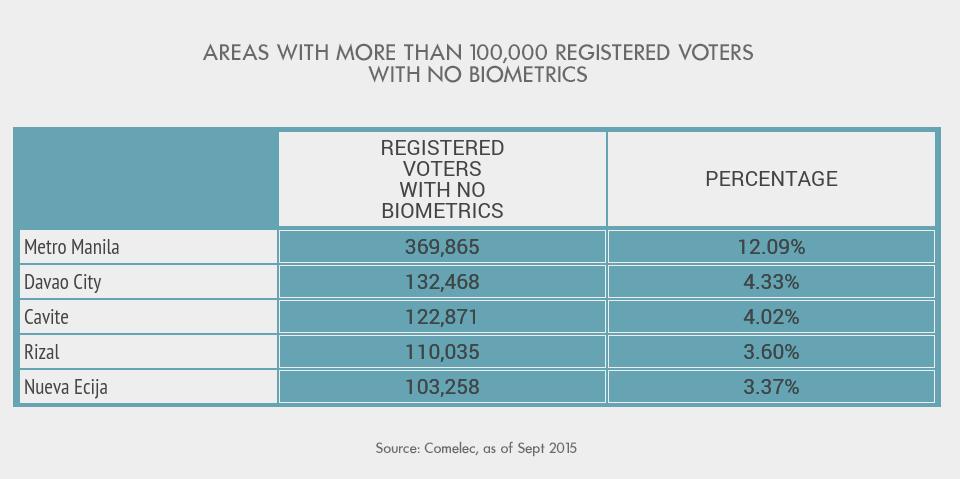 In Metro Manila, Quezon City has the highest number of registered voters who may not be able to cast their votes pending biometrics data. Almost 10 percent of its total registered voters or more than 107,000 need to update their records.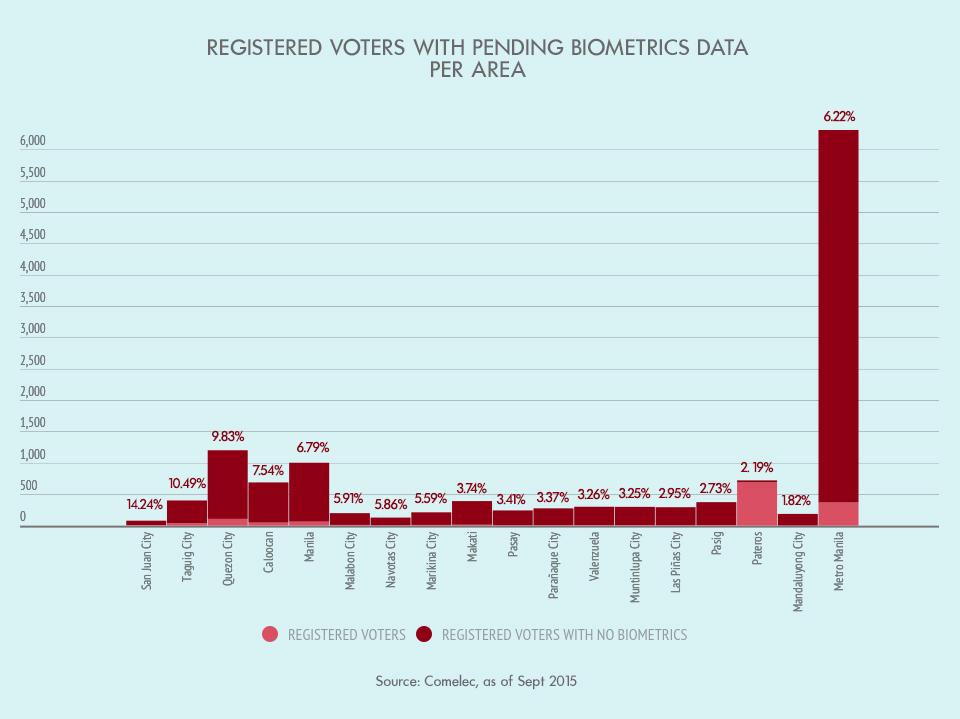 The Comelec has urged the public to check Precinct Finder on its website to find out if their registration records are in order.
While long queues are already observed in some registration centers, the Comelec is not inclined to extend the October 31 deadline. — RSJ, GMA News