Filtered By: News
News
PHL Church exec hits big polluters at Paris climate talks
An official of the Catholic Bishops' Conference of the Philippines on Friday slammed major carbon dioxide emitters, claiming that they violate the rights of peoples in countries that are vulnerable to climate change.
On the sidelines of the historic climate talks in Paris, France, Fr. Edwin Gariguez of the CBCP-National Secretariat for Social Action (NASSA) or Caritas Philippines, said that the so-called "Carbon Majors" must be held accountable for trampling on the rights of peoples in climate vulnerable countries.
He was referring to industries that are major air polluters, pumping huge amounts of greenhouse gases into the air by burning huge amounts of fossil fuels.
Gariquez said that the impact of climate change on the lives of some 200 million people living in climate vulnerable countries are great as they are ill-equipped in mitigating the effects of severe weather conditions.
Moreover, he said that the "Carbon Majors" violated and posed threats to Filipinos' rights to life, water, sanitation, adequate housing and self-determination.
"What is worse is that the poor and marginalized are the ones who suffer the most from the [excesses] of these big polluters," the priest said in a statement.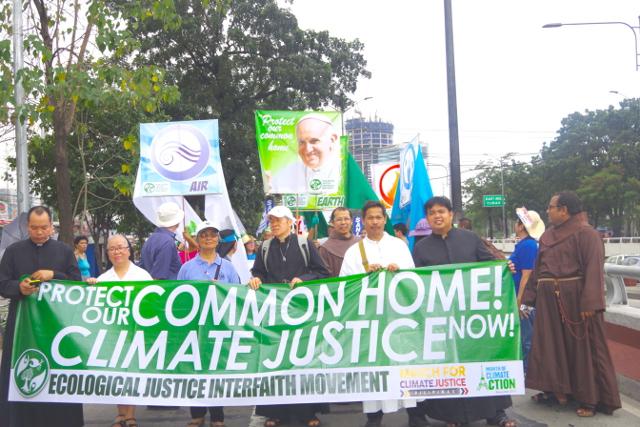 NASSA executive secretary Fr. Edwin Gariguez (in white cassock), together with members of environmental groups, joins a climate march held in Quezon City in the run-up to the Paris climate talks. —NASSA photo
At least 50 multinational firms are named as respondents in the petition environmental groups filed before the Philippine Commission on Human Rights recently, in what is considered as the first human rights suit against big polluters.
Of the 50 firms, 10 have branches or subsidiaries in the Philippines namely: ExxonMobil, Chevron, Total, Royal Dutch Shell, BHP Billiton, BP, Anglo American, Lafarge, Holcim and Taiheiyo Cement Corporation.
The petition, filed before the CHR was signed by 13 environmental groups and 16 individuals, including Gariguez.
"We are no longer strangers to strong typhoons such as Yolanda and the recent Lando which spell indescribable miseries to our people," he said.
With Gariquez at the Paris talks are Climate Change Commission Commissioner Heherson Alvarez, Commission on Human Rights Commissioners Roberto Cadiz, and Gwen Pimentel-Gana, and representatives from Greenpeace Southeast Asia, and other civil society groups. — LBG, GMA News